FOR IMMEDIATE RELEASE
Thursday, Nov. 16, 2017
CONTACT:
Meredith Gremel, Vice President, Corporate Affairs & Communications, 616-878-2830
SpartanNash shares 2016 Corporate Responsibility Report
Social responsibility, environmental sustainability efforts tied to company's vision of being 'best-in-class business that feels local, where relationships matter'
GRAND RAPIDS, Mich. – SpartanNash is proud to share its 2016 Corporate Responsibility Report, detailing the Fortune 350 company's investments in the areas of social responsibility and environmental sustainability – and how they cultivate SpartanNash's vision of being "a best-in-class business that feels local, where relationships matter."
The report details SpartanNash's corporate responsibility efforts in 2016, highlighting its associate training and development programs; support of local farmers and food entrepreneurs; companywide giving initiatives and donations; and recycling and energy efficiency improvements.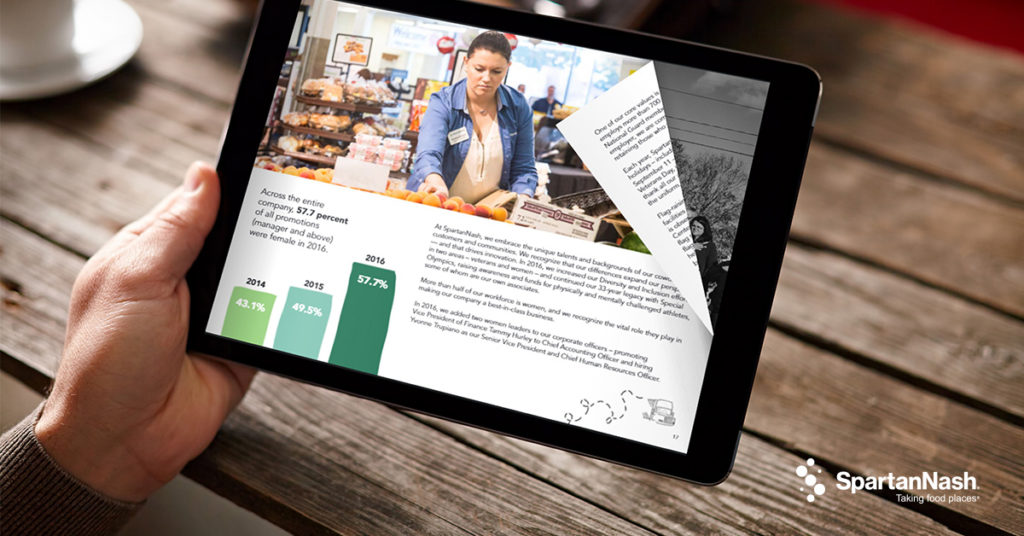 The full report can be found at SpartanNash.com/CR-Report.
"At SpartanNash, we are mindful that our business decisions, products, services and operations have a direct impact on the environment, our communities, customers and coworkers, which make up our company's corporate responsibility commitment," SpartanNash President and CEO Dave Staples said. "At SpartanNash, we are investing in today, to ensure a better tomorrow – and we hope that the 2016 CR Report inspires others to join us on this journey."
Key highlights from the report include:
Associate and food safety programs to ensure safe work places and quality food in every aisle of the store or U.S. military commissary or exchange.
Training and development and diversity and inclusion efforts for our associates to realize their career aspirations.
Support of nearly 2,000 locally grown and locally made items and the farmers and businesses that supply these items.
Community health and wellness initiatives, including Double Up Food Bucks™, Opioid Safety Project and Regional Wellness Specialists.
Volunteering efforts totaling 20,234 hours and $456,276 in economic impact.
$1.4 million in corporate giving initiatives, including $100,000 through the Direct Your Dollars™ program.
$1.8 million awarded to community nonprofits by the SpartanNash Foundation.
525 million pounds of product donated to community food pantries and local nonprofits.
9 million pounds of materials diverted from landfills through our recycling efforts.
Transportation and energy efficiencies achieved.
The report also includes SpartanNash's 2017 CR dashboard, which has guided the company's continued efforts throughout the current year. The dashboard includes initiatives around local support, diversity and inclusion, volunteering and waste and energy consumption.
To exemplify its commitment to corporate responsibility, the 2016 Corporate Responsibility Report was printed in limited quantities using paper made from 100 percent post-consumer content, processed without chlorine, manufactured using renewable biogas and certified for reduced environmental impact by ECOLOGO. In addition, SpartanNash Graphic Services printed the report with soy-based inks.
View the SpartanNash Corporate Responsibility Report at SpartanNash.com/CR-Report.
###
About SpartanNash
SpartanNash (Nasdaq: SPTN) is a Fortune 350 company whose core businesses include distributing grocery products to independent grocery retailers, select national accounts, its corporate-owned retail stores and U.S. military commissaries and exchanges. SpartanNash serves customer locations in 47 states and the District of Columbia, Europe, Cuba, Puerto Rico, Bahrain and Egypt. As of today, SpartanNash currently operates 145 supermarkets, primarily under the banners of Family Fare Supermarkets, VG's Food and Pharmacy, D&W Fresh Market, Sun Mart and Family Fresh Market. Through its MDV military division, SpartanNash is a leading distributor of grocery products to U.S. military commissaries.