FOR IMMEDIATE RELEASE
FOR MORE INFORMATION CONTACT:
Meredith Gremel, Vice President, Corporate Affairs & Communications, SpartanNash, 616-878-2830
SpartanNash to Present Honor and Remember Flag to Family of Fallen Navy Seal
Presentation Part of David John Warsen Memorial Highway Dedication
Grand Rapids, MI, August 12, 2015 —SpartanNash will present the family of David John Warsen with a personalized Honor and Remember flag at the David John Warsen Memorial Highway dedication on Saturday, August 15, 2015.
A portion of M-6 between Kalamazoo Avenue and Byron Center Avenue will be publicly dedicated as the David John Warsen Memorial Highway at 5:30 p.m. at East Kentwood High School's football stadium at 6230 Kalamazoo Ave., Kentwood, MI 49508. A cruise of the David John Warsen Memorial Highway will follow the dedication.
Petty Officer Second Class David John Warsen was born in Grand Rapids, MI, in the summer of 1985. He joined the Navy in 2009 and became a Navy SEAL (Special Warfare Operator Second Class) in October 2010. Warsen lost his life, along with ten others, while on a mission on August 16, 2012, when his helicopter was shot down over Kandahar, Afghanistan.
Meredith Gremel, SpartanNash VP of Corporate Affairs and Communications, will present the Honor and Remember flag to Warsen's family.
The Honor and Remember flag specifically acknowledges American service men and women who paid the ultimate price with their life while serving their country. Honor and Remember is a nonprofit organization founded by George Lutz, who lost his son Tony to a sniper's bullet in Fallujah, Iraq, in 2005. A unique feature of the flag design is the option to personalize it to carry the name of a friend or loved one as part of its structure, so the flag can be displayed in specific honor of one lost.
The organization is deeply committed to promoting broad national awareness of and groundswell interest in the flag, so that military, government and educational facilities as well as households throughout the country will begin flying the Honor and Remember Flag in recognition of our nation's fallen warriors. It is also the goal of Honor and Remember to place one personalized Honor and Remember Flag in the hands of immediate families who have lost a loved one in military service to America. http://www.honorandremember.org/our-mission/
"SpartanNash cares deeply for those who defend our freedom and protect our families," said Ed Brunot, EVP and President of SpartanNash's MDV military division based in Norfolk, VA. "We are committed to ensuring that these brave men and women's sacrifices and stories are not forgotten."
Brunot serves on the Board of Directors of Honor and Remember and has been instrumental in raising awareness of and funds for Honor and Remember flags. SpartanNash is the world's largest supplier to U.S. military commissaries and exchanges, in terms of revenue, and the Honor and Remember flag will be displayed soon on the company's more than 1,600 semi-trailers, which distribute to 46 states.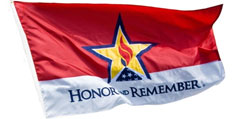 The Honor and Remember Flag's design is distinctive, yet simple. Each detail on the flag symbolizes an important part of the overall meaning of the flag's message.
The Red Field represents the blood spilled by brave men and women in America's military throughout our history, who willingly gave their lives so that we all would remain free.
The Blue Star represents active service in military conflict. This symbol originated with World War I, but on this flag it signifies service through all generations from the American Revolution to present day.
The White Border beneath and surrounding the gold star recognizes the purity of sacrifice. There is no greater price an American can pay than to give his or her life in service to our country.
The Gold Star signifies the ultimate sacrifice of a warrior in active service who will not return home. Gold reflects the value of the life that was given.
The Folded Flag signifies the final tribute to an individual life that a family sacrificed and gave to the nation.
The Flame is an eternal reminder of the spirit that has departed this life yet burns on in the memory of all who knew and loved the fallen hero.
Honor and Remember
We will always Honor their selfless sacrifice and Remember them individually by name.
"Words cannot express how important it is to recognize families who've lost those who've paid the ultimate price," said George Lutz, founder of the Honor and Remember flag. "I'm grateful that a company the size of SpartanNash has recognized this flag and is committed to carrying its message."
About SpartanNash
SpartanNash (SPTN) is a Fortune 400 company and the largest food distributor serving US military commissaries and exchanges in the world, in terms of revenue. The Company's core businesses include distributing food to military commissaries and exchanges and independent and corporate-owned retail stores located in 46 states and the District of Columbia, Europe, Cuba, Puerto Rico, Bahrain and Egypt. SpartanNash currently operates 165 supermarkets, primarily under the banners of Family Fare Supermarkets, D&W Fresh Market, VG's, Forest Hills Foods, No Frills, Bag 'n Save, Econofoods, and Dan's Supermarket.