FOR IMMEDIATE RELEASE
FOR MORE INFORMATION CONTACT:
Meredith Gremel, Vice President, Corporate Affairs & Communications, SpartanNash, 616-878-2830
SpartanNash to Commemorate Veterans Day Companywide
11 Percent Discount for Veterans and Flag Retiring for Customers at All Retail Stores
Grand Rapids, Mich., Nov. 9, 2015 — SpartanNash will honor veterans and active duty military this Veterans Day (Nov. 11) in its 164 corporate-owned retail stores in 10 states, offering an 11 percent discount on all eligible products, holding special flag and tribute ceremonies at 11 a.m. and kicking off an American flag retirement program.
The ceremonies will be held at 11 a.m.; on the 11th hour of the 11th day of the 11th month in 1918, the United States signed the Armistice agreement to end World War I.
SpartanNash will also recognize its more than 930 associates who are veterans during special ceremonies companywide.
"SpartanNash proudly employs over 900 military veterans and family members," notes Ed Brunot, EVP and President of SpartanNash's MDV military operations. "As the nation's leading distributor serving U.S. military commissaries and exchanges in the world, we are deeply committed to serving our military heroes and their families both at home and abroad. One of our core values is Patriotism, and our MDV military operations exist to serve the businesses that keep America, and the military members who defend us, strong."
SpartanNash is committed to hiring veterans, reserves, guardsmen and their families, partnering with national and government organizations and initiatives. SpartanNash received the Patriot Award in 2014 from ESGR (Employer Support of the Guard and Reserve) for its continued support of its associates who are deployed while working for the company.
11 Percent Discount at Retail Stores
An 11 percent discount will be offered to all active, reserve, and retired military personnel who present their military ID on Nov. 11, 2015, at all participating stores, including:
Bag 'N Save (Nebraska)
D&W Fresh Market (Michigan)
Dan's Supermarket (North Dakota)
Dillonvale IGA (Ohio)
Econofoods (Minnesota, Wisconsin)
Family Fare Supermarket (Michigan, Minnesota, Nebraska, North Dakota)
Family Fresh Market (Minnesota, Nebraska, Wisconsin)
Family Thrift Center (South Dakota)
Forest Hills Foods (Michigan)
Fresh City Market (Indiana, Wisconsin)
Germantown Fresh Market (Ohio)
No Frills (Nebraska)
Pick 'N Save (Ohio)
Prairie Market (South Dakota)
Sunmart (Colorado, Minnesota, Nebraska)
Supermercado Nuestra Familia (Nebraska)
Valu Land (Michigan)
VG's (Michigan)
Wholesale Food Outlet (Iowa)
(Discount does not apply to already reduced promotional items, pharmacy, alcohol, tobacco, lottery, stamps, sales tax, gift cards, bottle deposits and other service counter items.)
Stores that have flag poles will hold flag raising ceremonies at 11 a.m. on Nov. 11, with local veterans' groups or Boy Scout troops leading the ceremonies. All stores will hold a moment of silence at 11 a.m., and all will offer coffee and specially decorated treats between 11:30 a.m. and 1:30 p.m. Stores will also display posters recognizing and thanking associates who are veterans.
Also starting on Veterans Day, customers will be able to bring in their old, worn, frayed, and/or faded American flags to any SpartanNash store to be properly retired.
Companywide Recognition
SpartanNash associates at all service and distribution centers will hold flag raising ceremonies and observe a moment of silence for all those who have lost their lives defending our freedoms. Veteran associates will be recognized on posters and banners around these centers. Service and distribution centers will also begin collecting associates' old, worn, frayed, and/or faded U.S. flags for retirement.
Donation to Honor and Remember
To honor its veteran associates, SpartanNash is also making a $5,000 donation to Honor and Remember.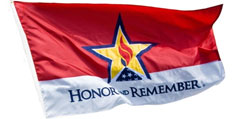 The Honor and Remember flag specifically acknowledges American service men and women who paid the ultimate price with their life while serving their country. Honor and Remember is a nonprofit organization founded by George Lutz, who lost his son Tony to a sniper's bullet in Fallujah, Iraq, in 2005.
The organization is deeply committed to promoting broad national awareness of and groundswell interest in the flag, so that military, government and educational facilities as well as households throughout the country will begin flying the Honor and Remember Flag in recognition of our nation's fallen warriors. It is also the goal of Honor and Remember to place one personalized Honor and Remember Flag in the hands of immediate families who have lost a loved one in military service to America. http://www.honorandremember.org/our-mission/
"SpartanNash cares deeply for those who defend our freedom and protect our families," notes Ed Brunot. "We are committed to ensuring that these brave men and women's sacrifices and stories are not forgotten."
The SpartanNash fleet of 1,800 trailers, which travel three million miles a year through 46 states, will soon display the Honor and Remember flag.
About SpartanNash
SpartanNash (Nasdaq:SPTN) is a Fortune 400 company and the largest food distributor serving U.S. military commissaries and exchanges in the world, in terms of revenue. The Company's core businesses include distributing food to military commissaries and exchanges and independent and corporate-owned retail stores located in 46 states and the District of Columbia, Europe, Cuba, Puerto Rico, Bahrain and Egypt. SpartanNash currently operates 164 supermarkets, primarily under the banners of Family Fare Supermarkets, Dan's Supermarkets, Family Fresh Markets, D&W Fresh Markets and Sunmart.