FOR IMMEDIATE RELEASE
Wednesday, Oct. 26, 2016
CONTACT:
Meredith Gremel, Vice President, Corporate Affairs & Communications, 616-878-2830
More than 80 SpartanNash-MDV associates take part in Helping Hands in the Community day in Norfolk
Day of community service benefits eight area nonprofit organizations
 NORFOLK, Va. – During its inaugural Helping Hands in the Community day on Oct. 25, more than 80 SpartanNash-MDV associates volunteered a combined 480 hours at eight local nonprofit organizations.
Groups of MDV associates sorted donations at ForKids' Good Mojo Thrift Store, helped with landscaping and beautification projects at The Mission Continues, painted at the Salvation Army and replanted the garden at Vetshouse Inc., among other tasks during the day of community service.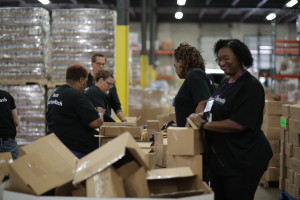 "This is a special day for all of our company's nearly 16,000 associates, and we were excited to bring Helping Hands to MDV this fall," said Dennis Eidson, SpartanNash CEO and chairman of the company's Board of Directors. "Helping Hands is a tradition that began in our Minnesota office five years ago, because we recognize that the success of our company is built upon being good neighbors and partners in the communities we serve. Many of our distribution, retail and corporate associates already volunteer their time regularly throughout the year, and having the chance come together as a company and take a day to give back is very special."
More than half of all MDV associates participated in the Helping Hands in the Community day, completing day-long work projects to benefit community partners including the Barry Robinson Center, Food Bank of Southeastern Virginia, ForKids' Good Mojo Thrift Shop, Goodwill's Virginia Beach Retail Store, Operation Blessing, Salvation Army, The Mission Continues and Vetshouse Inc.
SpartanNash – under MDV, its military division based in Norfolk, Va. – is the leading distributor of grocery products to military commissaries in the United States. The company is also the nation's fifth-largest food distributor, with 159 retail grocery stores in 10 states and 2,100 independent retail customers in 47 states.
The inaugural Helping Hands in the Community Day took place when then-Nash Finch employees from the company's Edina, Minn. location spent a day volunteering together in June 2011. Since then, associates at the Minnesota service center have participated annually, and in 2016, the Helping Hands day was expanded to SpartanNash's corporate headquarters in Grand Rapids, Mich.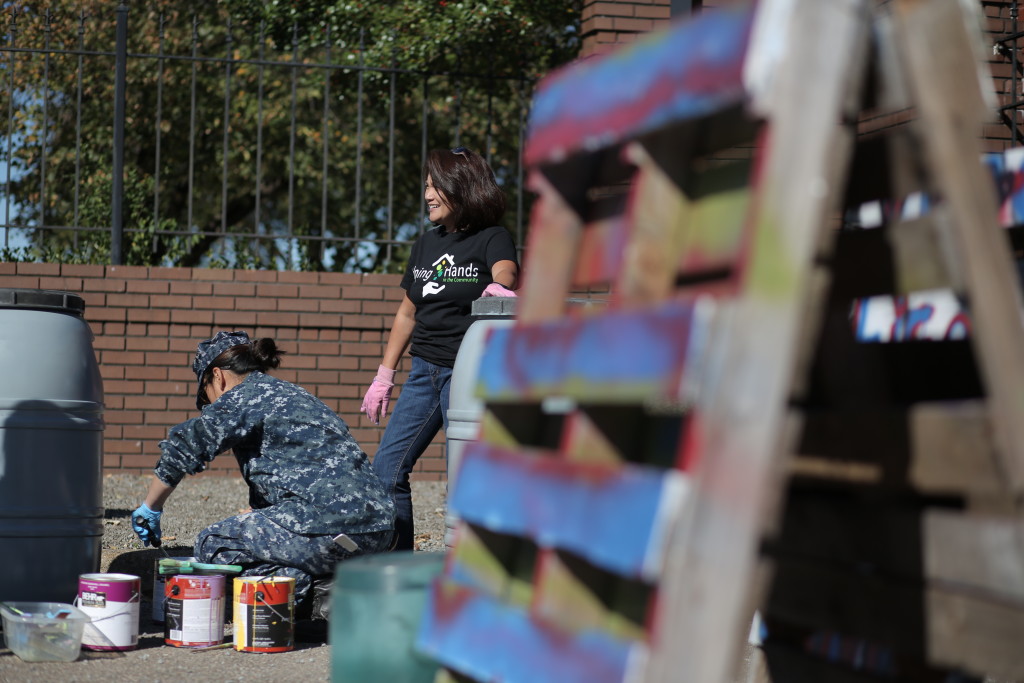 To date, more than 2,100 SpartanNash associates have helped contribute more than 10,000 volunteer hours to more than 50 different community partners during Helping Hands days in Minnesota, Michigan and now Virginia.
SpartanNash has placed a heightened commitment to volunteerism in 2016, challenging its associates from across the country to collectively give 15,000 hours of their time to volunteer efforts. Associates are encouraged to find the causes that they are most passionate about and volunteer in their local communities. To date, SpartanNash associates have collectively volunteered more than 11,000 hours.
"Our associates already give back in so many ways to the communities where we live and work, but Helping Hands days are especially exciting because of the spirit of volunteerism we all share," said Ed Brunot, SpartanNash's executive vice president and MDV president. "The amount of work that gets done in a single day is astounding, and it's just one small way we can say thank you to our nonprofit partners for the work they do all year long."
###
About SpartanNash
SpartanNash (Nasdaq: SPTN) is a Fortune 400 company and the leading distributor of grocery products to military commissaries in the United States. The Company's core businesses include distributing food to military commissaries and exchanges and independent and corporate-owned retail stores located in 47 states and the District of Columbia, Europe, Cuba, Puerto Rico, Bahrain and Egypt. SpartanNash currently operates 159 supermarkets, primarily under the banners of Family Fare Supermarkets, Family Fresh Market, D&W Fresh Market and SunMart.