FOR IMMEDIATE RELEASE
Monday, July 25, 2016
CONTACT:
Meredith Gremel, Vice President, Corporate Affairs & Communications, 616-878-2830
Double Up Food Bucks program offered at 17 Family Fare Supermarkets in Michigan
SpartanNash leading food retailer to offer SNAP customers easier, affordable access to fruits, vegetables
GRAND RAPIDS, Mich. – From apples to zucchini, buying Michigan-grown produce at the grocery store will soon allow participants in the Supplemental Nutrition Assistance Program (SNAP) to earn additional dollars for fresh fruits and vegetables at 17 Family Fare locations throughout Western, Southern and Northern Michigan. The Double Up Food Bucks program is a public-private partnership administered by Fair Food Network with support provided by federal, state and private sources.
SpartanNash is the only major grocery retail chain with multiple stores participating in Double Up Food Bucks in the state, making it easier for store guests to take advantage of this program at multiple Family Fare Supermarket locations. The program is available from Aug. to Dec. 31 at more than 150 farmers markets and 34 additional grocery stores in Michigan, the majority of which are SpartanNash's independent customers.
"At S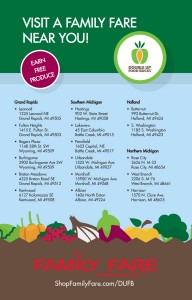 partanNash, we are committed to corporate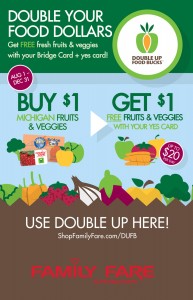 responsibility, including environmental sustainability and social responsibility," said Meredith Gremel, VP of corporate affairs and communications. "The Double Up Food Bucks program is an excellent example of our commitment to supporting our local communities through social responsibility programs. DUFB provides SNAP customers with easier and more affordable access to healthy produce, and it supports Michigan farmers and the local economy. Locally grown produce often has a much smaller environmental footprint, which also enforces SpartanNash's environmental sustainability efforts."
For each dollar of fresh Michigan produce SNAP customers purchase at participating Family Fare stores using their Bridge Card and yes Rewards Card between Aug. 1 and Dec. 31, an equivalent amount of points will be earned and placed on their yes Card. Shoppers can then redeem the points at any participating Family Fare store for free fruits and vegetables. Each point is valued at $1, with a maximum dollar-for-dollar match of $20 per day on their yes Card.
"SpartanNash has been a leader in investing in the IT technology, associate training and community outreach required to pilot the Double Up Food Bucks program in our grocery stores," said Larry Pierce, EVP, merchandising and marketing for SpartanNash. "The program originated in farmers' markets and by offering it in our stores, it is easier and more accessible for SNAP customers to participate. We are excited to expand the program to even more communities in Michigan this year."
This is the third year SpartanNash has offered the Double Up Food Bucks program at select Family Fare Supermarkets. For 2016, the number of participating stores has more than tripled– up from two in 2014 and five in 2015.
"I love that we can offer the Double Up Food Bucks program at our store for the third year in a row," said Renee Harris, store director of the Family Fare Supermarket located at 45 East Columbia in Battle Creek. "Through the program, we can support local products while helping our customers stretch their food dollars and encouraging healthier eating. I'm excited that SpartanNash is expanding the program to even more stores this year, because it means that more families can put healthy food on the table."
The 17 Family Fare Supermarkets taking part in the Double Up Food Bucks program are:
Grand Rapids
Leonard – 1225 Leonard, NE in Grand Rapids
Fulton Heights – 1415 E. Fulton St. in Grand Rapids
Rogers Plaza – 1148 28th St., SW in Wyoming*
Burlingame – 2900 Burlingame Ave., SW in Wyoming*
Breton Meadows – 4325 Breton Road, SE in Grand Rapids*
Kentwood – 6127 Kalamazoo, SE in Kentwood*
Southern Michigan
Hastings – 902 W. State St. in Hastings*
Lakeview – 45 East Columbia in Battle Creek
Pennfield – 1603 Capital, NE in Battle Creek
Urbandale – 1525 W. Michigan Ave. in Urbandale
Marshall – 15900 W. Michigan Ave. in Marshall*
Albion – 1406 North Eaton in Albion*
Holland
Butternut – 993 Butternut Dr. in Holland*
Washington – 1185 S. Washington in Holland*
Northern Michigan
Rose City – 2626 N. M-33 in Rose City*
West Branch – 2206 S. M-76 in West Branch*
Harrison – 1570 N. Clare Ave. in Harrison*
*Indicates a new store participating in the Double Up Food Bucks program.
At participating Family Fare stores, fresh fruits and vegetables that are eligible for the Double Up Food Bucks program will be identified with Double Up Food Bucks signs.
Michigan produces a wider variety of fruits and vegetables than any other state in the country, other than California. SpartanNash is proud to offer all customers, including SNAP customers, access to local Michigan fruits and vegetables.
"Double Up Food Bucks is helping low-income families stretch their food dollars while improving their diets and supporting Michigan growers," said Oran Hesterman, president and CEO of Fair Food Network. "SpartanNash has been an instrumental partner in spreading Double Up in grocery stores. We are thankful for the resources SpartanNash has committed to this project and are excited to continue our partnership, bringing this program to more Family Fare stores across the state."
To learn more about SpartanNash's participation in the Double Up Food Bucks, visit SpartanNash.com/DUFB.
###
About SpartanNash
SpartanNash (Nasdaq: SPTN) is a Fortune 400 company and the leading food distributor serving U.S. military commissaries and exchanges in the world, in terms of revenue. The Company's core businesses include distributing food to military commissaries and exchanges and independent and corporate-owned retail stores located in 47 states and the District of Columbia, Europe, Cuba, Puerto Rico, Bahrain and Egypt. SpartanNash currently operates 160 supermarkets, primarily under the banners of Family Fare Supermarkets, Family Fresh Markets, D&W Fresh Markets, Econofoods and SunMart.