FOR IMMEDIATE RELEASE
Monday, December 18, 2017
CONTACT:
Meredith Gremel, Vice President, Corporate Affairs & Communications, 616-878-2830
East-side shoppers can now join the 'Fast Lane' at five VG's stores, Williamston D&W Fresh Market for added convenience, seamless online grocery shopping

Customers can now order, pick up and go at 38 SpartanNash stores
Fast Lane available at Forest Hills Foods, Family Fare Supermarkets, D&W Fresh Market and VG's stores throughout Michigan
GRAND RAPIDS, Mich. – For families on the go or anyone short on time and looking for quality and convenience, Fast Lane is now available at five VG's locations and the Williamston D&W Fresh Market – joining 32 Family Fare Supermarkets, Forest Hills Foods and D&W Fresh Market stores to offer Fast Lane, the SpartanNash click-and-collect program that provides a seamless online grocery shopping experience.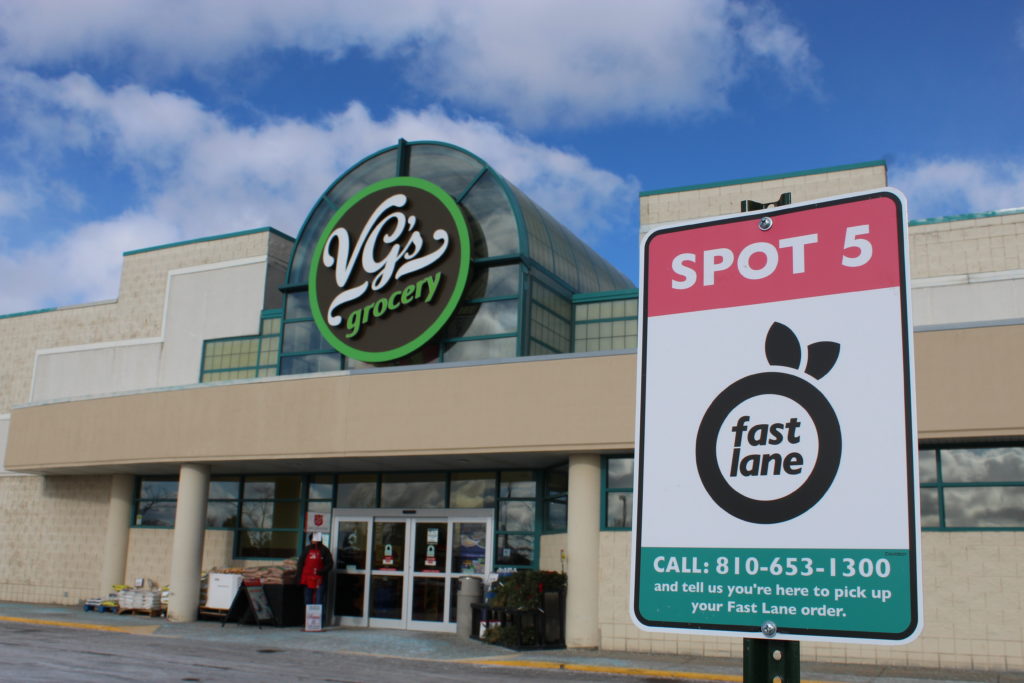 Store guests at VG's stores in Fenton, North Fenton, Davison, Clio and Howell can now join the Fast Lane, allowing them to easily order their groceries online at shopthefastlane.com and pick them up curbside. The VG's stores are located at 18005 Silver Parkway in Fenton; 1390 N. Leroy in North Fenton; 8503 Davison in Davison; 710 S. Mill in Clio and 2400 W. Grand River in Howell.
The Fast Lane is also expanding to the D&W Fresh Market in Williamston, located at 151 W. Grand River.
To celebrate the launch of the click-and-collect experience in Eastern Michigan, customers can have their first three Fast Lane orders shopped for free using the code "FASTLANE".
As many as five new jobs are created each time Fast Lane is expanded to a new store. Fast Lane personal shoppers are also SpartanNash associates, allowing the company to own the experience from start to finish and enabling personal shoppers to build relationships with Fast Lane customers.
The Fast Lane program was first launched at the Family Fare Supermarket in Grandville in July 2017. Due to the program's popularity, SpartanNash has accelerated its expansion of the program, growing to 40 stores and four banners in the company's nine-state footprint in 2017.
Fast Lane is now available at the following stores in Michigan:
Family Fare Supermarkets
Allendale – 6370 Lake Michigan Drive
Battle Creek (Lakeview) – 45 East Columbia
Byron Center – 2245 84th St. SW
Dowagiac – 56151 South M-51
Eaton Rapids – 1411 St. Main
Georgetown Township – 5221 Cherry Ave. in Hudsonville
Grand Rapids (Fulton Heights) – 1415 E. Fulton St.
Grand Rapids – 2755 Lake Michigan Drive NW
Grand Rapids – 5241 Northland Drive
Grand Rapids – 1225 Leonard NE
Grandville – 3960 44th St. SW
Hastings – 902 W. State St.
Holland – 993 Butternut Drive
Holland – 1185 S. Washington
Hudsonville – 6480 28th Ave.
Jenison – 1965 Baldwin St.
Kentwood – 6127 Kalamazoo Ave.
Marshall – 15900 W. Michigan Ave.
Paw Paw – 847 S. Kalamazoo Ave.
Rockford – 201 Marcell Drive NE
Sparta – 565 S. State St.
Wyoming (Metro Health) – 2275 Health Drive SW
Zeeland – 9479 Riley St.
D&W Fresh Market
Caledonia – 9375 Cherry Valley Ave. SE
Grand Haven – 1116 Robbins Road
Grand Rapids (Cascade) – 6425 28th St. SE
Grand Rapids (Knapp's Crossing) – 2022 Apple Orchard Ave.*
Grand Rapids (Breton Village) – 1814 Breton Road SE
Holland – 50 Douglas Ave.
VG's
Clio – 710 S. Mill
Davison – 8503 Davison
Fenton – 18005 Silver Parkway
Howell – 2400 W. Grand River
North Fenton – 1390 N. Leroy
Forest Hills Foods – 4668 Cascade Road SE in Grand Rapids
*Also offers at-home delivery in select zip codes, including 49525, 49301, 49503, 49505 and 49506
In September, Fast Lane was expanded to two Family Fare stores in South Dakota – the first outside of Michigan to add the ability for store guests to order, pickup and go.
Orders placed at shopthefastlane.com are shopped by Fast Lane personal shoppers, who focus on selecting quality items from each aisle of the store. Store guests can also include notes for Fast Lane shoppers to follow, allowing them to request green bananas and thick-sliced ham from the deli.
Store guests with yes loyalty accounts – and repeat Fast Lane shoppers – will automatically have their preferences loaded into their Fast Lane account, making it even easier to clip digital coupons, select commonly purchased items or sort by department, sale items or dietary restrictions when placing an order.
Annual and monthly Fast Lane memberships are also available at shopthefastlane.com to provide Fast Lane shoppers with additional savings.
All orders placed before 3 p.m. will be available for same-day pickup.
###
About SpartanNash
SpartanNash (Nasdaq: SPTN) is a Fortune 350 company whose core businesses include distributing grocery products to independent grocery retailers, select national accounts, its corporate-owned retail stores and U.S. military commissaries and exchanges. SpartanNash serves customer locations in 47 states and the District of Columbia, Europe, Cuba, Puerto Rico, Bahrain and Egypt. As of today, SpartanNash currently operates 145 supermarkets, primarily under the banners of Family Fare Supermarkets, VG's Food and Pharmacy, D&W Fresh Market, Sun Mart and Family Fresh Market. Through its MDV military division, SpartanNash is a leading distributor of grocery products to U.S. military commissaries.