FOR IMMEDIATE RELEASE
Friday, Jan. 5, 2018
CONTACT:
Meredith Gremel, Vice President, Corporate Affairs & Communications, SpartanNash, 616-878-2830
Expanded selection, Fast Lane at-home delivery highlight Georgetown Township Family Fare renovation
Additional amenities include Betty Kaye's Smokehouse, Good to Go station for families looking for quality and convenience
GRAND RAPIDS, Mich. – Kicking off six days of grand reopening events on Sunday, Jan. 7, SpartanNash is celebrating the expanded products, features and amenities available at the newly renovated Family Fare Supermarket in Georgetown Township.
Showcasing its commitment to fresh meat, produce, bakery and deli options and convenience and quality in every aisle of the store, the Family Fare Supermarket located at 6480 28th Ave. in Hudsonville recently underwent a $1.2 million transformation to better serve its store guests.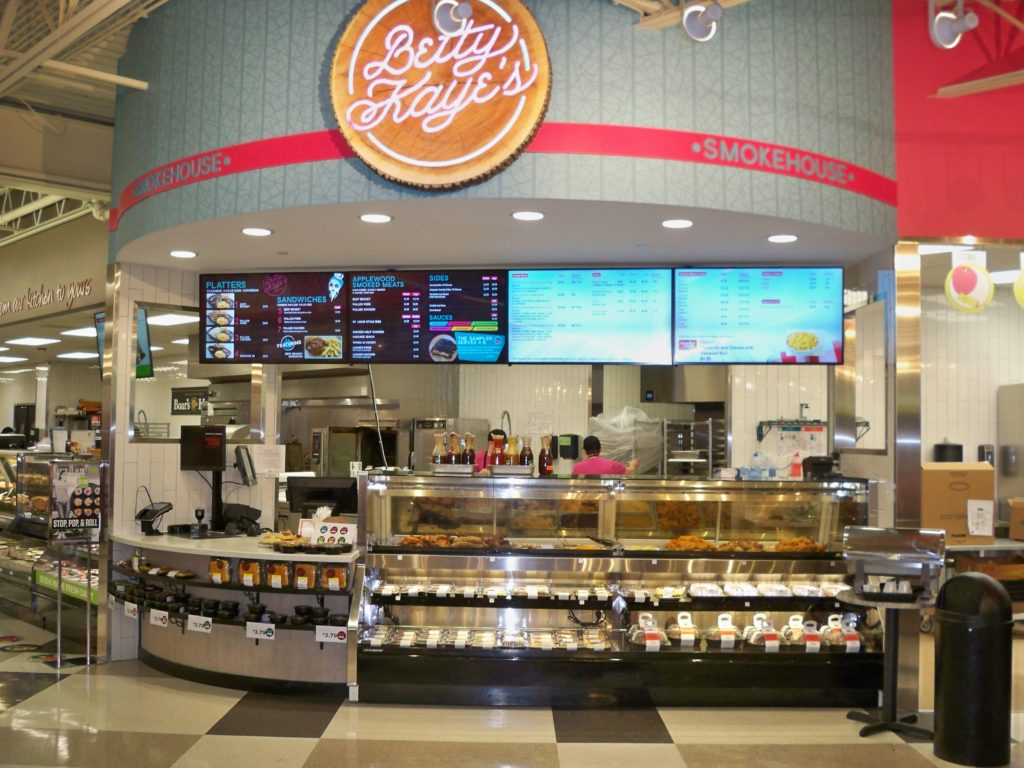 "We paid close attention to what our customers expect in a grocery shopping experience," said Bruce Emery, vice president of the Retail East Division for SpartanNash, which owns the Family Fare Supermarket as well as 144 stores in nine states. "The newly renovated Georgetown Family Fare features a customer-first focus, as well as unique offerings and everyday values you can't find anywhere else."
The Family Fare Supermarket now features a Fresh Divide station – where store guests can select their produce and have it chopped, diced or sliced on-site – as well as a Betty Kaye's Smokehouse, where smoked meats are prepared onsite by expert pit masters and paired with special recipe rubs, sauces and hot sides such as mac and cheese and cornbread for a complete take-home, family-style meal.
The store also features an expansive take-home meal solutions center, primarily focused around SpartanNash's newest private brand, Good to Go! The new brand – available exclusively at SpartanNash retail stores and independent customers – offers dozens of exciting new options for heat-and-eat meal solutions. All of the recipes and products include trending flavors and food types, making it the ideal solution for anyone living the on-the-go lifestyle.
And for on-the-go families or anyone short on time, Fast Lane will now offer at-home delivery to customers who live in the zip codes 49426, 49418 or 49428. The Georgetown Family Fare is the second SpartanNash store to offer Fast Lane delivery, expanding the personalized, online grocery shopping experience to include curbside pickup and store-to-door delivery. In December, the at-home delivery service was launched through the D&W Fresh Market at Knapp's Crossing for residents living in the zip codes 49525, 49301, 49503, 49505 and 49506.
In addition to saving time, Fast Lane is simple to use and provides a customized website experience based on a customer's purchasing preferences. yes accounts are automatically linked to customers' Fast Lane accounts, allowing for a seamless experience earning rewards and additional savings through shopthefastlane.com.
Commonly purchased items and past Fast Lane orders are all available online, making it even easier to clip digital coupons or sort by department, sale items and dietary restrictions when placing an order.
Other highlights of the store's transformation include:
Expanded produce departments with a wide variety of organic and local farm-fresh products.
Expanded bakery and deli sections, featuring a menu of specialty, made-to-order bakery items and grab-and-go meal solutions.
Enhanced meat and seafood departments staffed with center-of-the-plate experts.
An improved dairy section and extended frozen foods to satisfy everyday needs in every section of the store.
The transformation of the Family Fare began in August, when it was reset to make it easier for store guests to navigate the perimeter and aisles. New signs, flooring, décor and energy efficient lighting were installed to update the interior of the store, and the exterior received a facelift.
"We want to deliver a best-in-class experience with every trip to the grocery store, and our new and improved Family Fare will do just that," Emery said. "Our commitment to our customers will always be our top priority, and we appreciate their patience during this renovation. Our store associates have been and continue to be focused on our customers first, and we thank them for their efforts throughout the remodeling process.
"Our new and improved Georgetown Family Fare includes some exciting ways to better serve our store guests – while still delivering the easy-to-navigate store, weekly ad specials and budget-friendly savings our customers expect."
The store is open 24 hours a day, with pharmacy hours from 9 a.m. to 9 p.m. Monday through Friday, 9 a.m. to 5 p.m. Saturday and 10 a.m. to 4 p.m. Sunday. The Quick Stop fuel center is open 6 a.m. to 11 p.m. Monday through Saturday and 7 a.m. to 10 p.m. Sunday.
###
About SpartanNash
SpartanNash (Nasdaq: SPTN) is a Fortune 350 company whose core businesses include distributing grocery products to independent grocery retailers, select national accounts, its corporate-owned retail stores and U.S. military commissaries and exchanges. SpartanNash serves customer locations in 47 states and the District of Columbia, Europe, Cuba, Puerto Rico, Bahrain and Egypt. As of today, SpartanNash currently operates 145 supermarkets, primarily under the banners of Family Fare Supermarkets, VG's Food and Pharmacy, D&W Fresh Market, Sun Mart and Family Fresh Market. Through its MDV military division, SpartanNash is a leading distributor of grocery products to U.S. military commissaries.