FOR IMMEDIATE RELEASE
Monday, Nov. 27, 2017
CONTACT:
Meredith Gremel, Vice President, Corporate Affairs & Communications, 616-878-2830
At-home delivery now available through Fast Lane

Knapp's Crossing D&W Fresh Market premieres the at-home delivery option for added convenience
GRAND RAPIDS, Mich. – SpartanNash and its Fast Lane personalized, online grocery shopping experience are now offering the added convenience of at-home delivery.
SpartanNash is debuting its home delivery service through the Knapp's Crossing D&W Fresh Market, located at 2022 Apple Orchard Ave. in Grand Rapids. Delivery is currently available in select zip codes, including 49525, 49301, 49503, 49505 and 49506.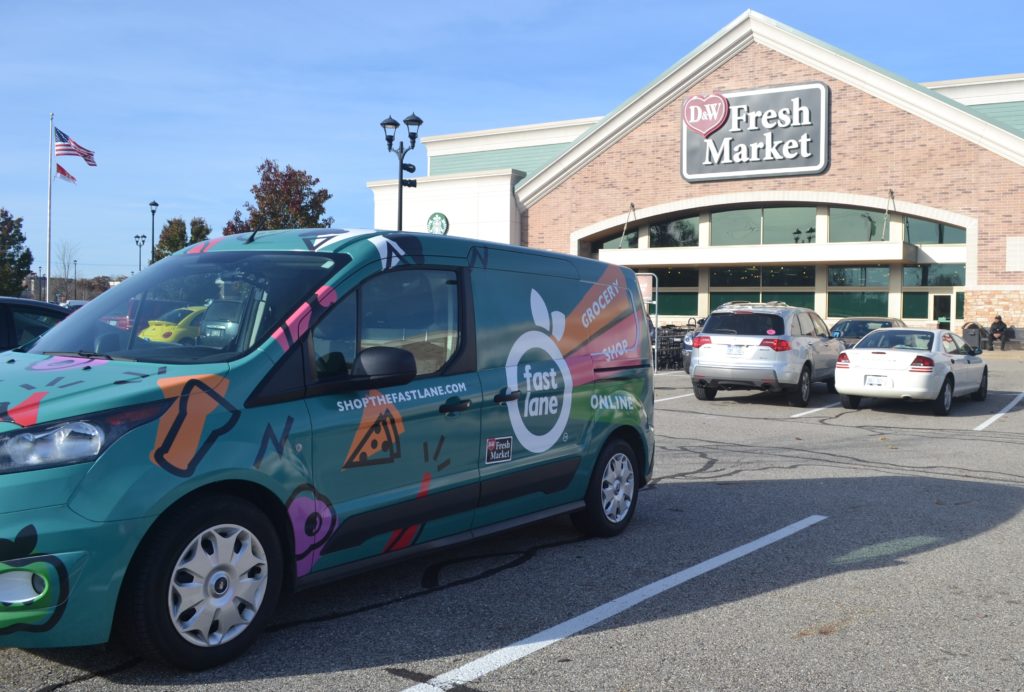 Fast Lane customers who are short on time and looking for quality and convenience can select at-home delivery at shopthefastlane.com. Orders are shopped by a team of Fast Lane personal shoppers, who focus on selecting quality items from each aisle of the store – including beer, wine and spirits.
"Offering at-home delivery enhances the level of convenience and personalized shopping we provide to our customers through Fast Lane," said Larry Pierce, executive vice president of merchandising and marketing. "Our wide selection of craft beer, wine and spirits is also available for delivery, allowing our customers to shop every aisle of our stores from the convenience of their own homes, all at the same prices you'll find in our stores."
SpartanNash is offering free at-home delivery on customers' first three Fast Lane orders using the code "FASTLANE" with a minimum purchase of $50. Customers can also use the curbside pickup option at the Knapp's Crossing D&W Fresh Market, with no minimum purchase required.
yes accounts are automatically linked to customers' Fast Lane accounts, allowing for a seamless experience earning rewards and additional savings. Commonly purchased items and past Fast Lane orders are all available online, making it even easier to clip digital coupons, select commonly purchased items or sort by department, sale items or dietary restrictions when placing an order.
Annual and monthly Fast Lane memberships are also available at shopthefastlane.com to provide shoppers with additional savings, regardless of whether they choose at-home delivery or store pickup.
Fast Lane personal shoppers and delivery drivers are SpartanNash associates, allowing the company to own the experience from start to finish and enabling personal shoppers to build relationships with Fast Lane customers. For example, if a personal shopper has a question about how ripe a customer wants his avocados, she can quickly text and find out.
Since launching Fast Lane in July 2017, the curbside pickup program has quickly expanded and is now available in 27 D&W Fresh Market and Family Fare Supermarkets across Michigan and South Dakota.
###
About SpartanNash
SpartanNash (Nasdaq: SPTN) is a Fortune 350 company whose core businesses include distributing grocery products to independent grocery retailers, select national accounts, its corporate-owned retail stores and U.S. military commissaries and exchanges. SpartanNash serves customer locations in 47 states and the District of Columbia, Europe, Cuba, Puerto Rico, Bahrain and Egypt. As of today, SpartanNash currently operates 145 supermarkets, primarily under the banners of Family Fare Supermarkets, VG's Food and Pharmacy, D&W Fresh Market, Sun Mart and Family Fresh Market. Through its MDV military division, SpartanNash is a leading distributor of grocery products to U.S. military commissaries.