FOR IMMEDIATE RELEASE
Thursday, Jan. 25, 2018
CONTACT:
Meredith Gremel, Vice President, Corporate Affairs & Communications, SpartanNash, 616-878-2830
Rick Williamson, Hormel Foods, 507-437-5345, [email protected]
Hormel Foods, SpartanNash donate Hormel® Cure 81® hams
to those in need to start the year
OMAHA, Neb. – Hormel Foods Corporation and SpartanNash today donated 351 Hormel® Cure 81® half hams to Open Door Mission and The Salvation Army to help feed those in need.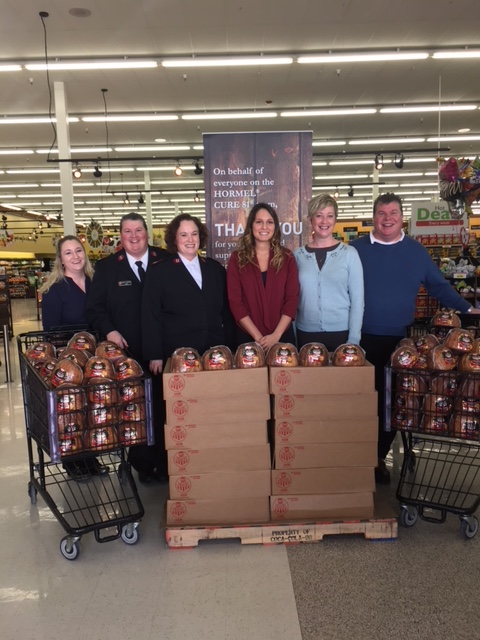 "Hormel Foods and SpartanNash are proud to support hunger-relief efforts in Omaha," said Stephanie Postma, brand manager, meat products marketing, Hormel Foods. "The Hormel Cure 81 Hams for Hunger program highlights our long-standing relationship with SpartanNash, and we are honored to work together and make such a substantial contribution for those in need."
The makers of the Hormel Cure 81 brand created the Hormel Cure 81 Hams for Hunger program in 1986. The program involves a partnership between Hormel Foods and grocery retailers across the country. Throughout the years, more than $13 million dollars in hams has been donated, feeding tens of thousands of families.
"We are honored to work with Hormel Foods and the Hormel Cure 81 brand to donate more than 1,200 pounds of ham to our local food pantries," said Meredith Gremel, vice president, corporate affairs and communication for SpartanNash. "As a company that takes food places, we understand that hunger doesn't take a holiday, which is why we work with local food pantries like these throughout the year to provide food and financial donations."
In 2016, SpartanNash donated 5.525 million pounds of product to community food pantries and local nonprofits throughout its company footprint. The SpartanNash Foundation also granted nearly $500,000 to organizations that provide hunger relief.
"Each year, nearly 100,000 men, women and children in the greater Omaha metro community walk through The Salvation Army's doors seeking food and help with other basic needs," said Susan Eustice, divisional director of public relations, The Salvation Army. "Last year, more than 25,500 were served in meal programs and nearly 24,000 received winter emergency assistance, including food and clothing. Our thanks to Hormel Foods and SpartanNash for this generous donation, which serves to nourish the bodies and souls of the most vulnerable in our community."
Hormel Foods will donate more than 38,000 hams to charities nationwide through the Hormel® Cure 81® Hams for Hunger program.
###
About SpartanNash
SpartanNash (Nasdaq: SPTN) is a Fortune 350 company whose core businesses include distributing grocery products to independent grocery retailers, select national accounts, its corporate-owned retail stores and U.S. military commissaries and exchanges. SpartanNash serves customer locations in 47 states and the District of Columbia, Europe, Cuba, Puerto Rico, Bahrain and Egypt. As of today, SpartanNash currently operates 144 supermarkets, primarily under the banners of Family Fare Supermarkets, VG's Food and Pharmacy, D&W Fresh Market, Sun Mart and Family Fresh Market. Through its MDV military division, SpartanNash is a leading distributor of grocery products to U.S. military commissaries.
About Hormel Foods – Inspired People. Inspired Food.™
Hormel Foods Corporation, based in Austin, Minn., is a global branded food company with over $9 billion in annual revenue across 75 countries worldwide. Its brands include SKIPPY®, SPAM®, Hormel® Natural Choice®, Applegate®, Justin's®, Wholly Guacamole®, Hormel® Black Label® and more than 30 other beloved brands. The company is a member of the S&P 500 Index and the S&P 500 Dividend Aristocrats, was named one of "The 100 Best Corporate Citizens" by Corporate Responsibility Magazine for the ninth year in a row, and has received numerous other awards and accolades for its corporate responsibility and community service efforts. In 2016, the company celebrated its 125th anniversary and announced its new vision for the future – Inspired People. Inspired Food.™ – focusing on its legacy of innovation. For more information, visit www.hormelfoods.com and https://csr.hormelfoods.com/.