For immediate release

Contact: Meredith Gremel | Vice President, Corporate Affairs and Communications | 616. 878.2830
Lima, Ohio SpartanNash Distribution Center Builds Success on Relationships
GRAND RAPIDS, MICHIGAN – February 9, 2015 – SpartanNash is one of the largest food distributors in the United States and the largest distributor to U.S. military commissaries and exchanges in the world. Yet, the company's vision is to be a best in class business that feels local, where relationships matter. What does this mean?  And what does it look like in Lima, Ohio?
SpartanNash differentiates itself from its competitors by building strong lasting relationships with all its customers – including the thousands who shop SpartanNash's 165 corporate owned stores throughout 9 states, the 1900 independent retailers who count on SpartanNash to supply their stores in 40+ states, plus the company's suppliers, shareholders, community partners, and fellow associates. At the Lima, Ohio Distribution Center located at 1100 Prosperity Road, this customer-centric model is reflected in the family-like atmosphere amongst the 260 associates.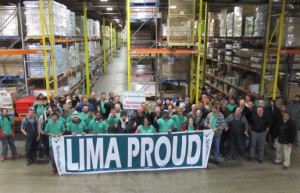 Distribution Director Greg Ratliff notes: "Thirty-eight warehouse associates and ten drivers were hired in 1990 or earlier. The number of long-term associates and an extensive number of father-son, mother-son, husband-wife and brothers employed at the distribution center contribute to our motto: 'LIMA PROUD'." Such longevity clearly supports the team's commitment to each other, its community, and those they serve.
About the SpartanNash Lima Distribution Center
Currently there are 260 SpartanNash associates employed at the Lima Distribution Center.
The distribution center has an on-site repair garage, truck-wash facilities and a fueling center to support the transportation fleet.
Annually the Lima truck drivers log 5.5 million miles primarily in Ohio and Michigan; but also in Kentucky, Indiana, West Virginia and Pennsylvania.
The Lima facility is 497,000 square feet of warehouse/offices that houses grocery, meat, dairy and frozen products.
Received the "Friend of Children" award from the Allen county Department of Children Services and received am Award of Excellence from United Way's Extreme Community Makeover project for efforts at Camp Robin Rogers.
Want to be a part of the Lima Proud team?
Currently the SpartanNash Lima Distribution Center is taking applications for the following positions:
Third Shift Dispatcher
Inventory Control Clerk
Warehouse Clerk
Supervisor, Warehouse
CDL A Driver
Order Selector
Apply online at http://www.spartannash.com/careers/search or look for openings in the Lima News classified section. The facility frequently hosts "Open House sessions" to show interested candidates the warehouse environment and answer questions about open positions.
About SpartanNash
SpartanNash Company (SPTN) is the largest food distributor serving military commissaries and exchanges in the United States, in terms of revenue. The Company's core businesses include distributing food to military commissaries and exchanges and independent and corporate-owned retail stores located in 44 states and the District of Columbia, Europe, Cuba, Puerto Rico, the Azores, Bahrain and Egypt. SpartanNash currently operates 165 supermarkets, primarily under the banners of Family Fare Supermarkets, D&W Fresh Markets, No Frills, Bag 'n Save, Sun Mart and Econofoods.