FOR IMMEDIATE RELEASE
FOR MORE INFORMATION CONTACT:
Meredith Gremel, Vice President, Corporate Affairs & Communications, SpartanNash, 616-878-2830
Governor Rick Snyder Proclaims May Honor and Remember Month
Tribute recognizes members of the US Armed Forces who paid the ultimate sacrifice
Grand Rapids, Mich., May 5, 2016 —  Michigan Governor Rick Snyder has proclaimed May 2016 Honor and Remember Month to pay tribute to all members of the United States Armed Forces who have paid the ultimate sacrifice and lost their lives while serving our Country – Honor and Remember Month May 2016.  The proclamation also pays tribute to their families.  May is also National Military Appreciation Month and the country has designated additional recognitions throughout the month (see list below).  Michigan legislators also are considering adopting the Honor and Remember flag as a state symbol for recognizing fallen warriors.  Seventeen states have adopted the flag and over 20 are in the process.
The Honor and Remember flag specifically acknowledges American service men and women who paid the ultimate price with their life while serving their country.  Honor and Remember is a nonprofit organization founded by George Lutz, who lost his son Tony to a sniper's bullet in Fallujah, Iraq, in 2005. The organization is deeply committed to promoting broad national awareness of and groundswell interest in the flag, so that military, government and educational facilities as well as households throughout the country will begin flying the Honor and Remember Flag in recognition of our nation's fallen warriors. It is also the goal of Honor and Remember to place one personalized Honor and Remember Flag in the hands of immediate families who have lost a loved one in military service to America. http://www.honorandremember.org/our-mission/
SpartanNash, the leading gold star distributor to military commissaries and exchanges in the world, is headquartered in Grand Rapids, Michigan and a key supporter of Honor and Remember.   Representatives from the company will present an Honor and Remember flag to the family of Marine Gunnery Sgt. Daniel J. Price who died July 29, 2012 in Badghis province, Afghanistan, while conducting combat operations as part of Operation Enduring Freedom. Price, 27, was from Holland, Michigan.  The flag will be presented on Rosa Park Circle at 10:00 am.  The public is invited to attend and show their respect.  (see full schedule below).
"SpartanNash cares deeply for those who defend our freedom and protect our families," said Ed Brunot, EVP and President of SpartanNash's MDV military division based in Norfolk, VA. "We are committed to ensuring that these brave men and women's sacrifices and stories are not forgotten."
Brunot serves on the Board of Directors of Honor and Remember and has been instrumental in raising awareness of and funds for Honor and Remember flags. SpartanNash has placed the Honor and Remember flag on more than 1,600 semi-trailers, which  travel over 53 million miles a year distributing to 47 states.  The flag is also flown at its corporate owned retail stores in 10 states.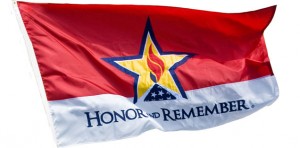 The Honor and Remember Flag's design is distinctive, yet simple. Each detail on the flag symbolizes an important part of the overall meaning of the flag's message.


The Red Field represents the blood spilled by brave men and women in America's military throughout our history, who willingly gave their lives so that we all would remain free.
The Blue Star represents active service in military conflict. This symbol originated with World War I, but on this flag it signifies service through all generations from the American Revolution to present day.
The White Border beneath and surrounding the gold star recognizes the purity of sacrifice. There is no greater price an American can pay than to give his or her life in service to our country.
The Gold Star signifies the ultimate sacrifice of a warrior in active service who will not return home. Gold reflects the value of the life that was given.
The Folded Flag signifies the final tribute to an individual life that a family sacrificed and gave to the nation.
The Flame is an eternal reminder of the spirit that has departed this life yet burns on in the memory of all who knew and loved the fallen hero.

We will always Honor their selfless sacrifice and Remember them individually by name.
"Words cannot express how important it is to recognize families who've lost those who've paid the ultimate price," said George Lutz, founder of the Honor and Remember flag. "I'm grateful that a company the size of SpartanNash has recognized this flag and is committed to carrying its message."
The 6 National Observances during National Military Appreciation Month
Loyalty Day – Sunday, May 1, 2016
Kicks off our Nation's month-long celebration of military appreciation.  It is a day set aside for the reaffirmation of loyalty to the United States and to reflect on the proud heritage of our American freedom.
Public Service Recognition Week (PSRW) – Saturday, May 7, 2016
Celebrated the first full week in May. A time set aside to honor the men and women who serve our nation as federal, state, county and local government employees and ensure that our government is the best in the world.
Victory in Europe Day AKA V-E Day or VE Day – Sunday, May 8, 2016
May 8th, 1945 is the day the Germans throughout Europe unconditionally surrendered to WW II Allies.
Military Spouse Appreciation Day – Friday, May 6, 2016
Traditionally set for the Friday before Mother's Day. A day to honor military spouses with appropriate ceremonies and activities.   Recognizes the important role our military families play in keeping our Armed Forces strong and our country safe.
Armed Forces Day – Saturday, May 21, 2016
Celebrated the third Saturday in May every year. A single holiday for citizens to come together and thank our military members for their patriotic service in support of our country.  This day honors everyone serving in the U.S. Military branches; Air Force, Army, Coast Guard, Marines, Navy.
Memorial Day – Monday, May 30, 2016
A Federal holiday observed on the last Monday in May. A remembrance of our veterans.  Commemorates the men and women who died while in military service.
May 13, 2016 – Armed Forces Day in Grand Rapids, Michigan:
10:00 – 11:00:  VIP Sponsor Open House with Eric Olson – we invite you to come down early and meet Admiral Olson and then walk over to Rosa Parks to enjoy the military displays noted above.  Honor and Remember flag presentation at Rosa Parks – public welcome.
At  11:30, a bagpiper procession will lead participating students and guests from Rosa Parks Circle to the Amway Grand Plaza.
To begin the event, honored military guests will receive a hero's welcome as they enter the ballroom to the majestic sounds of the military band.
After the Color Guard posts the colors, Eric T. Olson, retired Navy Admiral and former Commander of U.S. Special Operations will provide an inspirational keynote address.  Admiral Olson was the senior ranking officer when Special Ops captured and eliminated Osama Bin Laden in 2011.
Finally, during the luncheon, active and veteran military members will lead real life discussions and answer questions at each table, providing a memorable learning experience for our high school guests.
About SpartanNash
SpartanNash (SPTN) is a Fortune 500 company and the largest food distributor serving U.S. military commissaries and exchanges in the world, in terms of revenue. The Company's core businesses include distributing food to military commissaries and exchanges and independent and corporate-owned retail stores located in 47 states and the District of Columbia, Europe, Cuba, Puerto Rico, Bahrain and Egypt. SpartanNash currently operates 160 supermarkets, primarily under the banners of Family Fare Supermarkets, Family Fresh Markets, D&W Fresh Markets, and SunMart.
###