FOR IMMEDIATE RELEASE
Monday, Feb. 26, 2018
CONTACT:
Meredith Gremel, Vice President, Corporate Affairs & Communications, 616-878-2830
SpartanNash introduces new banner-specific apps for more convenient shopping at family of retail stores
Apps now available for Family Fare Supermarkets, D&W Fresh Market, VG's, Family Fresh Market and Forest Hills Foods store guests to download
GRAND RAPIDS, Mich. – In its quest to continually provide a better shopping experience both in-store and online, SpartanNash today announced new banner apps for Family Fare Supermarkets, D&W Fresh Market, VG's Grocery, Family Fresh Market and Forest Hills Foods store guests.
The mobile apps make shopping at participating banners more convenient, allowing store guests to view weekly ads, clip coupons, join yes clubs and track rewards – all in one place.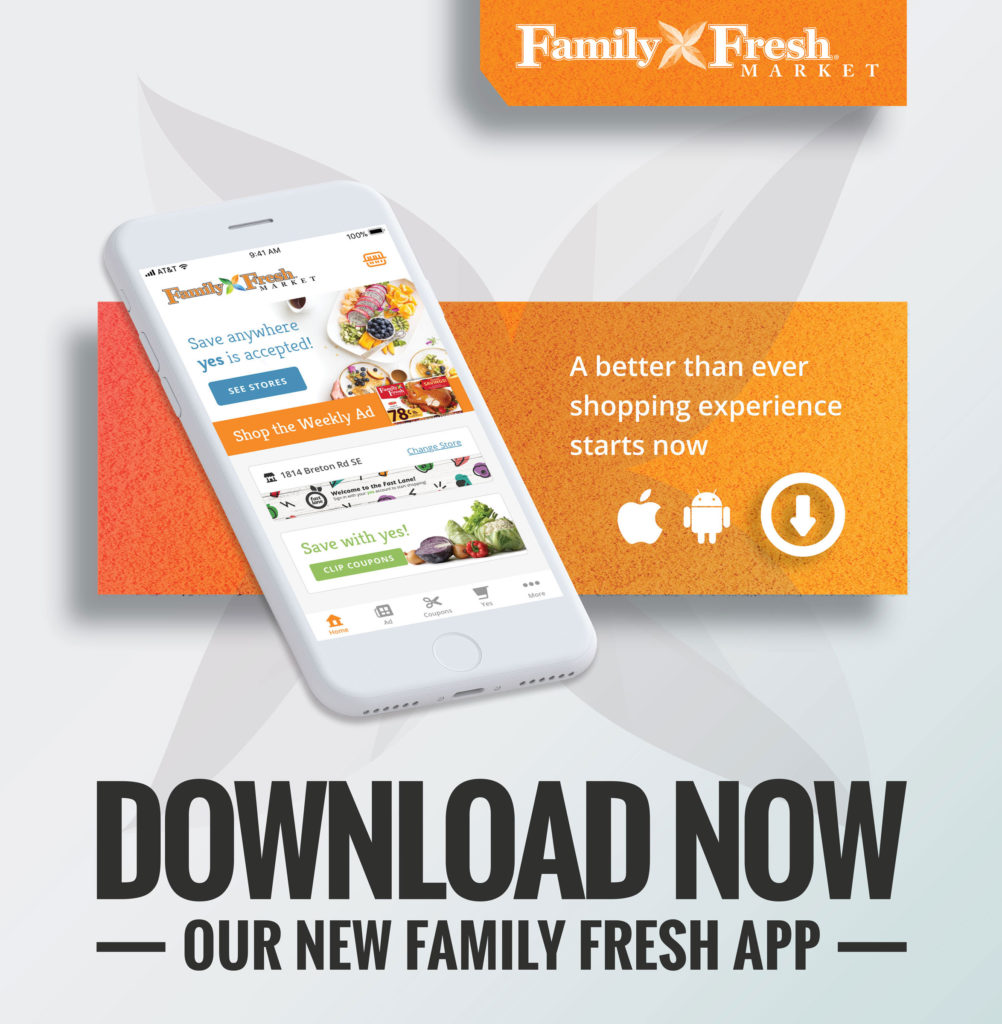 "By bringing all of these features together in one easy-to-use mobile app, we are making shopping our family of retail stores more convenient, while also helping our customers save money," said Brian Holt, SpartanNash vice president of marketing. "Our retail stores provide customers with a wide range of grocery products to meet their everyday needs, and we want our apps to offer that same quality and convenience to them."
The banner-specific apps allow customers to shop the Fast Lane from their mobile devices, making it even easier to use the personalized, online grocery shopping experience to place curbside pickup or at-home delivery orders. Since launching Fast Lane in July 2017, the curbside pickup program has quickly expanded and is now available in 40 locations across Michigan and South Dakota.
Family Fare Supermarkets, D&W Fresh Market, VG's Grocery, Family Fresh Market and Forest Hills Foods customers can also manage their yes account, join clubs – which change often and encourage store guests to save money on the purchases they make most – earn rewards and track their progress toward additional savings, all from the convenience of their phones.
The apps allow customers to clip digital coupons as they shop, and can be sorted by a variety of categories and personalized based on their preferences and buying habits.
yes is available at Family Fare Supermarkets, Family Fresh Market, D&W Fresh Market and VG's locations in Iowa, Michigan, Minnesota, Nebraska, North Dakota, South Dakota and Wisconsin, giving customers the power to say "yes" to savings throughout the store.
Apps for each of the five store banners are now available for iPhone and Android users to download.
###
About SpartanNash
SpartanNash (Nasdaq: SPTN) is a Fortune 350 company whose core businesses include distributing grocery products to independent grocery retailers, select national accounts, its corporate-owned retail stores and U.S. military commissaries and exchanges. SpartanNash serves customer locations in 47 states and the District of Columbia, Europe, Cuba, Puerto Rico, Italy, Bahrain, Djibouti and Egypt. As of today, SpartanNash currently operates 143 supermarkets, primarily under the banners of Family Fare Supermarkets, D&W Fresh Market, VG's Grocery, Dan's Supermarket and Family Fresh Market. Through its MDV military division, SpartanNash is a leading distributor of grocery products to U.S. military commissaries.