FOR IMMEDIATE RELEASE
Friday, June 15, 2018
CONTACT:
Meredith Gremel, Vice President, Corporate Affairs & Communications, 616-878-2830
Progressive Grocer names 15 SpartanNash associates 'Top Women in Grocery'

National award recognizes outstanding female leaders in grocery industry
GRAND RAPIDS, Mich. – Recognizing and celebrating the key role women play across all sectors of the grocery industry, Progressive Grocer recently honored 15 SpartanNash associates as part of the publication's nationwide list of Top Women in Grocery. Since 2012, 63 SpartanNash associates have been recognized by Progressive Grocer as TWIG winners.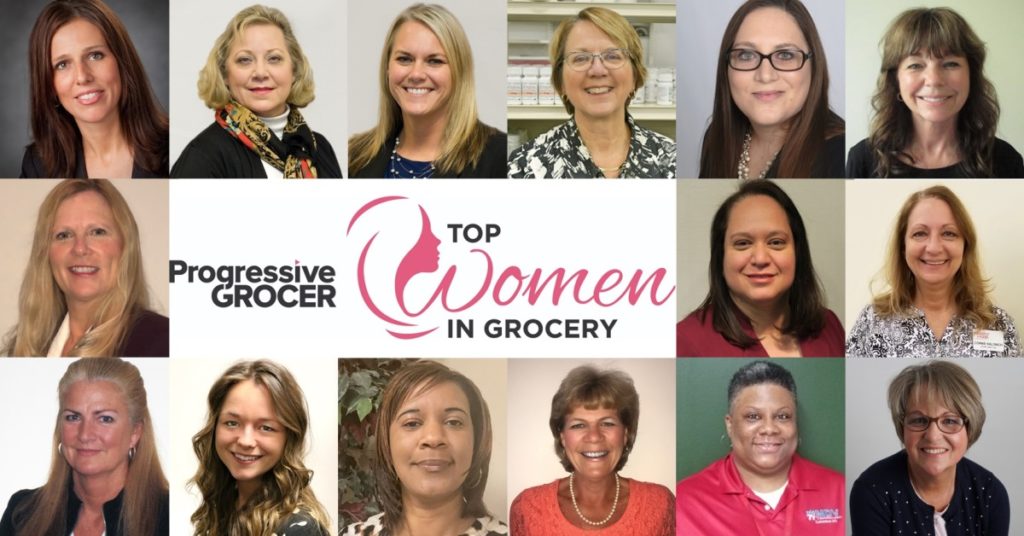 In total, 362 women are in the Top Women in Grocery's class of 2018, including 83 senior-level executives, 199 rising stars and 80 store managers – all of whom play an integral role in the retail food industry.
"Our 15 winners represent the largest class of SpartanNash honorees we've ever had, and it is a testament to the unique talents and backgrounds of our female associates and the ways they make SpartanNash a better company," President and CEO Dave Staples said. "Every day, these women – and countless others throughout the company – go above and beyond to take food places.
"We are honored to have so many strong female leaders, representing many different areas of our company and making SpartanNash a best-in-class business that feels local, where relationships matter."
The 15 SpartanNash associates named Top Women in Grocery are:
Senior-Level Executives:
Yvonne Trupiano, Executive Vice President and Chief Human Resources and Corporate Affairs and Communications Officer (Grand Rapids, Mich.)
Rising Stars:
Kristie Bohn-Berman, Manager, Real Estate (Minneapolis)
Mary Brunsting, Director, Network Systems Engineering (Grand Rapids, Mich.)
Karen Calligaris-Rodriguez, Manager, Pharmacy Procurement & Warehouse (Grand Rapids, Mich.)
Carlye Cordes, Manager, Consumer Relationship (Grand Rapids, Mich.)
Amy Ellis, Manager, Pharmacy Services (Grand Rapids, Mich.)
Sherry Ferebee, Controller, Military Division, MDV (Norfolk, Va.)
Janis Huffman, Manager, Pharmacy Operations (Grand Rapids, Mich.)
Trish Jones, Manager, Customer Service & Sales, MDV (Norfolk, Va.)
Lauren Mills, Supervisor, Marketing Analytics (Grand Rapids, Mich.)
Cassandra Nino, Grocery Category Manager (Grand Rapids, Mich.)
Kenya Phillips, Supervisor, Inventory Control, MDV (Columbus, Ga.)
Carrie Quigley, Director, Project Management Office (Grand Rapids, Mich.)
Store Managers:
Connie Kalonich, Store Director, Family Fare (Grayling, Mich.)
Mary Jo Marciniak, Store Director, Family Fare (West Branch, Mich.)
Through its Top Women in Grocery award, Progressive Grocer shines a national spotlight on many dynamic leading women from some of the most admired organizations in the U.S. supermarket business.
"For more than a decade, Progressive Grocer has been honoring women who have gone above and beyond to succeed in the grocery industry," said Progressive Grocer Senior Editor Kat Martin. "And every year, the bar is raised when it comes to what it takes to be named a Top Woman in Grocery. These women are the best of the best in the industry and play an important role in making their businesses excel. They all are leaders to be emulated and offer an example of what is needed to make the industry better for those who work in it and for the customers."
All winners will be honored at a networking event and awards celebration that will take place Thursday, Nov. 8 at the Palmer House Hilton in Chicago.
The full list of 2018 Top Women in Grocery is included in the June edition of Progressive Grocer.
###
About SpartanNash
SpartanNash (Nasdaq: SPTN) is a Fortune 400 company whose core businesses include distributing grocery products to independent grocery retailers, national accounts, its corporate-owned retail stores and U.S. military commissaries and exchanges. SpartanNash serves customer locations in all 50 states and the District of Columbia, Europe, Cuba, Puerto Rico, Italy, Bahrain, Djibouti and Egypt. SpartanNash currently operates 142 supermarkets, primarily under the banners of Family Fare Supermarkets, D&W Fresh Market, VG's Grocery, Dan's Supermarket and Family Fresh Market. Through its MDV military division, SpartanNash is a leading distributor of grocery products to U.S. military commissaries.