FOR IMMEDIATE RELEASE
Wednesday, Sept. 12, 2018
CONTACT:
Meredith Gremel, Vice President, Corporate Affairs & Communications, SpartanNash, 616-878-2830
Family Fare banner, additional offerings, customer-first focus highlight $500,000 renovation of Red Wing store
Grand reopening celebrations will take place throughout the week
RED WING, Minn. – As part of its $500,000 investment in the Red Wing community, SpartanNash today celebrated the grand reopening of its newest Family Fare Supermarket, located at 615 Main St.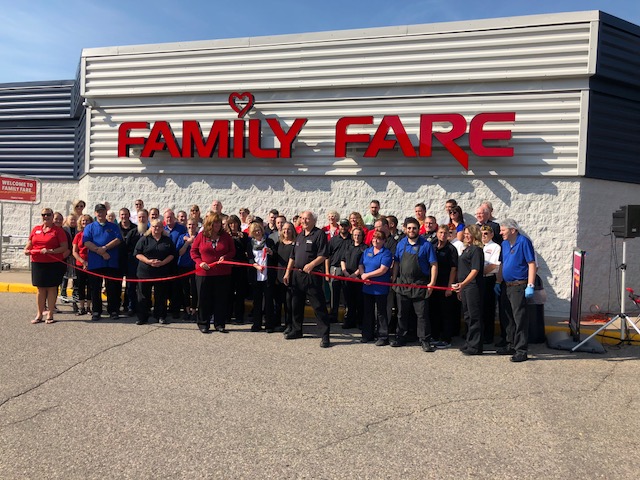 The store, which previously operated under the Econofoods banner, underwent an extensive remodeling and rebannering process to better serve its store guests with an expanded product offering, including additional local items, selection, quality and freshness throughout the store.
The renovation is part of SpartanNash's overall investment in its Minnesota stores and local communities. The Northfield Econofoods underwent a simultaneous $3 million makeover, and the Litchfield location is also in the process of a similar renovation and rebannering, scheduled to be completed in October. In total, SpartanNash operates 85 Family Fare stores in six states.
"We pay close attention to what our customers expect in a grocery shopping experience," said Chris Williamson, vice president of the Retail West Division for SpartanNash, which owns the Family Fare Supermarkets as well as 139 stores in eight states. "Each of our newest Family Fare stores received updates and upgrades throughout, bringing in exciting elements that allow our store guests to browse, discover and even indulge – all within their family's budget."
The Red Wing and Northfield Family Fare stores both celebrated their grand reopening today, with store guests and SpartanNash associates attending simultaneous ribbon-cutting ceremonies. The grand reopening ceremonies also kicked off a week of giveaways, food samples and surprise and delight offerings throughout each store.
At the Red Wing ribbon-cutting ceremony, a pallet of food was donated to the Red Wing Area Food Shelf, in addition to donations to local fire and police departments.
The transformation of the Red Wing Family Fare began in July, when it was reset to make it easier for store guests to navigate the perimeter and aisles. New signs, flooring and décor were also installed to update the interior of the stores, and the exteriors received a facelift.
In addition to the new esthetics – including energy-saving lighting and equipment to brighten up the shopping experience and reduce energy consumption – the Red Wing Family Fare Supermarket's new offerings include:
yes loyalty rewards, which brings everyday savings, exclusive digital coupons, free and low-cost prescriptions and a more personalized shopping experience.
Fast Lane, the click-and-collect program that provides a seamless online grocery shopping experience and added quality and convenience for busy families.
Expanded produce departments with a wide variety of organic and local farm-fresh products.
Expanded bakery and deli sections, featuring a menu of specialty, made-to-order bakery items and grab-and-go meal solutions.
Enhanced meat and seafood departments staffed with center-of-the-plate experts.
An improved dairy section and extended frozen foods to satisfy everyday needs in every section of the store.
Corporate responsibility messaging throughout the store, highlighting SpartanNash's commitments to reducing its carbon footprint, recycling, supporting the local community and more.
A continued emphasis on local, organic, gluten-free and on-trend products in every aisle.
Our Family®, Open Acres™ and other SpartanNash private brands to provide additional savings and selection throughout the store.
"We want to deliver a best-in-class experience with every trip to the grocery store, and our new and improved Family Fare will do just that," Williamson said. "Our commitment to our customers will always be our top priority, and we appreciate their patience during this renovation. Our store associates have been and continue to be amazing during this conversion, and we thank them for their efforts throughout the remodeling process.
"SpartanNash's $500,000 investment in the Red Wing community is part of our continuous evaluation of our retail footprint to right size the market as neighborhoods change and grow. While it is never easy to close a store, the company decided to consolidate its retail operations in Red Wing from two stores to one. Associates from the other location are now serving store guests at our new Family Fare Supermarket, providing the same level of excellent customer service and reaffirming our commitment to serve this community."
In addition to the new in-store amenities, Family Fare store guests can now join the Fast Lane by easily ordering their groceries online at shopthefastlane.com and picking them up curbside.
Orders placed at shopthefastlane.com are shopped by Fast Lane personal shoppers – who are also SpartanNash associates – who focus on selecting quality items from each aisle of the store. Store guests can also include notes for Fast Lane shoppers to follow, allowing them to make special requests like green bananas, near-ripe avocados and thick-sliced ham from the deli.
Store guests with yes loyalty accounts will automatically have their preferences loaded into their Fast Lane account, making it even easier to clip digital coupons, select commonly purchased items or sort by department, sale items or dietary restrictions when placing an order.
Annual and monthly Fast Lane memberships are also available at shopthefastlane.com to provide Fast Lane shoppers with additional savings.
###
About SpartanNash
SpartanNash (Nasdaq: SPTN) is a Fortune 400 company whose core businesses include distributing grocery products to a diverse group of independent and chain retailers, its corporate-owned retail stores and U.S. military commissaries and exchanges; as well as premier fresh produce distribution and fresh food processing. SpartanNash serves customer locations in all 50 states and the District of Columbia, Europe, Cuba, Puerto Rico, Bahrain, Djibouti and Egypt. SpartanNash currently operates 139 supermarkets, primarily under the banners of Family Fare Supermarkets, D&W Fresh Market, VG's Grocery, Dan's Supermarket and Family Fresh Market. Through its MDV military division, SpartanNash is a leading distributor of grocery products to U.S. military commissaries.