FOR IMMEDIATE RELEASE
Thursday, April 13, 2017
CONTACT:
Meredith Gremel, Vice President, Corporate Affairs & Communications, 616-878-2830
Rice County Habitat for Humanity receives $3,300 from SpartanNash Foundation, Econfoods as a result of companywide effort to provide shelter
Companywide scan campaign raised $202,350 for local Habitat for Humanity affiliates in eight states
NORTHFIELD, Minn. – As a result of the Rice County Habitat for Humanity's partnership with the SpartanNash Foundation and the Econofoods in Northfield, the local Habitat affiliate recently received a $3,300 donation. The donation – which took place on April 10 at the Econofoods located at 601 Division Street in Northfield – will help build hope and affordable housing for Habitat homebuyers.
Between Feb. 8 and 19, the SpartanNash Foundation hosted a companywide retail scan campaign in SpartanNash corporate-owned stores in eight states. Store guests and company associates who visited the stores during the 12-day retail scan campaign had the opportunity to donate $1, $5 or $10, with 100 percent of dollars raised going to support 79 Habitat for Humanity affiliates such as Rice County Habitat for Humanity.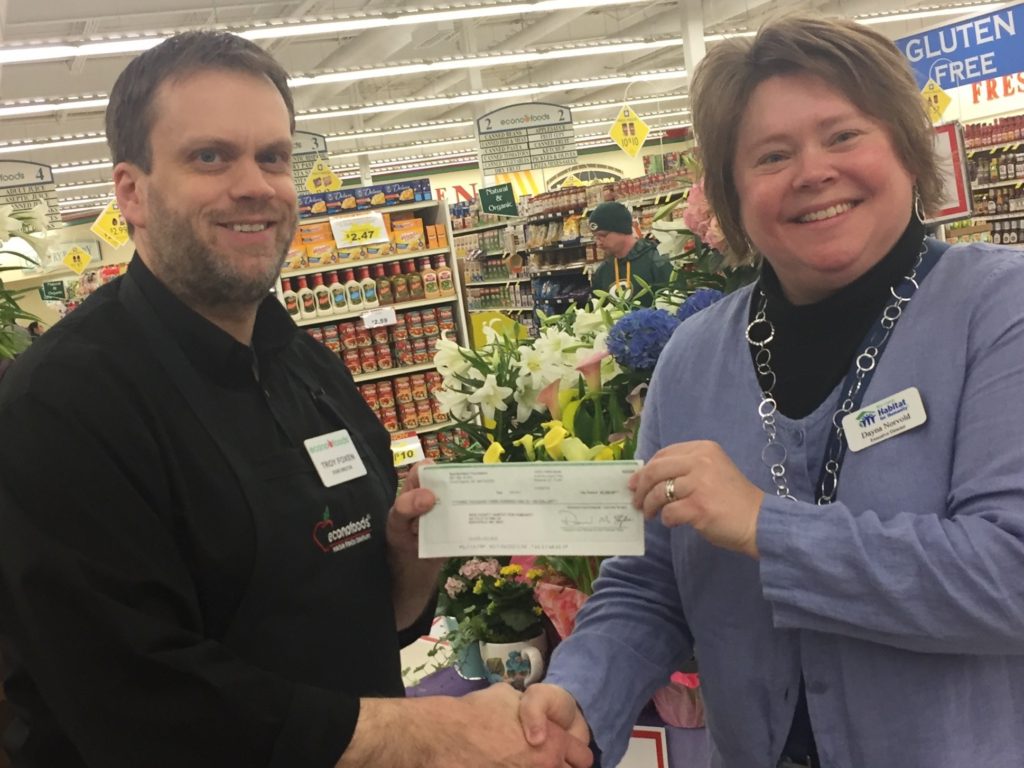 "Thanks to the SpartanNash Foundation and Northfield's Econofoods for their support of Habitat for Humanity," said Dayna Norvold, Executive Director, Rice County. "We appreciate their commitment to providing a basic need, housing, to people in our community. Thanks, too, to the many people who contributed."
Driven by the vision that everyone needs a decent place to live, Habitat for Humanity began in 1976 as a grassroots effort on a community farm in southern Georgia. The Christian housing organization has since grown to become a leading global nonprofit working in nearly 1,400 communities throughout the U.S. and in more than 70 countries.
Families and individuals in need of a hand up partner with Habitat for Humanity to build or improve a place they can call home. Habitat homeowners help build their own homes alongside volunteers and pay an affordable mortgage.
Through financial support – such as the donation from the SpartanNash Foundation and Econofoods – volunteering or adding a voice to support affordable housing, everyone can help families achieve the strength, stability and self-reliance they need to build better lives for themselves.
In total, the SpartanNash Foundation's retail scan campaign to provide shelter raised $202,350 on behalf of its 79 local Habitat for Humanity affiliate partners. Since 2006, the SpartanNash Foundation has raised more than $1.5 million to support local Habitat affiliates.
SpartanNash – which owns the Econofoods in Northfield – underwrote the cost of the fundraising campaign so that all donations will benefit the Rice County Habitat for Humanity.
"We continue to be amazed by the generosity of our store guests and associates," said Meredith Gremel, SpartanNash vice president of corporate affairs and communications and executive director of the SpartanNash Foundation. "We are so grateful to everyone who joined us in supporting the SpartanNash Foundation's efforts to provide shelter in the communities where we live and work. In addition to this financial support, our SpartanNash associates have a long history of volunteering with our local Habitat for Humanity partners."
The retail scan campaign to provide shelter is the first of four fundraising campaigns the SpartanNash Foundation will execute in 2017. Upcoming scans will support Special Olympics (May 3-14), patriotic partners (June 28-July 9) and community food pantries (Aug. 30-Sept. 10).
For a complete list of stores that participated in the companywide scan campaign and the Habitat affiliates they partnered with, visit: spartannash.com/Habitat-for-Humanity.
###
About the SpartanNash Foundation
The SpartanNash Foundation was formed in 2013 following the merger of the Nash Finch Company and Spartan Stores. It represents the best of the NFC Foundation and the Spartan Stores Foundation. The SpartanNash Foundation is the charitable giving arm of SpartanNash and is focused on providing grants to nonprofit community partners who are working to end hunger, provide shelter and support our military heroes. To learn more about the SpartanNash Foundation, visit spartannash.com/foundation. 
About SpartanNash
SpartanNash (Nasdaq: SPTN) is a Fortune 400 company whose core businesses include distributing grocery products to independent grocery retailers, national accounts, its corporate-owned retail stores and U.S. military commissaries. SpartanNash serves customer locations in 47 states and the District of Columbia, Europe, Cuba, Puerto Rico, Bahrain and Egypt. SpartanNash currently operates 154 supermarkets, primarily under the banners of Family Fare Supermarkets, Family Fresh Market, D&W Fresh Market and SunMart. Through its MDV military division, SpartanNash is the leading distributor of grocery products to military commissaries in the United States.