FOR IMMEDIATE RELEASE
Wednesday, March 28, 2018
CONTACT:
Meredith Gremel, Vice President, Corporate Affairs & Communications, 616-878-2830
Short's Lemon-Hop Stand beer available exclusively at
Michigan SpartanNash retail stores

Six-packs of the India-style cream ale are available at select Family Fare, D&W Fresh Market and VG's locations throughout the state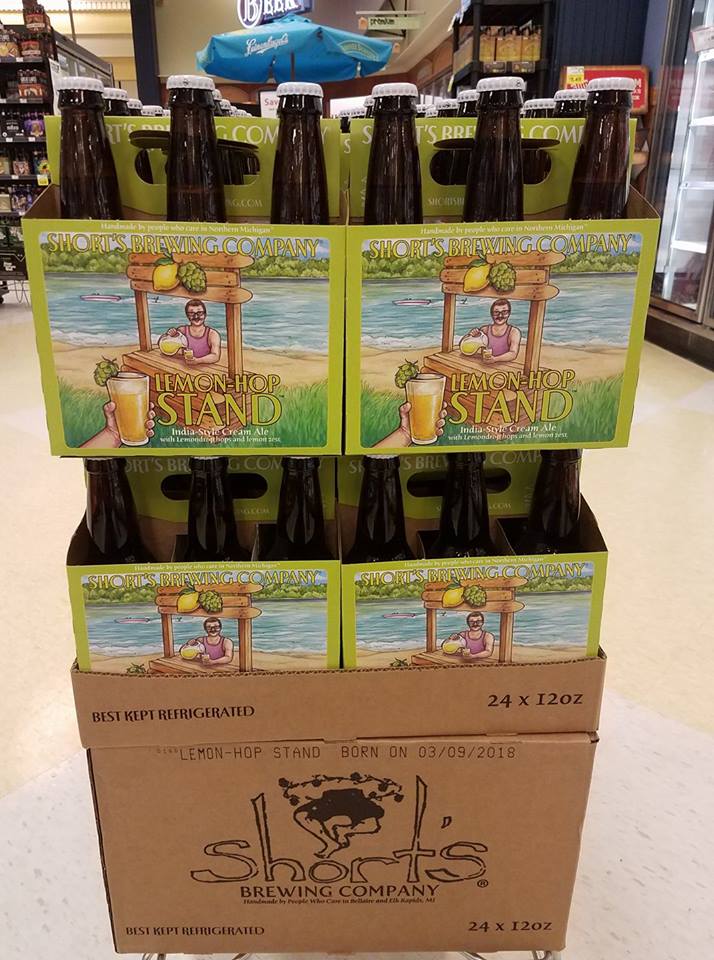 GRAND RAPIDS, Mich. – Just in time for warmer weather, SpartanNash store shelves throughout Michigan are now stocked with an exclusive beer selection – Short's Lemon-Hop Stand, an India-style cream ale made just for SpartanNash and its retail stores.
Featuring lemon drop hops with flavors of sweet grain and soft lemon spice followed by a sizable grassy bitterness, Short's Lemon-Hop Stand features 70 IBUs and an ABV of 7.8 percent.
Seventy-five Family Fare Supermarkets, D&W Fresh Market, VG's and Forest Hills Foods locations will carry the SpartanNash-exclusive beer, with only 1,200 six-packs of the limited-edition beer available for purchase.
"As a Michigan-based company for more than 100 years, we wanted to team up with another local company to create this one-of-a-kind beer, and the result is a delicious, unique beer that's perfect for the spring and summer," Executive Vice President of Merchandising and Marketing Larry Pierce said. "Our stores are known for their wide selection of Michigan craft beers, and this Short's Lemon-Hop Stand will be an added treat for our local beer lovers.
"Short's continues to produce high-quality, creative beers, and we're excited to team up with them to offer a beer that's perfect for the out-of-doors."
The design of the label was developed through a collaboration with Short's to provide a unique style and look, showing off the fact that this is "a serious IPA with serious IBUs with hint of lemon in the beer."
"The Lemon-Hop Stand captures the essence of a cream ale, while having a noticeably hoppy bitterness in the finish," said Jon Wojtowicz, National Accounts Manager for Short's Brewing Company. "It's clean, but with just the right amount of lemon to compliment the bitter hop qualities. It's a very cool concept that definitely captures the two big trending styles right now, light craft beers and of course, IPAs."
Short's Lemon-Hop Stand six-packs retail for $9.99.
"At SpartanNash, we love local – and Michigan craft beers are a part of that commitment," Pierce said. "By supporting Short's and other Michigan-based craft breweries, we can spur our local economy, minimize transportation miles and provide a true 'local flavor' to our store guests."
###
About SpartanNash
SpartanNash (Nasdaq: SPTN) is a Fortune 350 company whose core businesses include distributing grocery products to independent grocery retailers, select national accounts, its corporate-owned retail stores and U.S. military commissaries and exchanges. SpartanNash serves customer locations in 47 states and the District of Columbia, Europe, Cuba, Puerto Rico, Italy, Bahrain, Djibouti and Egypt. As of today, SpartanNash currently operates 143 supermarkets, primarily under the banners of Family Fare Supermarkets, D&W Fresh Market, VG's Grocery, Dan's Supermarket and Family Fresh Market. Through its MDV military division, SpartanNash is a leading distributor of grocery products to U.S. military commissaries.