FOR IMMEDIATE RELEASE
Friday, April 21, 2017
CONTACT:
Meredith Gremel, Vice President, Corporate Affairs & Communications, 616-878-2830
SpartanNash announces trio of winners in reusable bag design contest
 Winning artists receive $500; designs will be featured on reusable bags in Nebraska, North Dakota and Michigan
GRAND RAPIDS, Mich. – As part of its Earth Week activities, SpartanNash today announced the trio of winning designs in its Reusable Bag Design contest. Laurel Allen of Omaha, Neb.; Janelle Lomsdal of Moorhead, Minn.; and Alivia Murphy of Harbor Springs, Mich. will each receive a $500 cash prize, and their designs will be featured on limited-edition reusable grocery shopping bags sold in SpartanNash corporate-owned stores this fall.
"At SpartanNash, we love Earth Week, because it allows us to engage and educate our associates, store guests and communities while celebrating and promoting environmental stewardship," said Meredith Gremel, vice president of corporate affairs and communications. "As a company, we are committed to being socially responsible and environmentally sustainable, and this bag design contest brings both of those commitments together while celebrating what it means to be from the state you love. We hope that our customers will enjoy using the reusable bags that showcase local talent, have a fun design and reflect the places where they live, work or vacation."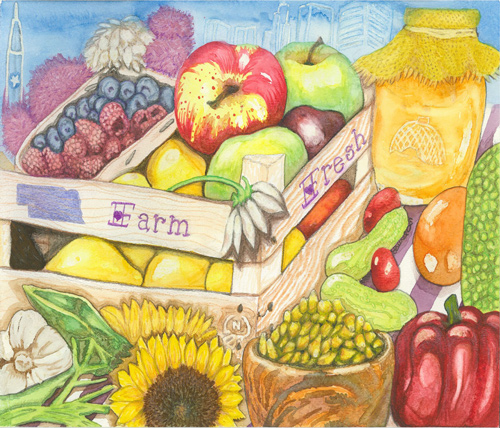 Laurel Allen – Omaha, Neb.
Buying local has always meant most when I visit the local farmer's markets, road side stalls or family orchards. I love shopping at stores that support local farmers! This picture captures some of the best from many seasons of the year in Nebraska. Hidden inside the picture are symbols of things that make living and buying in Nebraska great!
A resident of Omaha for 19 years, Allen is an art teacher at Omaha Homeschool Learning Center and an administrative assistant at Grace Fellowship Church. She has been an artist since seventh grade, studying medium and techniques at Rhythm N Hues, a local art and piano instruction school.
She first heard about the SpartanNash bag design contest at the cash register at her local Family Fare Supermarket and decided to enter because buying local products is "near and dear to her heart."
"I'm excited that I could help design a bag that can be used when shopping, especially when it has so many colorful images that represent buying locally," Allen said. "I want to create things that are useful and meaningful to others, and it's very rewarding as an artist to know others are receiving the same type of enjoyment I do from my art. It's great to have your work reproduced when it means so much to you."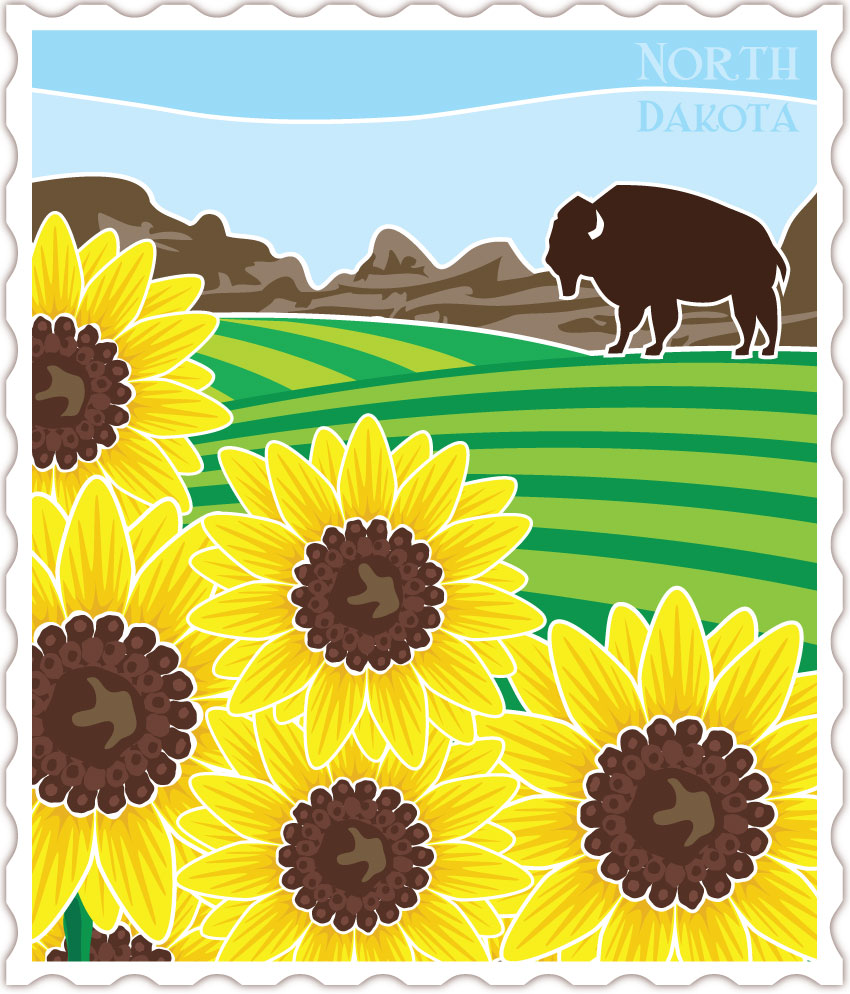 Janelle Lomsdal – Moorhead, Minn.
My bag design represents the state of North Dakota. The fields and sunflowers pay homage to the state's prominence in agriculture. North Dakota is the largest producer of sunflowers in the U.S. The bison (pronounced bizon if you're a local) is symbolic from the ones that roamed the prairies and the champion NDSU Bison football team from Fargo, to the monument of the world's largest one in Jamestown. Finally, in the horizon, I have the beautiful badlands from the western part of the state.
A graphic artist by trade, Lomsdal is originally from Minnesota and lived in Fargo, N.D. for several years after college. She now lives in Fargo's twin city, Moorhead. She holds a bachelor's degree in graphic communications from Minnesota State University-Moorhead, with a minor in mass communication.
A SpartanNash associate for the past 21 years, Lomsdal works as a promotions assistant at the company's Fargo Distribution Center, laying out weekly advertisements.
"It was exciting to do something a little out of the norm for this bag design contest," she said. "It's awesome to know that others appreciated my design."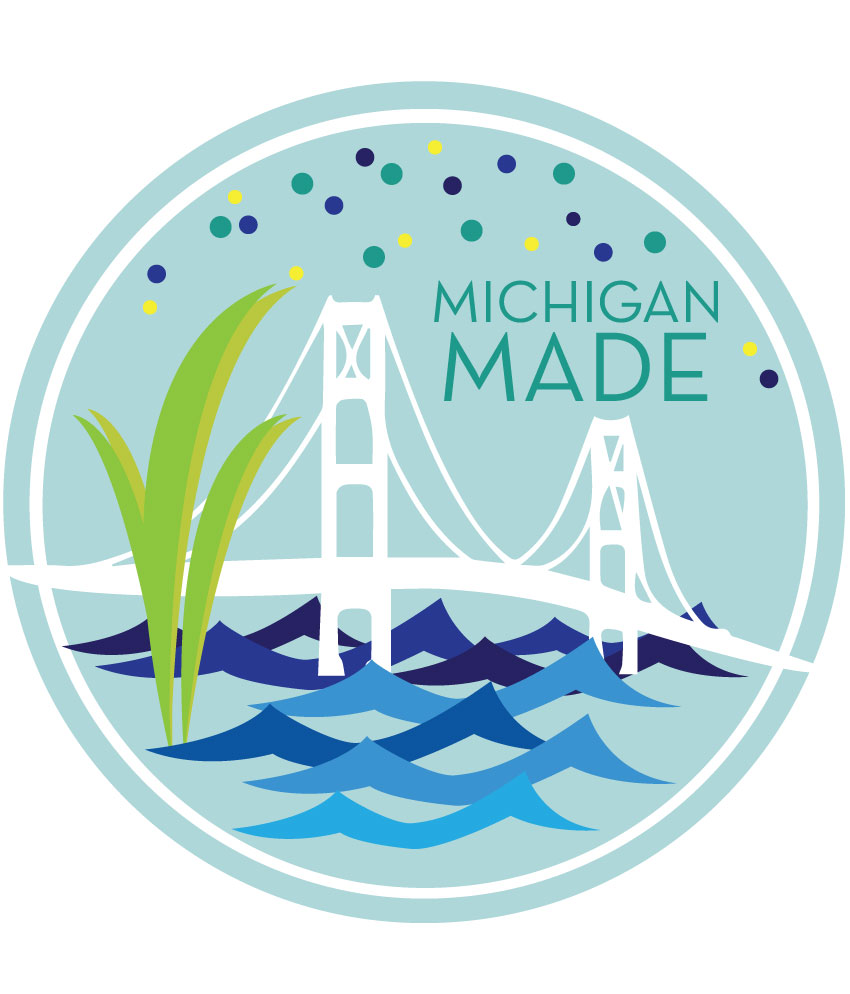 Alivia Murphy – Harbor Springs, Mich.
Northern Michigan in a nutshell – our beautiful bridge, lakes, beach grass and amazing Northern Lights. Some call it God's Country. I call it home.
Murphy, who works for Mitchell Graphics in Petoskey, holds a degree is arts management from Adrian College. Her father, Joe, and stepmom, Debra, are both SpartanNash associates in the North Dakota area.
"I love my home state of Michigan," Murphy said. "I'm really excited to have so many people vote for my design. I also love supporting SpartanNash, because the company has done a lot of great things for our family."
For the Reusable Bag Design contest, SpartanNash asked its store guests, associates and communities from across the U.S. to submit designs representing local state pride in Nebraska, North Dakota and Michigan. In total, SpartanNash received 81 submissions, which were narrowed down to the top three for each state.
Voting was then opened to the public, who decided the winning designs in an online survey. More than 2,600 votes were cast, with Allen, Lomsdal and Murphy earning the majority of votes for their respective state contests.
The reusable bags contain up to 20 percent recycled material and will be available in September. The bags will be sold for $1.49 in SpartanNash stores, including:
Family Fare Supermarkets, Family Fresh Market, No Frills, SunMart and Supermercado Nuestra Familia stores in Nebraska
Dan's Supermarkets and Family Fare Supermarkets in North Dakota
D&W Fresh Market, Family Fare Supermarkets, Forest Hills Foods, ValuLand and VG's stores in Michigan.
In addition to the reusable bag design contest, SpartanNash is teaming up with Goodwill Industries for the seventh consecutive year to offer Earth Week donation drives in partnership with 80 of its corporate-owned grocery stores in five states.
On Saturday, April 22 and Sunday, April 23, anyone that drops off a donation to a participating Goodwill organization – located in the same community as a participating SpartanNash corporate-owned store – will receive a coupon for $10 off a $25 or more purchase at SpartanNash-owned stores.
Participating Goodwill locations – along with the SpartanNash retail stores they have partnered with – are listed at spartannash.com/goodwill-partnership.
In total, SpartanNash is partnering with 20 Goodwill organizations across 15 states, including Florida, Georgia, Indiana, Maryland, Michigan, Minnesota, Nebraska, North Carolina, North Dakota, Ohio, Oklahoma, South Dakota, Texas, Virginia and Wisconsin. The company's four service centers and 17 distribution centers are also hosting onsite donation drives for associates as part of SpartanNash's Earth Week programs.
Since 2011, SpartanNash associates and store guests have diverted more than 121,500 pounds of materials from landfills, and Goodwill has converted these donations into approximately 26,000 hours of workforce redevelopment training for people in their local communities.
More information about each of the SpartanNash Earth Week programs can be found at spartannash.com/earth-week.
###
About SpartanNash
SpartanNash (Nasdaq: SPTN) is a Fortune 400 company whose core businesses include distributing grocery products to independent grocery retailers, national accounts, its corporate-owned retail stores and U.S. military commissaries. SpartanNash serves customer locations in 47 states and the District of Columbia, Europe, Cuba, Puerto Rico, Bahrain and Egypt. SpartanNash currently operates 153 supermarkets, primarily under the banners of Family Fare Supermarkets, Family Fresh Market, D&W Fresh Market and SunMart. Through its MDV military division, SpartanNash is the leading distributor of grocery products to military commissaries in the United States.