FOR IMMEDIATE RELEASE
Thursday, Nov. 10, 2016
CONTACT:
Meredith Gremel, Vice President, Corporate Affairs & Communications, 616-878-2830
SpartanNash to commemorate Veterans Day with 11 percent discount for veterans, service members
Company will also honor its 700 associates who served by donating to The Mission Continues in their honor
Grand Rapids, Mich. – SpartanNash will honor veterans and active duty service members this Veterans Day by offering an 11 percent discount on all eligible products in its 159 corporate-owned retail stores in 10 states.
All active duty, Reserve, National Guard and veterans who present proper identification at any SpartanNash corporate-owned store on Nov. 11 will receive an 11 percent discount. (Please note: The discount does not apply to already reduced promotional items, pharmacy, alcohol, tobacco, lottery, stamps, sales tax, gift cards, bottle deposits and other service counter items.)
SpartanNash banners include:
D&W Fresh Market (11 locations in Michigan)
Dan's Supermarket (six locations in North Dakota)
Econofoods (eight locations in Minnesota and Wisconsin)
Family Fare Supermarkets (83 locations in Iowa, Michigan, Minnesota, Nebraska and North Dakota)
Family Fresh Market (six locations in Minnesota, Nebraska and Wisconsin)
Family Thrift Center (four locations in South Dakota)
Forest Hills Foods (one location in Michigan)
No Frills (three locations in Iowa and Nebraska)
SunMart (10 locations in Colorado, Minnesota and Nebraska)
Supermercado Nuestra Familia (three locations in Nebraska)
ValuLand (six locations in Michigan)
VG's (11 locations in Michigan)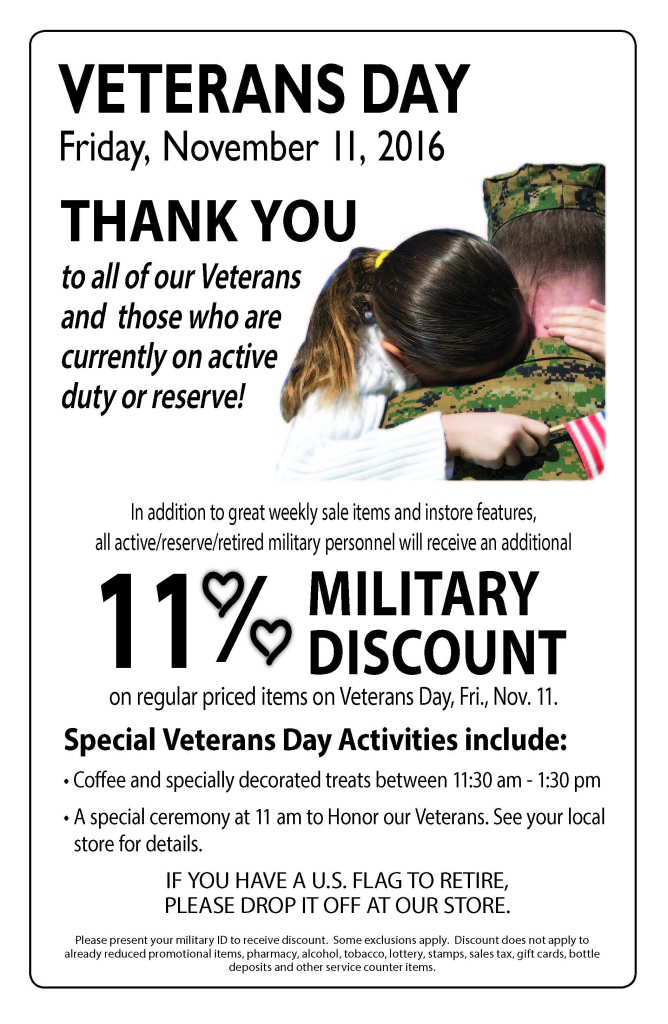 As the leading distributor of grocery products to military commissaries in the United States, SpartanNash will also hold special tribute ceremonies at each of its facilities at 11 a.m., in addition to making a $5,000 donation to The Mission Continues in honor of its more than 700 associates who served or continue to serve.
The Mission Continues empowers veterans who are adjusting to life at home to find purpose through community impact. The nonprofit organization deploys veterans on new missions in their communities, so that their actions will inspire future generations to serve.
Stores that have flag poles will hold flag-raising ceremonies at 11 a.m. on Nov. 11, with local veterans' groups or Boy Scout troops leading the ceremonies. All stores will hold a moment of silence at 11 a.m. and will offer coffee and specially decorated treats throughout the afternoon.
Each of SpartanNash's 17 distribution centers will also hold flag-raising ceremonies and observe a moment of silence for all those who have lost their lives defending our freedoms.
Companywide, all SpartanNash locations will also display posters recognizing and thanking associates who are veterans.
"On Veterans Day, and throughout the year, we hope our veteran associates and store guests, as well as those still serving, know how grateful we are for their time in uniform," said Ed Brunot, SpartanNash executive vice president and president of MDV. "As an Army veteran myself, I know firsthand how important honoring our service members is, and we hope that these tributes show just how thankful SpartanNash is for the sacrifices made on our country's behalf."
SpartanNash has more than 700 veterans, Guardsmen and Reservists that work for the company. Of the more than 1,200 associates who work for MDV, the company's military division, 215 are veterans – accounting for 17 percent of its workforce. Because of its commitment to hiring, training and retaining veteran associates, SpartanNash was recently named a bronze-level Veteran-Friendly Employer by the Michigan Veterans Affairs Agency.
On Veterans Day 2015, SpartanNash began collecting old, worn, frayed and/or faded American flags at each of its retail grocery stores, distribution centers and service centers. Each location then partners with a local veterans service organization to ensure the proper retirement of the flags. In the past year, more than 1,500 flags have been retired through the SpartanNash program.
###
About SpartanNash
SpartanNash (Nasdaq: SPTN) is a Fortune 400 company whose core businesses include distributing grocery products to independent grocery retailers, national accounts, its corporate-owned retail stores and U.S. military commissaries. SpartanNash serves customer locations in 47 states and the District of Columbia, Europe, Cuba, Puerto Rico, Bahrain and Egypt. SpartanNash currently operates 159 supermarkets, primarily under the banners of Family Fare Supermarkets, Family Fresh Market, D&W Fresh Market and SunMart. Through its MDV military division, SpartanNash is the leading distributor of grocery products to military commissaries in the United States.