FOR IMMEDIATE RELEASE
Thursday, Nov. 7, 2019
CONTACT:
Meredith Gremel, Vice President, Corporate Affairs & Communications, 616-878-2830
Starting Nov. 10, more than 135 SpartanNash stores will carry American Dream® apples – and with each bag, SpartanNash will support Operation Homefront
SpartanNash is a leading distributor of grocery products to U.S. military commissaries around the world
GRAND RAPIDS, Mich. – As a part of its Veterans Day celebrations – and year-round commitment to our military heroes – SpartanNash is embarking on a new partnership designed to support servicemembers, veterans and their families. Working with CMI Orchards, more than 135 SpartanNash retail stores will carry their American Dream® apples – offering store guests delicious apples that also support our nation's heroes.
As a part of the American Dream® program, a portion of the proceeds from the sale of each bag of apples will support servicemembers, veterans and their families. As a leading distributor of grocery products to U.S. military commissaries around the world, SpartanNash sees firsthand the sacrifices military families make to protect our freedoms, and is committed to raising awareness and vital resources year-round for those who served or continue to do so.
With every bag of American Dream® apples, SpartanNash is proud to support national nonprofit organization Operation Homefront and its mission to build strong, stable, and secure military families so they can thrive – not simply struggle to get by – in the communities they have worked so hard to protect.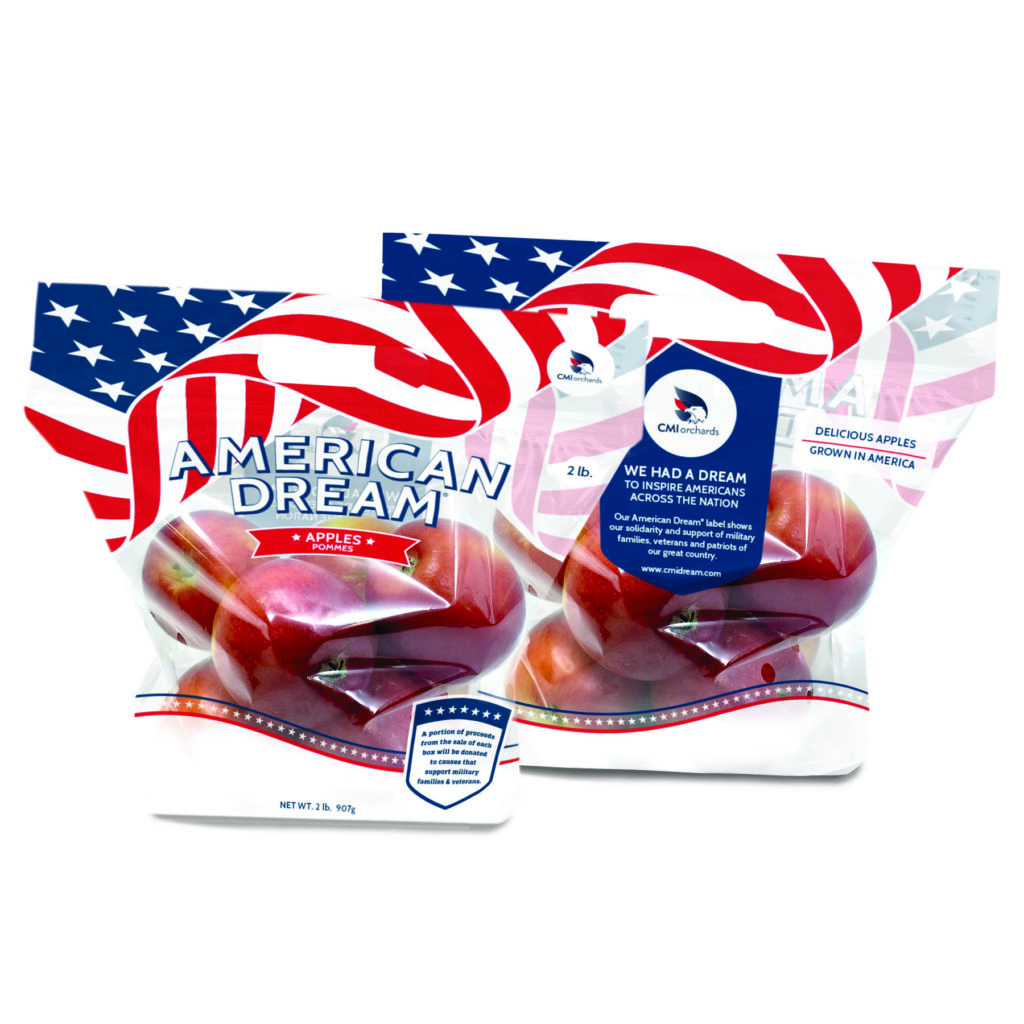 Store guests at SpartanNash's corporate-owned stores in eight states can choose from some of the top branded apples in the nation, including Ambrosia Gold®, Kiku®, Kanzi®, Jazz™ and Envy™. Family Fare, D&W Fresh Market, VG's Grocery, Dan's Supermarket, Family Fresh Market and other SpartanNash stores will carry the five varieties of apples, and, as the sixth largest wholesale food distributor in the nation, SpartanNash will also be introducing the American Dream® apples to its independent retail customers this fall.
"Customers have a growing appetite for these new and popular apple varieties – and we can't wait for our store guests to try them," said Tom Swanson, senior vice president and general manager, corporate retail. "On top of that, each purchase supports Operation Homefront and our nation's heroes. This is the type of partnership that means so much to us at SpartanNash, because it allows us to support our troops and veterans while delivering what our store guests want, when they want it – fast and friendly."
The American Dream® program, developed by CMI Orchards, has donated more than $40,000 to veterans organizations to date.
In addition to the American Dream® apples – which will be in stores on Nov. 10 – SpartanNash will honor current servicemembers and veterans of the Armed Forces by offering an 11 percent Veterans Day discount on all eligible products. The 11 percent discount will be offered Sunday, Nov. 10 and Monday, Nov. 11.
All active duty, Reserve, National Guard and veterans who present proper identification at any SpartanNash company-owned store on Nov. 10 or 11 will receive an 11 percent discount*.
"SpartanNash is committed to serving our military heroes and their families, both at home and abroad, and this Veterans Day – and every day of the year – this is just one small way we can say 'thank you for your service,'" said Meredith Gremel, vice president of corporate affairs and communications. "Our military heroes make the American Dream possible – and we are proud to support them with this partnership."
For 17 years, Operation Homefront has provided critical financial assistance, transitional and permanent housing and family support services to prevent short-term needs from turning into chronic, long-term struggles. Recognized for superior performance by leading independent charity oversight groups, 92 percent of Operation Homefront expenditures go directly to programs that support tens of thousands of military families each year.
SpartanNash has also partnered with Operation Homefront in the past, granting more than $205,000 to the organization through SpartanNash Foundation fundraising campaigns. In 2018, the SpartanNash Foundation also supported more than 40,000 military families, granting more than $400,000 to nonprofit partners such as Operation Homefront, Fisher House Foundation, Vetshouse and Warriors at Ease.
*Please note: The discount does not apply to pharmacy, alcohol, tobacco, lottery, stamps, sales tax, gift cards, bottle deposits, already reduced promotional items and other service counter items.
###
About SpartanNash
SpartanNash (Nasdaq: SPTN) is a Fortune 400 company whose core businesses include distributing grocery products to a diverse group of independent and chain retailers, its corporate-owned retail stores and U.S. military commissaries and exchanges; as well as premier fresh produce distribution and fresh food processing. SpartanNash serves customer locations in all 50 states and the District of Columbia, Europe, Cuba, Puerto Rico, Bahrain, Djibouti and Egypt. SpartanNash currently operates 158 supermarkets, primarily under the banners of Family Fare, Martin's Super Markets, D&W Fresh Market, VG's Grocery, Dan's Supermarket and Family Fresh Market. Through its MDV military division, SpartanNash is a leading distributor of grocery products to U.S. military commissaries.  
About the SpartanNash Foundation
The SpartanNash Foundation was formed in 2015 and is the charitable giving arm of SpartanNash. It is focused on providing financial support to nonprofit partners who align with its mission to end hunger, provide shelter and support our military heroes. With a combined total legacy of more than 100 years, the SpartanNash Foundation represents the best of its predecessors, the NFC Foundation and the Spartan Stores Foundation. The SpartanNash Foundation is a Michigan nonprofit corporation and is tax exempt under IRC 501(c)3. It is a non-operating private foundation. To learn more about the SpartanNash Foundation, visit spartannash.com/foundation.