FOR IMMEDIATE RELEASE
Wednesday, June 6, 2018
CONTACT:
Meredith Gremel, Vice President, Corporate Affairs & Communications, 616-878-2830
SpartanNash, Family Fare Supermarkets announce same-day grocery delivery in Omaha
GRAND RAPIDS, Mich. – For families on the go or anyone short on time and looking for quality and convenience, SpartanNash and its Family Fare Supermarkets today announced they have teamed up with Instacart to offer same-day grocery delivery to store guests in Omaha, Neb.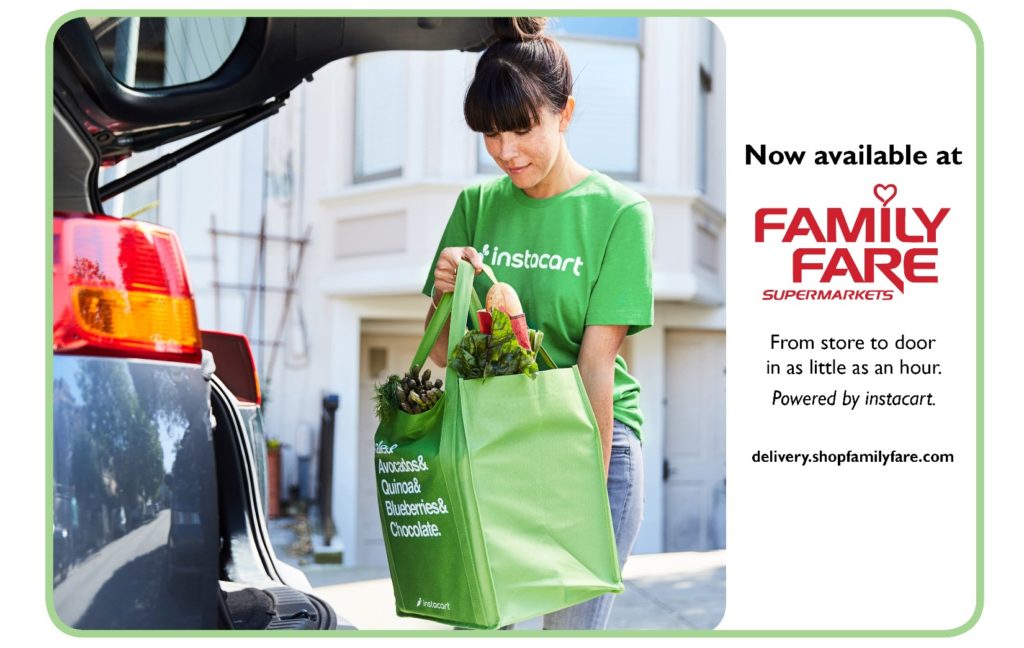 Starting today, Family Fare Supermarket shoppers can now visit delivery.shopfamilyfare.com to easily order their groceries online and have them delivered right to their doorsteps by Instacart.
"Whether our store guests enjoy the convenience of online shopping with Instacart or the experience of visiting our stores, we want to provide them with options that make life a little simpler," said Larry Pierce, SpartanNash executive vice president of merchandising and marketing. "SpartanNash and our Family Fare Supermarkets are committed to providing a personalized, convenient shopping experience that exceeds expectations, and our partnership with Instacart allows us to do just that for our Omaha community."
Customers will have the option to shop any of the 13 Family Fare Supermarkets offering the online grocery shopping experience in Omaha, giving them access to in-store promotions and all of their favorite produce, dairy, meat, frozen food and everyday essentials. Through Instacart, their orders will be delivered in as little as an hour.
Participating Family Fares are located at:
1801 Valley View Dr. in Council Bluffs, Iowa
1510 Harlan Dr. in Bellevue
7402 N. 30th St. in Omaha
820 N. Saddle Creek Road in Omaha
3026 S. 24th St. in Omaha
5110 S. 108th St. in Omaha
5101 Harrison in Omaha
5019 Grover St. in Omaha
2650 N. 90th St. in Omaha
14444 W. Center Road in Omaha
3003 108th St. in Omaha
1221 S. 203rd St. in Omaha
1230 N. Washington in Papillion
Family Fare Supermarkets offer selection, quality and freshness, helping its store guests feed their families well, browse, discover and even indulge – all within budget. Whether in the store or online, Family Fare offers value, affordable wellness, locally made products, indulgence and discovery in the shopping experience and a commitment to corporate responsibility.
In total, SpartanNash operates 83 Family Fare stores in six states.
###
About SpartanNash
SpartanNash (Nasdaq: SPTN) is a Fortune 400 company whose core businesses include distributing grocery products to independent grocery retailers, national accounts, its corporate-owned retail stores and U.S. military commissaries and exchanges. SpartanNash serves customer locations in all 50 states and the District of Columbia, Europe, Cuba, Puerto Rico, Italy, Bahrain, Djibouti and Egypt. SpartanNash currently operates 142 supermarkets, primarily under the banners of Family Fare Supermarkets, D&W Fresh Market, VG's Grocery, Dan's Supermarket and Family Fresh Market. Through its MDV military division, SpartanNash is a leading distributor of grocery products to U.S. military commissaries.