FOR IMMEDIATE RELEASE
Monday, May 21, 2018
CONTACT:
Meredith Gremel, Vice President, Corporate Affairs & Communications, 616-878-2830
SpartanNash, Family Fresh Market encourage store guests to join the 'Fast Lane' for added convenience, seamless online grocery shopping
Through Fast Lane, customers can now order, pick up and go at five Family Fresh Markets
GRAND RAPIDS, Mich. – For families on the go or anyone short on time and looking for quality and convenience, SpartanNash and its Familhe company's click-and-collect program, providing a seamless online grocery shopping experience through shopthefastlane.com.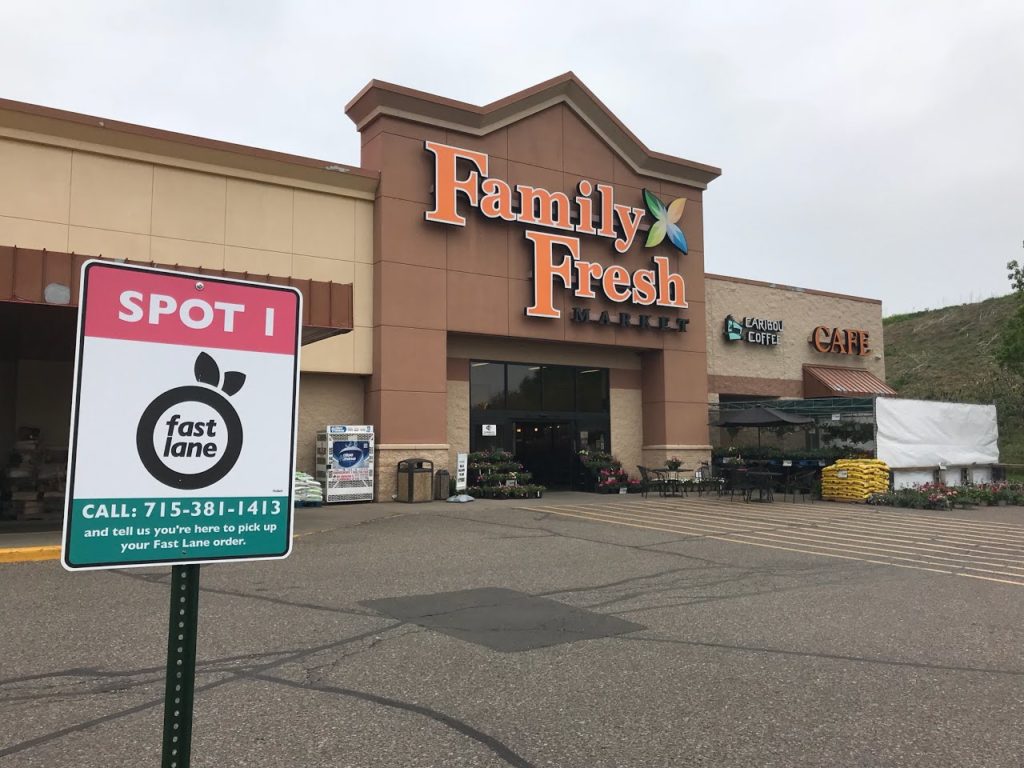 Store guests at five Family Fresh Market locations in Minnesota and Wisconsin can now join the Fast Lane by easily ordering their groceries online and picking them up curbside.
"Fast Lane is part of SpartanNash and Family Fresh Market's commitment to providing our store guests with a personalized, convenient shopping experience that exceeds their expectations," said Ted Adornato, SpartanNash executive vice president and general manager of corporate retail. "Our click-and-collect program takes our company's digital customer experience to a whole new level. The entire Fast Lane experience is tailored to fit the needs of our on-the-go store guests, while providing quality products at an affordable price."
To celebrate the launch of the click-and-collect experience at Family Fresh Market, SpartanNash is waiving the pick fee for customers' first three Fast Lane orders using the code "FASTLANE."
Fast Lane is now available at the following Family Fresh Market stores:
115 Elm St. in Farmington, Minn.
612 S Minnesota Ave. in St. Peter, Minn.
2351 Coulee Road in Hudson, Wisc.
110 W. 4th St. in New Richmond, Wisc.
303 S. Main St. in River Falls, Wisc.
Fast Lane orders are shopped by personal shoppers – who are also SpartanNash associates – and who focus on selecting fresh, quality items from each aisle of the store. Store guests can also include notes for Fast Lane shoppers to follow, allowing them to request specific items, such as green bananas and thick-sliced ham from the deli.
Store guests with yes loyalty accounts – and repeat Fast Lane shoppers – will automatically have their preferences loaded into their Fast Lane account, making it even easier to clip digital coupons, select commonly purchased items or sort by department, sale items or dietary restrictions when placing an order.
"Our goal is always to find ways to better serve our customers, both in-store and online, and Fast Lane ensures our customers get the biggest bang for their buck," Adornato said. "Customers are looking for quality, convenience and savings, and Fast Lane gives them all three."
All orders placed at shopthefastlane.com before 3 p.m. will be available for same-day pickup.
Annual and monthly Fast Lane memberships are also available to provide Fast Lane shoppers with additional savings.
Currently, 58 SpartanNash stores in Michigan, Minnesota, North Dakota, South Dakota and Wisconsin offer Fast Lane as a convenient online shopping option for Family Fare Supermarkets, D&W Fresh Market, Family Fresh Market, VG's Grocery and Dan's Supermarket store guests.
###
About SpartanNash
SpartanNash (Nasdaq: SPTN) is a Fortune 350 company whose core businesses include distributing grocery products to independent grocery retailers, national accounts, its corporate-owned retail stores and U.S. military commissaries and exchanges. SpartanNash serves customer locations in all 50 states and the District of Columbia, Europe, Cuba, Puerto Rico, Italy, Bahrain, Djibouti and Egypt. SpartanNash currently operates 142 supermarkets, primarily under the banners of Family Fare Supermarkets, D&W Fresh Market, VG's Grocery, Dan's Supermarket and Family Fresh Market. Through its MDV military division, SpartanNash is a leading distributor of grocery products to U.S. military commissaries.