FOR IMMEDIATE RELEASE
Thursday, Dec. 28, 2017
CONTACT:
Meredith Gremel
Vice President, Corporate Affairs & Communications, SpartanNash
Executive Director, SpartanNash Foundation
616-878-2830
SpartanNash Foundation, 16 company distribution centers donate $80,000 to help end hunger in local communities
Grants embody SpartanNash Foundation's commitment to support local food pantries through financial and food donations
5.525 million pounds of food donated by SpartanNash in 2016
 GRAND RAPIDS, Mich. – To continue its efforts to fight hunger in the communities where SpartanNash associates live and work, the SpartanNash Foundation – the company's charitable giving arm – recently made a series of $5,000 donations to 16 food pantries in 13 states.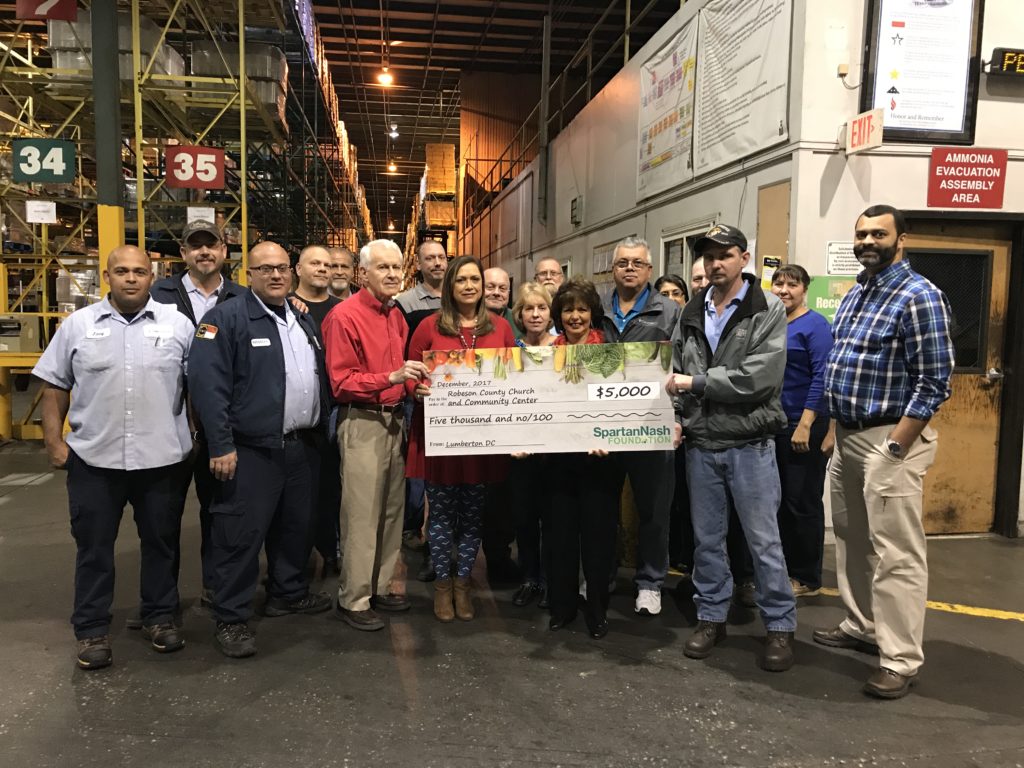 The donations also continue the Foundation's 13-year tradition of supporting local food banks during the holiday season, giving each SpartanNash distribution center the opportunity to personally select its partner pantry and provide food for those who need it most. Since 2004, the company's distribution centers have donated more than $1 million to community food bank and pantry partners.
In 2017, $80,000 was donated to community food pantries located near SpartanNash's food distribution and MDV distribution centers, including:
Bluefield Union Mission (chosen by the Bluefield, Va. DC)
Caritas Emergency Services (St. Cloud, Minn. DC)
Feeding South Dakota (Sioux Falls, S.D. DC)
Food Bank of Southeastern Virginia (Norfolk, Va.)
Gleaners Food Bank of Indiana (Caito Foods and BRT)
Hoosier Hills Food Bank (Bloomington, Ind. DC)
kidsPACK (Caito Foods Lakeland, Fla. DC)
Manna Food Bank (Pensacola, Fla. DC)
Maryland Food Bank (Landover, Md. DC)
Our Daily Bread (Bellefontaine, Ohio DC)
Our Lady of Grace Food Pantry (Minot, N.D. DC)
Regional Food Bank of Oklahoma (Oklahoma City DC)
Robeson County Church and Community Center (Lumberton, N.C. DC)
San Antonio Food Bank (San Antonio DC)
Valley Rescue Mission (Columbus, Ga. DC)
West Ohio Food Bank (Lima, Ohio DC)
"Donations like this support our Foundation's mission of ending hunger while also building relationships where they matter most – in our local communities," said Meredith Gremel, vice president of corporate affairs and communications and the executive director of the SpartanNash Foundation. "We are honored to be able to support these distribution center partner pantries and do our part to put food on peoples' tables."
SpartanNash distribution centers also support their local food banks throughout the year by donating food items and other goods. In 2016, SpartanNash donated 5.525 million pounds of food to food banks, churches, schools and other organizations serving those in need in our communities.
In September 2017, the SpartanNash Foundation also hosted a companywide scan campaign to end hunger. Store guests and company associates who visited any SpartanNash corporate-owned store during the 12-day retail scan campaign had the opportunity to donate $1, $5 or $10, with 100 percent of dollars raised going to support community food pantries and food banks.
Coupled with a company donation, the scan raised $260,000 to support more than 100 local food pantries and food banks. Through the scan campaign to end hunger, the SpartanNash Foundation also provided $62,000 in donations to community food pantries located near its distribution centers in Fargo, N.D.; Omaha, Neb.; and Grand Rapids, Mich.
###
About the SpartanNash Foundation
The SpartanNash Foundation was formed in 2013 following the merger of the Nash Finch Company and Spartan Stores. It represents the best of the NFC Foundation and the Spartan Stores Foundation. The SpartanNash Foundation is the charitable giving arm of SpartanNash and is focused on providing grants to nonprofit community partners who are working to end hunger, provide shelter and support our military heroes. To learn more about the SpartanNash Foundation, visit spartannash.com/Foundation.
About SpartanNash
SpartanNash (Nasdaq: SPTN) is a Fortune 350 company whose core businesses include distributing grocery products to independent grocery retailers, select national accounts, its corporate-owned retail stores and U.S. military commissaries and exchanges. SpartanNash serves customer locations in 47 states and the District of Columbia, Europe, Cuba, Puerto Rico, Bahrain and Egypt. As of today, SpartanNash currently operates 145 supermarkets, primarily under the banners of Family Fare Supermarkets, VG's Food and Pharmacy, D&W Fresh Market, Sun Mart and Family Fresh Market. Through its MDV military division, SpartanNash is a leading distributor of grocery products to U.S. military commissaries.