FOR IMMEDIATE RELEASE
Friday, Nov. 10, 2017
CONTACT:
Meredith Gremel
Vice President, Corporate Affairs & Communications, SpartanNash
Executive Director, SpartanNash Foundation
616-878-2830
SpartanNash Foundation, Dan's Supermarket store guests raise $19,000 for Salvation Army during companywide effort to provide hunger relief
100 percent of dollars raised Aug. 30-Sept. 10 donated to local food pantries in eight states
Four successful Foundation campaigns top the $1 million mark raised in 2017
BISMARCK, N.D. – As a result of the Salvation Army's partnership with the SpartanNash Foundation and the six Dan's Supermarkets in Bismarck and Mandan, the nonprofit organization's food pantry recently received a $19,000 donation to help end hunger in the local community.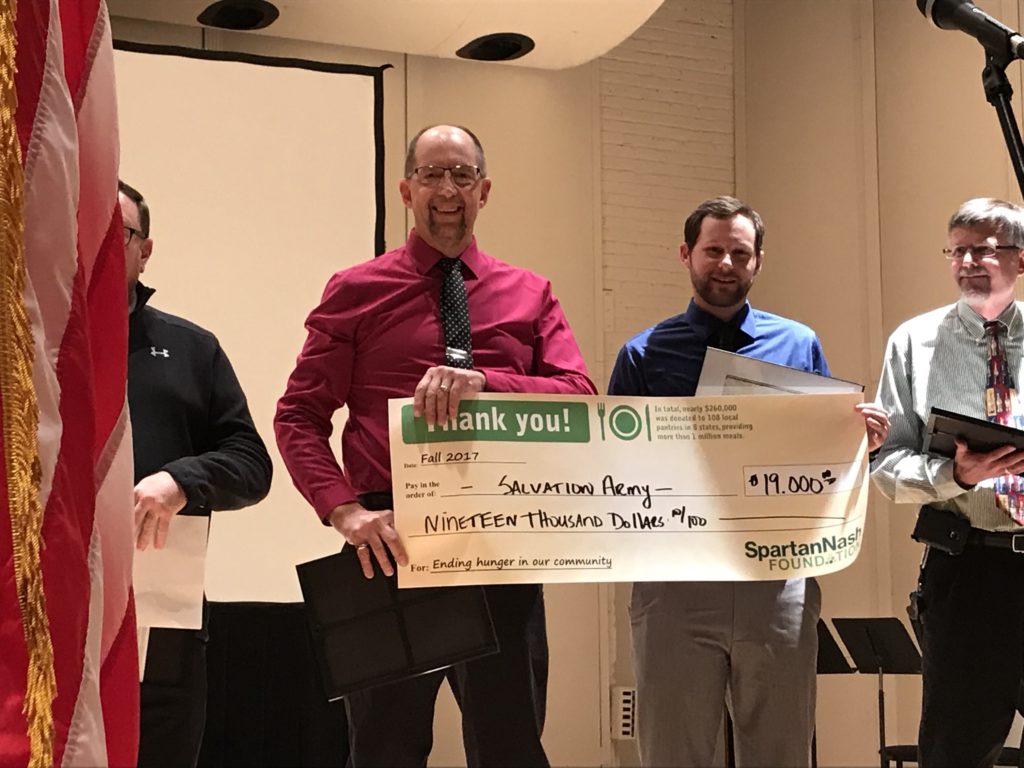 The store directors from the six Dan's Supermarkets presented the $19,000 check to Maj. John Flanagan during the Salvation Army's 120th anniversary celebration and Red Kettle bell ringing campaign kickoff on Nov. 9.
"Over the past two years, the SpartanNash Foundation and our Dan's Supermarket store guests and associates have donated nearly $40,000 to the Bismarck/Mandan Salvation Army through our retail scan campaigns – and we cannot thank everyone enough for their generosity," said Loren Olsen, store director of the Dan's Supermarket on South Washington Street. "We are honored to support the local community in this way and make sure that everyone has a warm meal on the table."
"We at the Salvation Army of Bismarck/Mandan North Dakota are amazed at the generous outpouring of support received from the SpartanNash Foundation, Dan's Supermarkets and their guests with this donation of $19,000 to support our ongoing food pantry," Flanagan said. "This tremendous support makes it possible for us to keep our pantry stocked so we can continue to help those in need of food in our community.
"We wish to express our sincere thanks to SpartanNash, the associates at the Dan's Supermarkets and their customers for making it possible to feed those in need in the Bismarck/Mandan area. On behalf of all those we serve, we extend our deepest thanks. Working together we most certainly will be 'doing the most good.'"
In total, the SpartanNash Foundation raised $260,000 to support more than 100 local food pantries and food banks in eight states during its companywide fundraising effort.
Between Aug. 30 and Sept. 10, store guests who visited any participating SpartanNash-owned retail store or fuel center had the opportunity to donate $1, $5 or $10 at any checkout lane, with 100 percent of dollars raised going to support community food pantries and food banks such as the Salvation Army.
SpartanNash – which owns the six Dan's Supermarkets – underwrote the cost of the fundraising campaign so that all donations will benefit the Salvation Army and families in need in the local community. Each store personally selected the local community food partner its campaign would support, ensuring the scan to end hunger would have a significant local impact.
"Just $1 can provide as many as four meals to those in our community struggling with food insecurity," said Meredith Gremel, vice president of corporate affairs and communications and the executive director of the SpartanNash Foundation. "As a company that takes food places, we understand the importance of having healthy, affordable food that is accessible to everyone in our local communities, and through the generosity of our store guests and associates, our donations will provide over 1 million meals through our partner pantries."
The hunger scan was the fourth scan campaign the SpartanNash Foundation executed in 2017, benefitting local Special Olympics, Habitat for Humanity, patriotic partners and local food banks. In total, more than $1 million was raised and granted to national, regional and local 501(c)(3) nonprofit partners through the generosity of store guests and funds contributed by SpartanNash and the SpartanNash Foundation.
In addition to monetary support through the SpartanNash Foundation, SpartanNash also donates distressed product to hundreds of community food pantries and local nonprofits. In 2016, SpartanNash donated 5.525 million pounds of distressed product through its corporate retail locations, distribution centers and MDV, the company's military division based in Norfolk, Va.
###
About the SpartanNash Foundation
The SpartanNash Foundation was formed in 2013 following the merger of the Nash Finch Company and Spartan Stores. It represents the best of the NFC Foundation and the Spartan Stores Foundation. The SpartanNash Foundation is the charitable giving arm of SpartanNash and is focused on providing grants to non-profit community partners who are working to end hunger, provide shelter and support our military heroes. To learn more about the SpartanNash Foundation, visit spartannash.com/foundation. 
About SpartanNash
SpartanNash (Nasdaq: SPTN) is a Fortune 350 company whose core businesses include distributing grocery products to independent grocery retailers, select national accounts, its corporate-owned retail stores and U.S. military commissaries and exchanges. SpartanNash serves customer locations in 47 states and the District of Columbia, Europe, Cuba, Puerto Rico, Bahrain and Egypt. As of today, SpartanNash currently operates 145 supermarkets, primarily under the banners of Family Fare Supermarkets, VG's Food and Pharmacy, D&W Fresh Market, Sun Mart and Family Fresh Market. Through its MDV military division, SpartanNash is a leading distributor of grocery products to U.S. military commissaries.