FOR IMMEDIATE RELEASE
Wednesday, July 20, 2016
CONTACT:
Meredith Gremel, Vice President, Corporate Affairs & Communications, 616-878-2830|616.450.2169(c)
SpartanNash Foundation donates $90,000 to Honor and Remember
Foundation, store guests raise $182,000 to support military heroes during companywide scan campaign
NORFOLK, Va. – The SpartanNash Foundation recently donated $90,000 to Honor and Remember, a national nonprofit dedicated to honoring and remembering all those who paid the ultimate sacrifice in service to our country. The $90,000 grant is the result of SpartanNash's scan campaign to support our military heroes and fallen warriors.
From June 22 to July 4, each of the more than 160 SpartanNash-owned retail stores and fuel centers in nine states invited customers to join the Foundation in supporting Honor in Remember by donating $1, $5 or $10.
Altogether, $182,000 was raised, and the dollars are now being granted to SpartanNash's national partner, Honor and Remember, and three regional partners – Fisher House Foundation, the Disabled Veterans National Foundation and the Blue Star Mothers of America, Inc.
One hundred percent of dollars raised go to the nonprofit partners for patriotic initiatives. SpartanNash, which owns the retail stores, underwrites the cost of the fundraising campaign. Associates and the Foundation contribute financially as well as volunteer their time and talent to the grant recipients.
"We are most grateful to our customers, who generously joined us in raising funds and awareness for our military heroes. We can't thank them enough for their support," said Meredith Gremel, VP, Corporate Affairs and Communications and Executive Director of the SpartanNash Foundation. "Patriotism is one of our company's core values, and we are e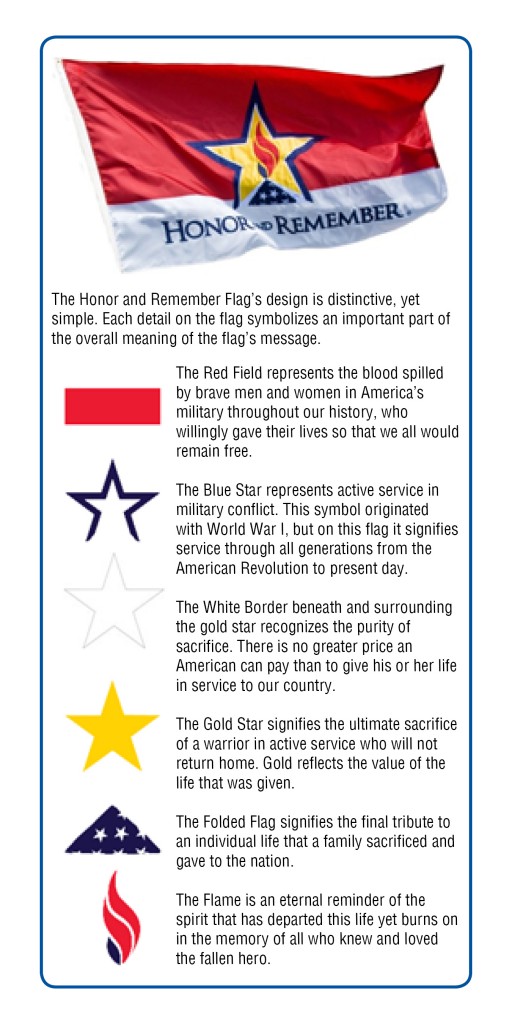 xcited to make an impactful difference in the lives of servicemen and women, veterans and their families through our partnerships with Honor and Remember and other nonprofit organizations."
Founded by George Lutz after losing his son in Iraq in 2005, Honor and Remember's mission is to create, establish and promote a nationally recognized flag that would fly continuously as a visible reminder to all Americans of the lives lost in defense of our national freedoms (see graphic to the right for flag symbolism). To date, 21 states have adopted the Honor and Remember flag as a symbol of remembrance. The organization also personalizes the Honor and Remember flag with the fallen soldier's name and presents the flag to immediate family members.
"This $90,000 is a testament to the generosity of SpartanNash shoppers and their commitment to supporting our Gold Star families," Lutz said. "We must never forget our fallen heroes, and this donation will allow us to continue on with our mission of placing a personalized Honor and Remember flag in the hands of all those who have lost a loved one in military service to America."
The patriotic scan campaign was SpartanNash's first-ever companywide fundraising effort to support military heroes and honor those who lost their lives defending our freedoms. The Company – under MDV, its military division based in Norfolk, Va. – is the leading food distributor serving U.S. military commissaries and exchanges in the world.
Ed Brunot, SpartanNash EVP and president of MDV, serves on the board of directors of Honor and Remember.
"MDV exists to serve our military heroes, whether at home or abroad," he said. "We see every day the sacrifices they make to defend our freedoms, so when a soldier pays the ultimate price, we want to make sure they are never forgotten."
SpartanNash retail stores fly the Honor and Remember flag at their corporate-owned stores and display the flag artwork on their fleet of tractor trailers, which travel 53 million miles a year.
The SpartanNash Foundation will execute a total of five scan campaigns in 2016. To date, nearly $525,000 has been raised for local Habitat for Humanity, Special Olympics and patriotic partners.
###
About the SpartanNash Foundation
The SpartanNash Foundation was formed in 2013 following the merger of the Nash Finch Company and Spartan Stores. It represents the best of the NFC Foundation and the Spartan Stores Foundation. The SpartanNash Foundation is the charitable giving arm of SpartanNash and is focused on providing grants to nonprofit community partners who are working to end hunger, provide shelter and support our military heroes. To learn more about the SpartanNash Foundation, visit https://www.spartannash.com/corp-responsibility/foundation/.
About SpartanNash
SpartanNash (Nasdaq: SPTN) is a Fortune 400 company and the leading food distributor serving U.S. military commissaries and exchanges in the world, in terms of revenue. The Company's core businesses include distributing food to military commissaries and exchanges and independent and corporate-owned retail stores located in 47 states and the District of Columbia, Europe, Cuba, Puerto Rico, Bahrain and Egypt. SpartanNash currently operates 160 supermarkets, primarily under the banners of Family Fare Supermarkets, Family Fresh Markets, D&W Fresh Markets, Econofoods, and SunMart.