FOR IMMEDIATE RELEASE
Thursday, Aug. 24, 2017
CONTACT:
Meredith Gremel
Vice President, Corporate Affairs & Communications, SpartanNash
Executive Director, SpartanNash Foundation
616-878-2830
SpartanNash Foundation hosts companywide fundraising effort to help end hunger
All donations during the 12-day retail scan campaign will go directly to partner pantries in the communities where the funds were raised
GRAND RAPIDS, Mich. – The SpartanNash Foundation is hosting a companywide fundraising effort to help end hunger in the communities it serves, inviting store guests to join the Foundation and SpartanNash associates in supporting local food pantries and food banks. The retail scan campaign runs Aug. 30-Sept. 10, and 100 percent of dollars raised will support community food pantries selected by each of SpartanNash's corporate-owned stores in eight states.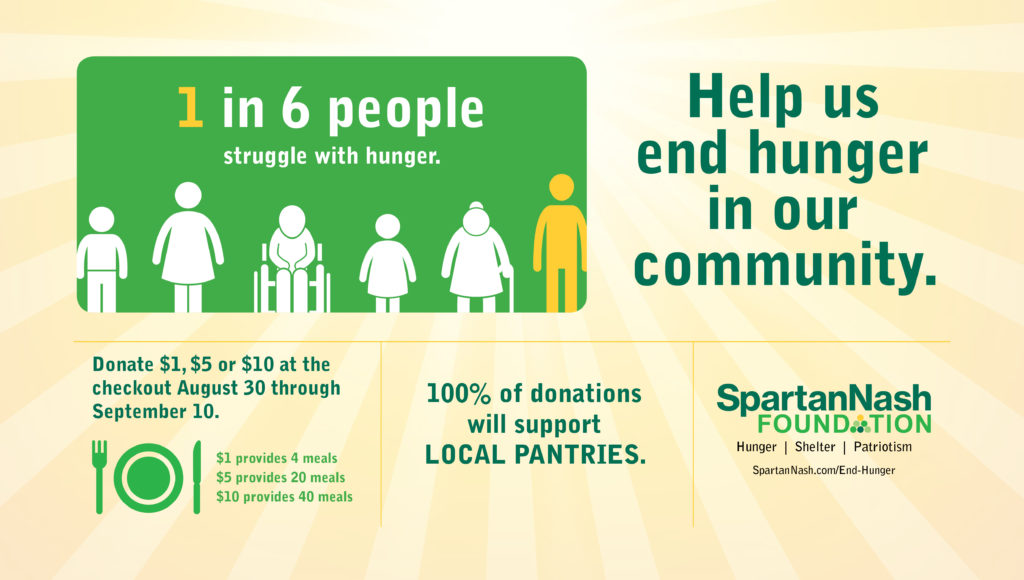 "With this scan campaign, we wanted to have a significant local impact, so each store has personally selected the food pantry they'll be supporting," said Meredith Gremel, vice president of corporate affairs and communications and executive director of the SpartanNash Foundation. "SpartanNash has a long history of both monetary and food donations to support local food pantries, and this campaign continues that effort in a significant way. Now, we're teaming up with our customers to provide hunger relief, and we're confident that together, we can make a real difference in the communities we serve."
A complete list of participating stores and their partner pantries can be found at spartannash.com/end-hunger.
During the companywide fundraising campaign, customers who visit any SpartanNash-owned retail store or fuel center in eight states will have the opportunity to donate $1, $5 or $10 at any checkout lane. When customers make a donation during the 12-day scan, they will receive four coupons toward Spartan® or Our Family ® brand products.
One hundred percent of dollars raised will go to the selected food pantry partners in each community, with additional support provided by the SpartanNash Foundation. SpartanNash underwrites the cost of the fundraising campaign, and associates and the SpartanNash Foundation – the company's charitable giving arm – contribute financially as well.
"One in 6 people struggle with hunger, and as little as $1 can provide up to four meals for those in need through our pantry partners," Gremel said. "Our store guests and associates have been amazingly generous during our previous scan campaigns, and we cannot wait to see the impact we can make together as we strive to end hunger in our local communities. It is incredible to see the power of small donations from thousands of store guests and associates. Together, we truly make a difference."
In 2016, SpartanNash donated 5.2 million pounds of distressed product to hundreds of community food pantries and local nonprofits through its corporate retail locations, distribution centers and MDV, the company's military division based in Norfolk, Va.
The hunger scan is the fourth scan campaign the SpartanNash Foundation will execute in 2017. To date, nearly $785,000 has been raised through the generosity of store guests and funds contributed by SpartanNash and the SpartanNash Foundation, benefitting local Special Olympics, Habitat for Humanity and patriotic partners.
In 2016, $294,350 was donated to local food pantry partners through the retail scan campaign to provide hunger relief.
###
About the SpartanNash Foundation
The SpartanNash Foundation was formed in 2013 following the merger of the Nash Finch Company and Spartan Stores. It represents the best of the NFC Foundation and the Spartan Stores Foundation. The SpartanNash Foundation is the charitable giving arm of SpartanNash and is focused on providing grants to non-profit community partners who are working to end hunger, provide shelter and support our military heroes. To learn more about the SpartanNash Foundation, visit spartannash.com/foundation. 
About SpartanNash
SpartanNash (Nasdaq: SPTN) is a Fortune 400 company whose core businesses include distributing grocery products to independent grocery retailers, national accounts, its corporate-owned retail stores and U.S. military commissaries. SpartanNash serves customer locations in 47 states and the District of Columbia, Europe, Cuba, Puerto Rico, Bahrain and Egypt. SpartanNash currently operates 150 supermarkets, primarily under the banners of Family Fare Supermarkets, VG's Food and Pharmacy, D&W Fresh Market, SunMart and Family Fresh Market. Through its MDV military division, SpartanNash is the leading distributor of grocery products to U.S. military commissaries.