FOR IMMEDIATE RELEASE
Tuesday, June 21, 2016
CONTACT:
Meredith Gremel, Vice President, Corporate Affairs & Communications, SpartanNash, 616-878-2830
SpartanNash Foundation launches companywide fundraising effort to support military heroes
Scan campaign will take place at 160 stores and fuel centers nationwide
GRAND RAPIDS, Mich. – To coincide with the Fourth of July weekend, SpartanNash (Nasdaq: SPTN) is launching its first-ever companywide fundraising campaign to support military heroes and honor those who lost their lives defending our freedoms. The scan begins on June 22 and will run through July 4.
Customers who visit any of the more than 160 SpartanNash-owned retail stores or fuel centers in nine states during the 13-day span will have the opportunity to donate $1, $5 or $10 at any checkout lane. When customers make a donation, they will receive four coupons toward Spartan® or Our Family ® brand products.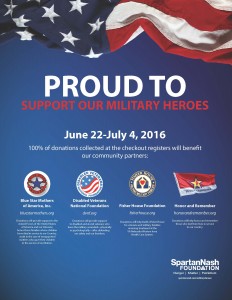 Depending on the store's location, 100 percent of all funds raised during the patriotic scan campaign will go directly to non-profit organizations that support military heroes, veterans and those who paid the ultimate price.  SpartanNash underwrites the costs to run the scan campaign as well as contributes funding and encourages associates to volunteer with the Foundation's grant recipients.
"Patriotism is one of our company's core values, and SpartanNash is excited to support our nation's military and veterans," said Meredith Gremel, vice president of corporate affairs and communications and executive director of the SpartanNash Foundation. "SpartanNash is the leading food distributor to U.S. military commissaries and exchanges in the world, and this patriotic scan is one more way we can support the men and women who have served or are currently serving our country.
"The organizations we've partnered with have an established history of using their donation dollars wisely and delivering services and support in the communities we serve together. With this patriotic scan, it was important to the SpartanNash Foundation that we make an impactful difference in the lives of servicemen and women, veterans and their families right where they live and work."
For each dollar raised, 50 cents will be donated to Honor and Remember, a national non-profit working to create and promote a nationally recognized flag to honor all fallen servicemen and servicewomen. The remaining 50 cents will be donated to one of three regional partners – Fisher House Foundation, Blue Star Mothers of America or Disabled Veterans National Foundation.
Donations in Nebraska and Iowa will benefit the Fisher House Foundation, helping to build a Fisher House for veterans and military families receiving treatment at the VA Nebraska-Western Iowa Health Care System.
Donations in Ohio, Minnesota and much of Michigan's Lower Peninsula will benefit Blue Star Mothers of America, Inc. supporting troops, veterans and families of fallen heroes while promoting patriotism.
Donations in Colorado, Wisconsin, North and South Dakota and Northern and U.P. Michigan will benefit the Disabled Veterans National Foundation, which provides critically needed support for disabled and at-risk veteran who leave the military wounded either physically or psychologically.
Stores will also host additional fundraising activities June 22-July 4 to benefit their two community partners.
Participating SpartanNash store banners include:
Bag 'N Save
D&W Fresh Market
Dan's Supermarket
Dillonvale IGA
Econofoods
Family Fare Supermarket
Family Fare Quick Stop
Family Fresh Market
Family Thrift Center
Family Thrift Express
Forest Hills Foods
FTE-Bottle Shop
Germantown Fresh Market
No Frills Supermarket
Pick'n Save
Prairie Market
Scofield Drug and Gift
Sunmart
Supermercado Nuestra Familia
The Market Wine and Spirits
Valu Land
VG's
Wholesale Food Outlet
For a complete list of locations participating in the companywide scan campaign and the organizations they will partner with to support military heroes, visit: SpartanNash.com/militaryheroes/.
The patriotic scan is the third of five scan campaigns the SpartanNash Foundation will execute in 2016. To date, nearly $350,000 has been raised for local Habitat for Humanity and Special Olympics partners.
###
About the SpartanNash Foundation
The SpartanNash Foundation was formed in 2013 following the merger of the Nash Finch Company and Spartan Stores. It represents the best of the NFC Foundation and the Spartan Stores Foundation. The SpartanNash Foundation is the charitable giving arm of SpartanNash and is focused on providing grants to non-profit community partners who are working to end hunger, provide shelter and support our military heroes. To learn more about the SpartanNash Foundation, visit https://www.spartannash.com/corp-responsibility/foundation/.
About SpartanNash
SpartanNash (Nasdaq: SPTN) is a Fortune 400 company and the leading food distributor serving U.S. military commissaries and exchanges in the world, in terms of revenue. The Company's core businesses include distributing food to military commissaries and exchanges and independent and corporate-owned retail stores located in 47 states and the District of Columbia, Europe, Cuba, Puerto Rico, Bahrain and Egypt. SpartanNash currently operates 160 supermarkets, primarily under the banners of Family Fare Supermarkets, Family Fresh Markets, D&W Fresh Markets, Econofoods and SunMart.
About the Honor and Remember Flag
The Honor and Remember Flag was unveiled at a ceremony on Memorial Day, May 26, 2008. The mission of Honor and Remember is to create, establish and promote a nationally recognized flag that will fly continuously as a visible reminder to all Americans of the lives lost in defense of our national freedoms. The flag is meant to be a public symbol of appreciation that honors all military lives lost while serving since our nation's inception. Personalized flags are regularly presented to individual families of fallen service members. Each personalized flag contains the name, theater of operation and date of death of the individual. The flags are presented at both private and public occasions. Honor and Remember, Inc. is a 501(c)(3) charitable organization.  For more information, please visit www.honorandremember.org.