FOR IMMEDIATE RELEASE
Monday, July 31, 2017
CONTACT:
Meredith Gremel
Vice President, Corporate Affairs & Communications, SpartanNash
Executive Director, SpartanNash Foundation
616-878-2830
SpartanNash Foundation, store guests raise $300,000 during companywide effort to support military heroes, their families
100 percent of dollars raised to benefit Give an Hour™ and Honor and Remember®
GRAND RAPIDS, Mich. – Together with its store guests and company associates, the SpartanNash Foundation's scan campaign to support military heroes and their families was its most successful companywide retail fundraising effort to date – raising $300,000 on behalf of Give an Hour™ and Honor and Remember®.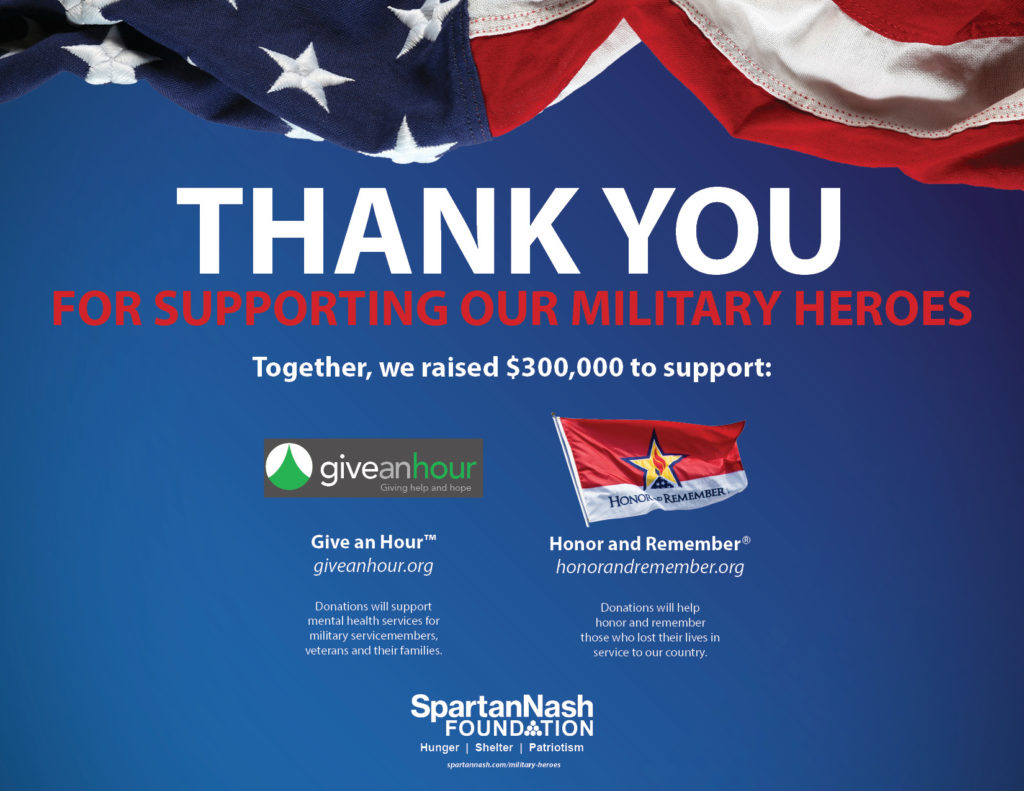 During the 12-day scan, store guests who visited any participating SpartanNash-owned retail store or fuel center in nine states had the opportunity to donate $1, $5 or $10 at any checkout lane, with 100 percent of dollars raised split evenly between the two nonprofit partner organizations.
The $150,000 that will be donated to Honor and Remember will allow the organization to provide outreach and personalized Honor and Remember flags to families of military heroes who paid the ultimate sacrifice in service to our country. Personalized Honor and Remember flags are regularly presented to families of fallen service members and contain the name, theater of operation and date of death of the individual. The flags are presented at both private and public occasions.
The $150,000 donation will enable Give an Hour to increase counseling and mental health services to our military heroes, their families and communities affected by conflict abroad. In addition to pledging to "give an hour" of their time each week for direct counselling, Give an Hour's network of volunteer professionals are working to reduce the culture of mental health by participating in and leading education, training and outreach efforts in schools, communities and military bases so that all in need are able to seek and receive the care they deserve.
"At SpartanNash, we are very excited about the overwhelming support shown for our military heroes during the latest SpartanNash Foundation retail scan – our most successful scan yet," said Meredith Gremel, vice president of corporate affairs and communications and the executive director of the SpartanNash Foundation. "SpartanNash and the SpartanNash Foundation are deeply committed to supporting our military heroes in the communities we serve, and through our partnership with Give an Hour and Honor and Remember, we assisted in raising awareness and funds for military heroes and their loved ones, while honoring the sacrifices they have made for our freedom."
Give an Hour is a nonprofit 501(c)(3) that develops national networks of volunteers to respond to acute needs within our society, beginning with the mental health needs of military servicemembers and their loved ones affected by their time of service. Give an Hour's network of volunteers includes nearly 7,000 licensed mental health professionals across the nation, encompassing all 50 states, D.C., Puerto Rico and Guam.
To date, Give an Hour providers have donated nearly 225,000 hours of free counselling and mental health services to military personnel, their loved ones and hometown communities affected by conflicts abroad.
"On behalf of Give an Hour and the mental health professionals who volunteer to provide free mental health care, support and education to those who serve, their families and their communities across our country, I want to thank the SpartanNash Foundation, the SpartanNash Company's associates and all of the customers who supported this effort that resulted in this amazing gift of support," said Barbara Van Dahlen, Ph.D., Founder and President of Give an Hour. "We are proud of the partnership we are building with SpartanNash – and excited to invite SpartanNash associates to learn more about our organization and join us as we work in your communities. We all have gifts to give that can help support our military and veteran communities."
The mission of Honor and Remember is to perpetually recognize the sacrifice of America's military fallen heroes and their families. The organization pays tribute to all military lives lost, not only while serving on active duty but also as a result of serving, including PTSD. Military deaths in all wars or conflicts and all branches of service from our nation's inception are recognized.
The primary vehicle for perpetual recognition is a specific and dedicated symbol of remembrance: The Honor and Remember flag, which is intended to fly continuously as a tangible and visible reminder to all Americans of the lives lost in defense of our national freedoms and as a statement of appreciation to all fallen military families.
SpartanNash is a national partner and strong supporter of Honor and Remember, underwriting personal flag presentations to families of the fallen and flying the Honor and Remember flag at all company facilities. The flag artwork is also displayed on SpartanNash's fleet of tractor trailers, which travel more than 55 million miles per year.
"A huge thank you to SpartanNash and the SpartanNash Foundation for your sincere commitment to Honor and Remember and its mission to touch the lives of America's Gold Star families," said George Lutz, who founded Honor and Remember after losing his son in Iraq in 2005. "We are now approaching 3,000 flags given to families of the fallen, and your efforts are truly making a significant difference in their healing journey."
To learn more about the companywide fundraising effort and the organizations it supported, visit spartannash.com/military-heroes.
"Each year, SpartanNash contributes thousands of dollars, products and volunteer hours to military and veterans organizations and events, and we are proud to have teamed up with Give an Hour, Honor and Remember and our store guests to support our military heroes in this unique and powerful way," Gremel said.
In 2016, the SpartanNash Foundation launched its first-ever companywide fundraising campaign to support its patriotic nonprofit partners. The scan and Foundation contribution raised $182,000 to support our military heroes.
So far in 2017, the SpartanNash Foundation has executed retail scan campaigns to support local Special Olympics, Habitat for Humanity and patriotic partners in the communities it serves. To date, nearly $785,000 has been raised through the generosity of its store guests and funds contributed by SpartanNash and the SpartanNash Foundation.
###
About the SpartanNash Foundation
The SpartanNash Foundation was formed in 2013 following the merger of the Nash Finch Company and Spartan Stores. It represents the best of the NFC Foundation and the Spartan Stores Foundation. The SpartanNash Foundation is the charitable giving arm of SpartanNash and is focused on providing grants to non-profit community partners who are working to end hunger, provide shelter and support our military heroes. To learn more about the SpartanNash Foundation, visit spartannash.com/foundation. 
About SpartanNash
SpartanNash (Nasdaq: SPTN) is a Fortune 400 company whose core businesses include distributing grocery products to independent grocery retailers, national accounts, its corporate-owned retail stores and U.S. military commissaries. SpartanNash serves customer locations in 47 states and the District of Columbia, Europe, Cuba, Puerto Rico, Bahrain and Egypt. SpartanNash currently operates 150 supermarkets, primarily under the banners of Family Fare Supermarkets, VG's Food and Pharmacy, D&W Fresh Market, SunMart and Family Fresh Market. Through its MDV military division, SpartanNash is the leading distributor of grocery products to U.S. military commissaries.