FOR IMMEDIATE RELEASE
Friday, April 9, 2021
CONTACT:
Meredith Gremel, Vice President, Corporate Affairs and Communications, 616-878-2830
Clinic will be held at 5221 Cherry Ave. in Hudsonville, 3 to 8 p.m.
COVID-19 positivity rates rising among kids 19 and under in West Michigan
GRAND RAPIDS, Mich. – Due to the recent spike in COVID-19 positivity rates among teenagers in West Michigan, SpartanNash is hosting a COVID-19 vaccine clinic on Tuesday, April 13, with vaccine appointments available exclusively for 16 and 17-year-olds.
The clinic will be held at 5221 Cherry Ave. in Hudsonville from 3 to 8 p.m. on April 13 to accommodate class schedules and after-school activities. The Pfizer-BioNTech COVID-19 vaccine – the only current COVID-19 vaccine approved for individuals 16 years of age and older – will be administered. It is a two-shot regimen, administered 21 days apart.
"Coronavirus cases in Michigan have surged recently, with kids and teenagers seeing the highest positivity rates in West Michigan," EVP and Chief Merchandising and Marketing Officer Lori Raya said. "We are proud to offer this unique clinic targeted to 16 and 17-year-olds – both for their own health and safety and for their classmates, teammates, teachers, families and loved ones. Receiving a COVID-19 vaccination is the best way to help stop this virus and pandemic, especially for those most currently most at risk of contracting COVID-19 and suffering long-term health effects."
Appointments can be scheduled at shopfamilyfare.com/covid19vaccine beginning April 10 (three days prior to the clinic).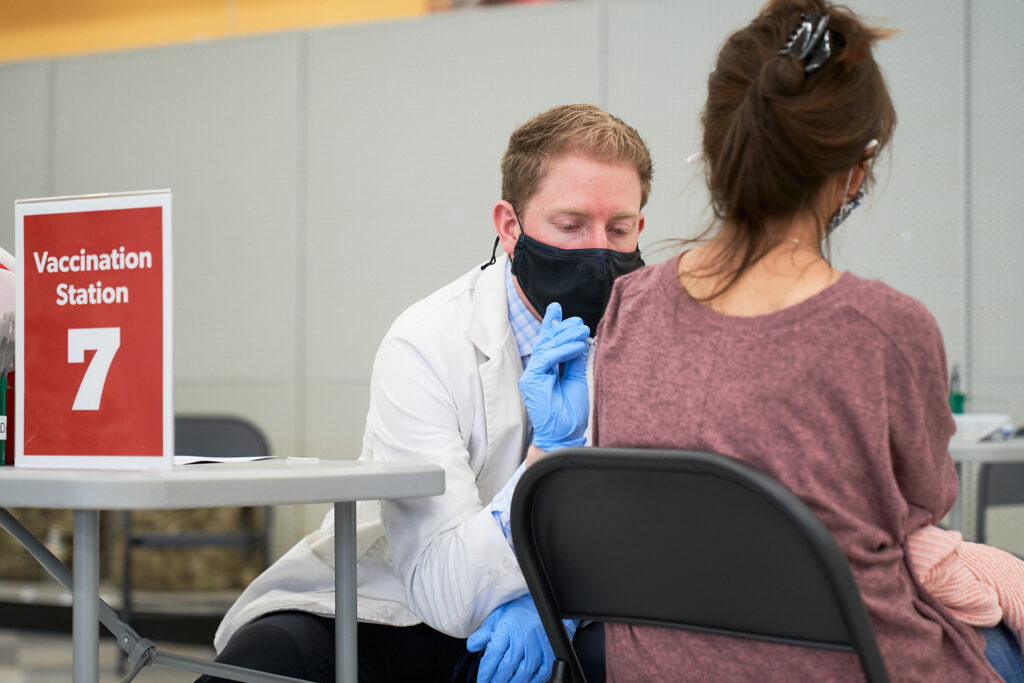 Because the clinic is for 16 and 17-year-olds to receive a vaccine, a parent or legal guardian must be present. Verification of date of birth will also be required.
To ensure the safety of both patients and pharmacists, customers must have an existing appointment and complete a health screening prior to receiving the vaccination. The vaccine will be administered at no cost to patients.
In accordance with Michigan's expanded vaccination eligibility, COVID-19 vaccines are also available to store guests at SpartanNash pharmacies throughout the state. Participating pharmacies include Family Fare, D&W Fresh Market, VG's Grocery, Martin's Super Markets and Forest Hills Foods.
For all of SpartanNash's ongoing COVID-19 efforts, visit: spartannash.com/spartannash-coronavirus-updates.
###
About SpartanNash
SpartanNash (Nasdaq: SPTN) is a Fortune 400 company whose core businesses include distributing grocery products to a diverse group of independent and chain retailers, its corporate-owned retail stores and U.S. military commissaries and exchanges; as well as operating a premier fresh produce distribution network. SpartanNash serves customer locations in all 50 states and the District of Columbia, Europe, Cuba, Puerto Rico, Honduras, Iraq, Kuwait, Bahrain, Qatar and Djibouti. SpartanNash currently operates 154 supermarkets, primarily under the banners of Family Fare, Martin's Super Markets, D&W Fresh Market, VG's Grocery and Dan's Supermarket. Through its MDV military division, SpartanNash is a leading distributor of grocery products to U.S. military commissaries.