FOR IMMEDIATE RELEASE
Monday, June 11, 2018
CONTACT:
Meredith Gremel, Vice President, Corporate Affairs & Communications, 616-878-2830 
SpartanNash introduces Good to Go!™, fresh from Open Acres™
Private brand provides easy, delicious meals for busy lifestyles
Available now in the deli case at D&W Fresh Market, Family Fare Supermarkets and VG's locations throughout Michigan
GRAND RAPIDS, Mich. – SpartanNash today announced its newest private brand, Good to Go!™, designed to accommodate today's busy consumer with fresh, flavorful and healthy meal solutions. Good to Go!, fresh from Open Acres™ adds to SpartanNash's private brand portfolio, giving store guests a one-stop meal solution that's ready when they are.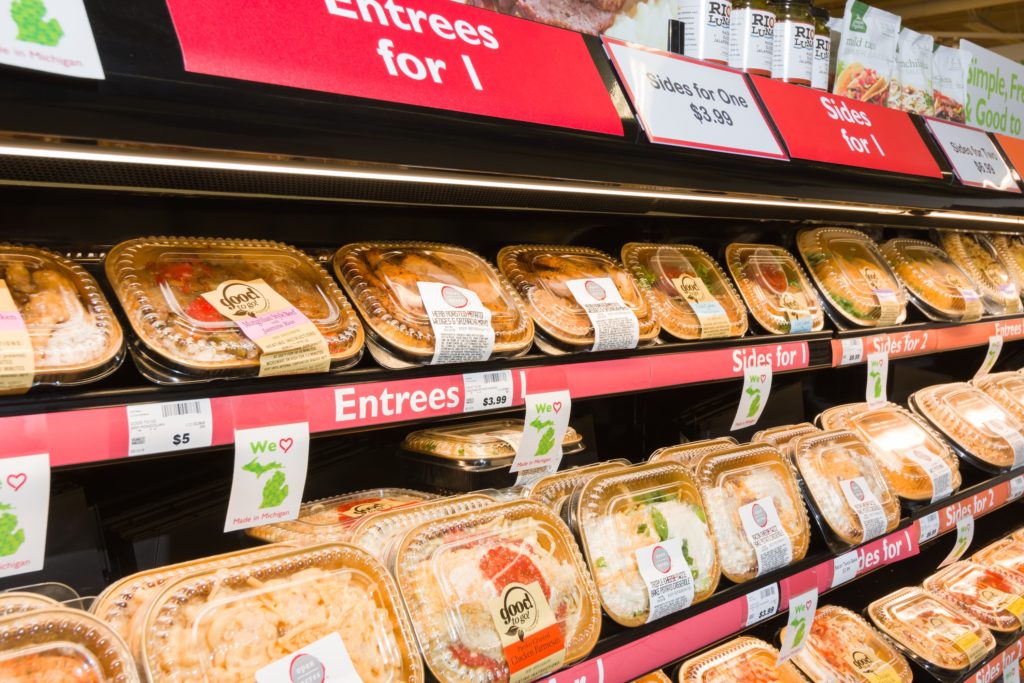 The Good to Go! brand is available in the deli at Family Fare Supermarkets, D&W Fresh Market, VG's Grocery and Forest Hills Foods locations throughout Michigan, offering entrees, sides and desserts. Sides start at $3.99 and meal options are available for $4.99-$7.99.
"Our store guests enjoy serving home-cooked meals to their friends and family, but don't always have the time to make it themselves," Vice President of Private Brands John Paul said. "With Good to Go! entrees and sides, we'll do the cooking for you. Whether it's ready to eat, ready to heat or interactive meal kits, Good to Go! is our solution for today's busy lifestyles."
Good to Go! has dozens of exciting new options for heat-and-eat meal solutions. From complete meals to side dishes and desserts, Good to Go! features trending flavors and comfort food favorites, such as tilapia with lemon orzo, chipotle chicken, shepherd's pie, twice baked potatoes and apple crisp.
The new brand is currently available exclusively at SpartanNash retail stores and will expand to the company's more than 300 Michigan independent retailers in the coming months.
SpartanNash introduced Open Acres in 2016, featuring more than 1,000 fresh-made produce, bakery, deli, meat and seafood options. Good to Go! complements these items with a variety of convenient meal solutions and simple side dishes at a budget-friendly price.
"SpartanNash's private brands offer our store guests high quality and cost savings in every aisle of the store," Paul said. "From your favorite Our Family® products to Open Acres and now Good to Go!, our private brands provide products to meet your needs, lifestyle and budget."
###
About SpartanNash
SpartanNash (Nasdaq: SPTN) is a Fortune 400 company whose core businesses include distributing grocery products to independent grocery retailers, national accounts, its corporate-owned retail stores and U.S. military commissaries and exchanges. SpartanNash serves customer locations in all 50 states and the District of Columbia, Europe, Cuba, Puerto Rico, Italy, Bahrain, Djibouti and Egypt. SpartanNash currently operates 142 supermarkets, primarily under the banners of Family Fare Supermarkets, D&W Fresh Market, VG's Grocery, Dan's Supermarket and Family Fresh Market. Through its MDV military division, SpartanNash is a leading distributor of grocery products to U.S. military commissaries.