FOR IMMEDIATE RELEASE
Wednesday, Feb. 15, 2017
CONTACT:
Meredith Gremel, Vice President, Corporate Affairs & Communications, 616-878-2830
SpartanNash invites communities to design next reusable bags
Winning designs will be featured on reusable bags in Nebraska, North Dakota and Michigan
Winners announced during Earth Week also receive $500
GRAND RAPIDS, Mich. – SpartanNash is asking its store guests, associates and communities from across the U.S. to submit digital designs that represent local state pride in Nebraska, North Dakota and Michigan. Winning designs will be featured on its limited-edition reusable bags.
The contest is part of SpartanNash's companywide Earth Week activities, which will emphasize SpartanNash's commitments to corporate responsibility and environmental sustainability. The company encourages customers to use reusable bags to help decrease the consumption of single-use bags.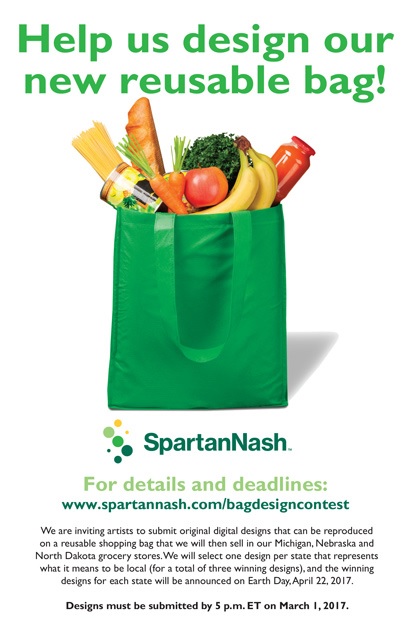 To enter the reusable bag design contest, participants can submit artwork that shows their state pride and what it means to be local for any of the three states. The goal of the reusable bag design contest is to showcase state pride and celebrate the talented artists that are part of the communities SpartanNash serves.
Designs must be submitted to [email protected] by 5 p.m. ET on March 1, 2017.
The three winners will receive a $500 cash prize and their design will be featured on limited-edition reusable grocery shopping bags in SpartanNash corporate-owned stores, including:
Nebraska (Family Fare Supermarkets, Family Fresh Market, No Frills, SunMart and Supermercado Nuestra Familia)
North Dakota (Dan's Supermarket and Family Fare Supermarkets)
Michigan (D&W Fresh Market, Family Fare Supermarkets, Forest Hills Foods, ValuLand and VG's).
"Our vision at SpartanNash is to be a best-in-class business that feels local, where relationships matter, and this reusable bag design contest really celebrates those local ties," said Meredith Gremel, vice president of corporate affairs and communications. "We are encouraging our store guests, associates and communities to show us what it means to be from the state you love, and we hope that our customers will enjoy using the reusable bags that have a fun design and reflect the places where they live, work or vacation."
One winning design will be selected from each state, and the winning artists and their artwork will be announced on Earth Day, April 22, 2017. The reusable bags will be available in the following months.
Please visit SpartanNash.com/bagdesigncontest for official rules and entry identification form.
For Earth Week in 2016, SpartanNash partnered with 21 Goodwill affiliates in 14 states, collecting 50,261 pounds of donated goods and materials. Additional fun and educational Earth Week activities were held companywide, celebrating the importance of sustainability. Many SpartanNash stores also gave away seeds and reusable bags, collected worn U.S. flags for proper retirement and held Earth Week bakery competitions.
###
About SpartanNash
SpartanNash (Nasdaq: SPTN) is a Fortune 400 company whose core businesses include distributing grocery products to independent grocery retailers, national accounts, its corporate-owned retail stores and U.S. military commissaries. SpartanNash serves customer locations in 47 states and the District of Columbia, Europe, Cuba, Puerto Rico, Bahrain and Egypt. SpartanNash currently operates 155 supermarkets, primarily under the banners of Family Fare Supermarkets, Family Fresh Market, D&W Fresh Market and SunMart. Through its MDV military division, SpartanNash is the leading distributor of grocery products to military commissaries in the United States.