FOR IMMEDIATE RELEASE
Tuesday, May 16, 2017
CONTACT:
Meredith Gremel, Vice President, Corporate Affairs & Communications, 616-878-2830
SpartanNash moves forward with menu-labeling guidelines ahead of FDA rule delay
83 Family Fare Supermarkets in five states now displaying caloric information, encouraging store guests to make healthier food choices
GRAND RAPIDS, Mich. – Ahead of the Food and Drug Administration's deadline requiring that all "restaurant-type" food items offered at grocery stores display caloric information, SpartanNash has decided to move forward with its menu-labeling compliance.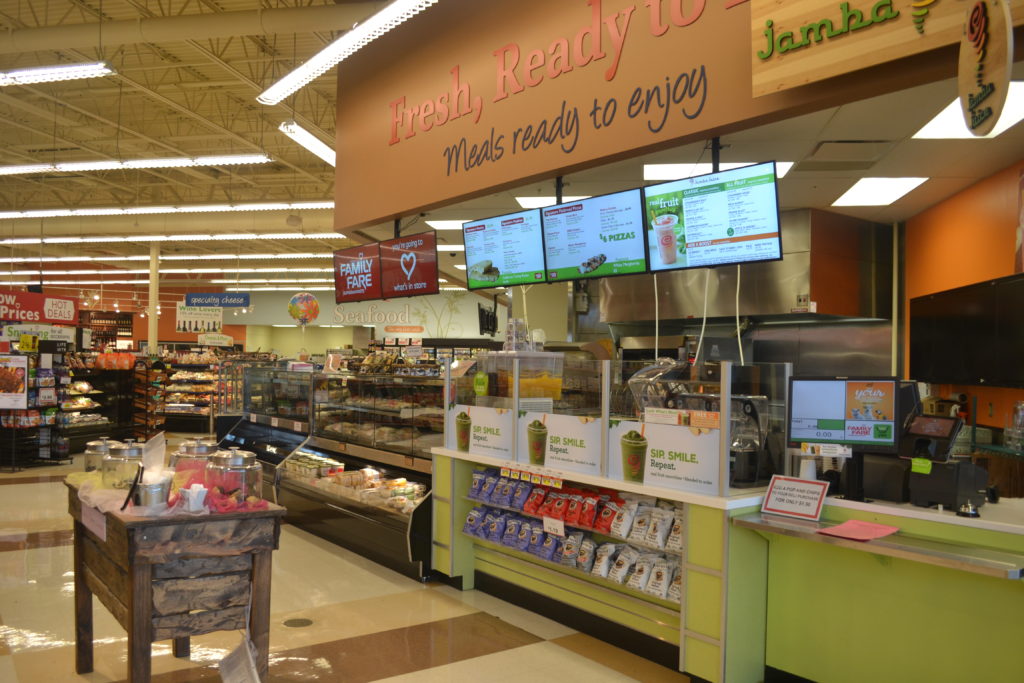 The FDA rule applies to 83 Family Fare Supermarkets owned and operated by SpartanNash in five states, all of which were compliant as of the original May 5 deadline.
In these stores, all individual-serve and "restaurant-type" prepackaged items now display the calories per serving information – with other nutritional facts like carbohydrates, fat and sugar available to store guests upon request.
"As a value-added service to them, SpartanNash is dedicated to providing our store guests with product information throughout our stores, despite the delay in implementing the FDA rule," said Larry Pierce, SpartanNash executive vice president of merchandising and marketing. "We want our store guests to make informed, better-for-you decisions when it comes to their meal options and portion sizes, and we believe the steps we have taken equip them to do just that."
Digital menu boards have been installed in every Family Fare deli, giving SpartanNash the ability to update menu displays and caloric counts. To account for slight variations in recipes for hot items such as fried chicken, SpartanNash built and maintains an extensive ingredient database within the Family Fare retail stores' recipe management system. The digital boards make it easier to update caloric and nutritional information, because they respond to in the ingredient database with real-time updates.
Signs have also been placed in bakeries on bulk items such as donuts and rolls, as well as on build-your-own salad bars and grab-and-go fresh items like sushi, soups and sandwiches.
In addition to the menu-labeling compliance, SpartanNash also offers a number of other ways for store guests to learn more about healthy food choices.
The company's three Regional Wellness Specialists – serving Michigan, Minnesota, Wisconsin and Nebraska – raise awareness and provide resources about nutrition and optimal food choices through in-store wellness activities like grocery store tours, cooking classes and healthy food sampling. The team also works with community partners, including healthcare systems, businesses and schools to promote health and wellness messages in SpartanNash stores and throughout the local communities.
"At SpartanNash, we want to engage our store guests in conversations about healthy eating and lifestyle choices," Pierce said. "Through our work in our retail stores and our compliance with these menu-labeling guidelines, we play an important role in offering a wide variety of food for customers to choose from, whether it's fresh fruits and vegetables grown by local farmers or grab-and-go options for our busy lives."
###
About SpartanNash
SpartanNash (Nasdaq: SPTN) is a Fortune 400 company whose core businesses include distributing grocery products to independent grocery retailers, national accounts, its corporate-owned retail stores and U.S. military commissaries. SpartanNash serves customer locations in 47 states and the District of Columbia, Europe, Cuba, Puerto Rico, Bahrain and Egypt. SpartanNash currently operates 153 supermarkets, primarily under the banners of Family Fare Supermarkets, Family Fresh Market, D&W Fresh Market and SunMart. Through its MDV military division, SpartanNash is the leading distributor of grocery products to military commissaries in the United States.