FOR IMMEDIATE RELEASE
Thursday, June 1, 2017
CONTACT:
Meredith Gremel, Vice President, Corporate Affairs & Communications, 616-878-2830
SpartanNash offers Double Up Food Bucks™ program in 17 Family Fare Supermarkets
Through the program, SNAP shoppers gain easy access and double their buying power on fresh fruits and vegetables
GRAND RAPIDS, Mich. – As part of its commitment to corporate responsibility, SpartanNash is again proud to offer the Double Up Food Bucks™ program to Supplemental Nutrition Assistance Program (SNAP, formerly known as food stamps) customers at 17 Family Fare locations throughout Western, Southern and Northern Michigan in 2017.
The Double Up produce incentive program is a public-private partnership pioneered by Fair Food Network. Today, Double Up programs are active in more than 20 states with support from federal, state and private sources.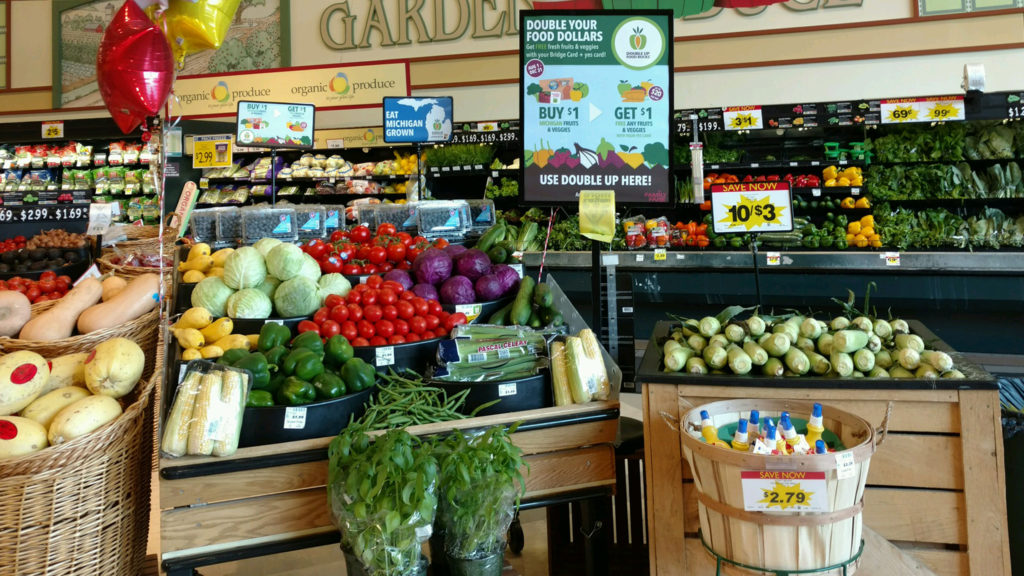 SpartanNash is the only major grocery retail chain in Michigan with multiple stores participating in the Double Up program. Double Up Food Bucks is also available in more than 200 farmers markets, farm stands and other retailers, as well as more than 40 full-service grocery stores, including many SpartanNash independent customers.
For each dollar of fresh produce SNAP customers purchase using their Bridge Card and SpartanNash's yes loyalty account, an equivalent amount of dollars will be earned and placed on their yes account. Shoppers can then redeem the Double Up dollars for free fruits and vegetables at participating Family Fare locations, with a maximum dollar-for-dollar match of $20 per day on their yes account.
To increase SNAP customers' access to fresh fruits and vegetables, SpartanNash and Fair Food Network are expanding the Double Up program this season. SNAP shoppers can now earn or redeem Double Up dollars on any produce at participating Family Fare stores, including Michigan-grown fruits and vegetables. Michigan produces a wider variety of fruits and vegetables than any other state in the country, other than California.
"Sourcing and selling local Michigan produce is a key strategic priority for us," said Larry Pierce, EVP, merchandising and marketing for SpartanNash. "In fact, we are working to increase the number of Michigan farmers from whom we purchase produce, as well as the total number of Michigan products sold in our stores. We have an extensive reach in our local growing communities, sourcing a wide range of fruits and vegetables from more than 250 Michigan farmers. We strive to offer the best selection of locally grown produce in our retail stores and to our more than 350 independent customers in Michigan. This 'local' commitment includes our local growers and producers as well as our local communities through programs such as Double Up Food Bucks."
This is the fourth year SpartanNash has offered the Double Up program at select Family Fare Supermarkets. This year, the Double Up program is being offered from April 2 to Dec. 31 at the following 17 Family Fare Supermarket locations:
Grand Rapids
Leonard – 1225 Leonard, NE in Grand Rapids
Fulton Heights – 1415 E. Fulton St. in Grand Rapids
Rogers Plaza – 1148 28th St., SW in Wyoming
Burlingame – 2900 Burlingame Ave., SW in Wyoming
Breton Meadows – 4325 Breton Road, SE in Grand Rapids
Kentwood – 6127 Kalamazoo, SE in Kentwood
Southern Michigan
Hastings – 902 W. State St. in Hastings
Lakeview – 45 East Columbia in Battle Creek
Pennfield – 1603 Capital, NE in Battle Creek
Urbandale – 1525 W. Michigan Ave. in Urbandale
Marshall – 15900 W. Michigan Ave. in Marshall
Albion – 1406 North Eaton in Albion
Holland
Butternut – 993 Butternut Dr. in Holland
Washington – 1185 S. Washington in Holland
Northern Michigan
Rose City – 2626 N. M-33 in Rose City
West Branch – 2206 S. M-76 in West Branch
Harrison – 1570 N. Clare Ave. in Harrison
"Double Up Food Bucks is helping low-income families stretch their food dollars while improving their diets and supporting Michigan growers," said Oran Hesterman, president and CEO of Fair Food Network. "SpartanNash has been an instrumental partner in scaling Double Up in grocery stores. They understood early on the power of this project as means to better serve its customers and the broader community. We are thankful for SpartanNash's continued commitment to this project, including strong and growing support of Michigan growers. "
Last year, 80 percent of all Double Up dollars earned at participating Family Fare stores by SNAP customers were redeemed.
In 2014, SpartanNash became the first major grocery retail chain in Michigan to support the Double Up Food Bucks program. Since then, the company has invested more than $100,000 to ensure the success of the program, the majority of which was spent on refining point-of-sale systems to make it easier for SNAP shoppers to earn and redeem Double Up dollars for fresh produce.
To date, SpartanNash has partnered with nearly 100 community organizations, including Grand Rapids Public Schools, Feeding America West Michigan, Spectrum Health Healthier Communities and the Heart of West Michigan United Way to inform communities – in both English and Spanish – about the Double Up program.
To learn more about SpartanNash's participation in the Double Up Food Bucks program, visit SpartanNash.com/DUFB or check out the company's Corporate Responsibility report at SpartanNash.com/CR-report.
###
About SpartanNash
SpartanNash (Nasdaq: SPTN) is a Fortune 400 company whose core businesses include distributing grocery products to independent grocery retailers, national accounts, its corporate-owned retail stores and U.S. military commissaries. SpartanNash serves customer locations in 47 states and the District of Columbia, Europe, Cuba, Puerto Rico, Bahrain and Egypt. SpartanNash currently operates 153 supermarkets, primarily under the banners of Family Fare Supermarkets, Family Fresh Market, D&W Fresh Market and SunMart. Through its MDV military division, SpartanNash is the leading distributor of grocery products to U.S. military commissaries.