FOR IMMEDIATE RELEASE
Wednesday, April 4, 2018
CONTACT:
Meredith Gremel, Vice President, Corporate Affairs & Communications, 616-878-2830
SpartanNash offers Free Fresh Fruit for Kids program in retail stores, encourages healthy choices

Program is available in 136 retail stores in seven states
GRAND RAPIDS, Mich. – To encourage healthy eating choices for children in its retail stores and reinforce its commitment to providing the best customer experience possible, SpartanNash recently launched its "Free Fresh Fruit for Kids" program.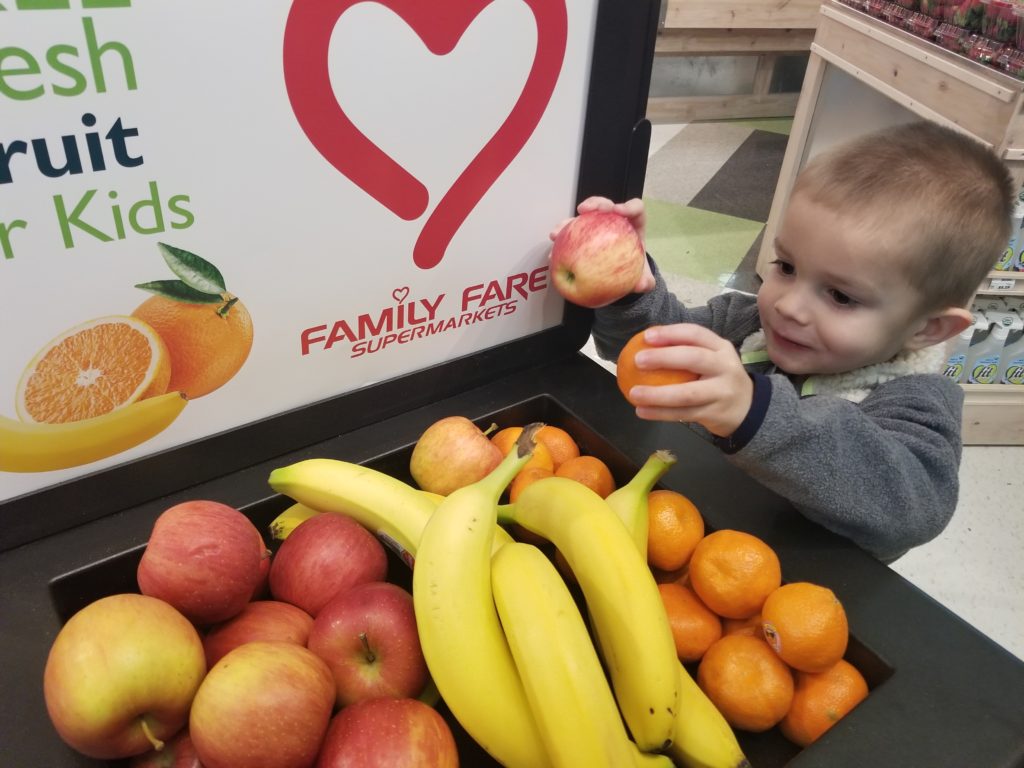 Using designated bins located near the front of produce sections in SpartanNash retail stores, the Free Fresh Fruit for Kids program encourages children to grab a banana or clementine to snack on while their parents shop the store.
"We are proud to offer these fresh fruit options for kids and encourage healthier eating habits," Executive Vice President and General Manager of Corporate Retail Ted Adornato said. "Parents love the Free Fresh Fruit for Kids program, and it supports our health and wellness initiatives to inspire families to eat healthier in every aisle of our stores."
The Free Fresh Fruit for Kids program is available in Family Fare Supermarkets, D&W Fresh Market, VG's Grocery, Dan's Supermarket and Family Fresh Market locations in seven states. In total, 136 stores offer the produce bins for SpartanNash "shoppers in training."
"Our stores embrace the needs of their local neighborhoods and the families that live there," Adornato said. "If you're a parent with small children, it can be difficult at times to shop if you aren't keeping your child happy and occupied. By offering a real food snack for kids from our produce department, we're connecting with the families that shop our stores and inspiring a generation to make healthy choices."
The Free Fresh Fruit for Kids program is part of SpartanNash's "Living Well" initiatives, which also include an ever-growing assortment of organic offerings, free and reduced-cost prescriptions at their pharmacies, kids programming and Regional Wellness Specialists who serve company-owned retail stores and communities in Wisconsin, Minnesota, Michigan and the greater Omaha, Neb. area.
Wellness Specialists work with community partners to raise awareness about programs such as Free Fresh Fruit for Kids and provide resources about nutrition and optimal food choices through in-store wellness activities like grocery store tours, cooking classes and healthy food sampling.
In 2017, SpartanNash and its Regional Wellness Specialists were recognized for their efforts to encourage healthier eating habits with the Gold Plate Award from the Food Marketing Institute and the Retail Role Model Award from the Produce for Better Health Foundation.
For more information, visit spartannash.com/awards.
###
About SpartanNash
SpartanNash (Nasdaq: SPTN) is a Fortune 350 company whose core businesses include distributing grocery products to independent grocery retailers, national accounts, its corporate-owned retail stores and U.S. military commissaries and exchanges. SpartanNash serves customer locations in 47 states and the District of Columbia, Europe, Cuba, Puerto Rico, Italy, Bahrain, Djibouti and Egypt. SpartanNash currently operates 143 supermarkets, primarily under the banners of Family Fare Supermarkets, D&W Fresh Market, VG's Grocery, Dan's Supermarket and Family Fresh Market. Through its MDV military division, SpartanNash is a leading distributor of grocery products to U.S. military commissaries.