FOR IMMEDIATE RELEASE
Monday, May 8, 2017
CONTACT:
Meredith Gremel, Vice President, Corporate Affairs & Communications, 616-878-2830
SpartanNash, Omaha Distribution Center associates donate $1,000 to AllPlay Foundation through Direct Your Dollars™ program
'Shop with purpose' program offered at all Family Fare Supermarkets, Supermercado Nuestra Familia, No Frills, Family Fresh Market and SunMart locations  in Nebraska
OMAHA, Neb. – Through the Direct Your Dollars™ program, the AllPlay Foundation recently received a $1,000 donation from SpartanNash and the company's Omaha Distribution Center. Direct Your Dollars is offered at more than 150 SpartanNash-owned stores in nine states – including all 26 Family Fare Supermarkets, Supermercado Nuestra Familia, No Frills, Family Fresh Market and SunMart locations  in Nebraska – and gives store guests and SpartanNash associates a way to support their favorite local charities, schools and nonprofit organizations.
Each time an eligible organization collects $150,000 in original receipts, they can redeem those receipts for $1,000 from SpartanNash.
In this case, SpartanNash Omaha DC associates collected the receipts and selected the AllPlay Foundation to benefit from the donation.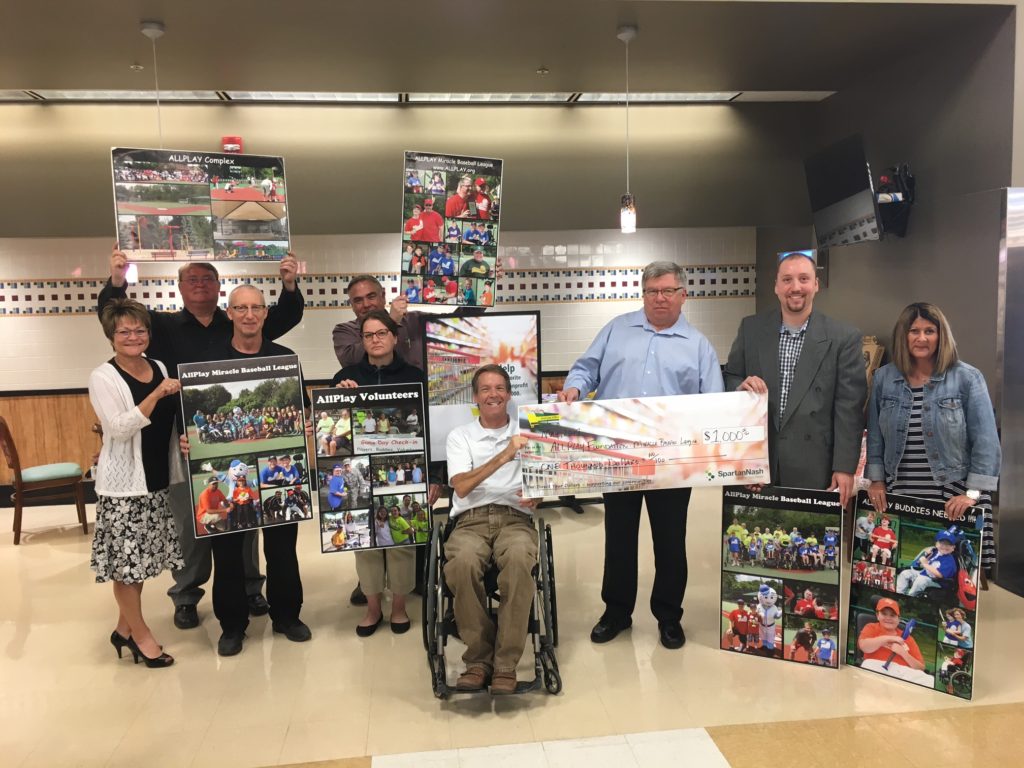 Omaha DC Warehouse Assistant Kevin Terry, Administrative Assistant Hazel Arnott and Papillion Family Fare Store Director Donnie Wilde presented the $1,000 check to AllPlay Foundation Founder and Executive Director Bruce Froendt on behalf of SpartanNash and the Direct Your Dollars program.
The money will be used to support the AllPlay Complex – the finest barrier-free sports and recreation complex in the nation – and the 2017 AllPlay Miracle Baseball League, which began on May 6 and runs for eight weeks.
"We are excited for the donation from SpartanNash, because it will allow all 365 participating athletes to play Miracle League Baseball at no cost this season," Froendt said. "The donation will directly support the cost of uniforms, awards, treats and special events for the children with special needs that play AllPlay baseball. We are extremely thankful for this recognition by SpartanNash associates, because it allows us to work toward the mission of our organization. Our directors and hundreds of volunteers look forward to continuing our efforts on behalf of AllPlay's very special players."
The $1.5 million AllPlay Complex is located in Seymour Smith Park in Omaha, utilizing barrier-free design concepts that allow people who have mobility impairments and other disabilities to fully enjoy sports and recreation. The complex is open to the public and includes the AllPlay Miracle League Baseball Field, Nebraska Barons Wheelchair Softball Field and a playground, waterpark and Welcome Center.
Terry organized the receipt collection in the offices at the Omaha Distribution Center, which grew to encompass the entire warehouse and other associates in the company.
"We have receipt drop boxes placed throughout the DC, and everyone who wants to participate can place their receipts in the boxes," Terry said. "It's become a habit for a lot of associates, which made it easy to reach our $150,000 goal in six months.
"We chose to donate the receipts to the AllPlay Foundation because of its impact in the community as well as its proximity to our DC. We hope we can keep this trend going, so we can continue collecting receipts to donate to another local charity. When we first started this project we thought it would take a lot longer, but our fellow SpartanNash associates quickly accepted the challenge and our efforts have paid off!"
Direct Your Dollars was launched by SpartanNash in August 2016, encouraging store guests and associates to use their purchasing power to support their favorite nonprofits just by shopping at any one of SpartanNash's more than 150 retail stores and fuel centers. The Direct Your Dollars program allows local nonprofit organizations to turn $150,000 in receipts into a $1,000 donation, which can then be used for computers, textbooks, field trips, athletic and band equipment, food and meal supplies and much more.
A section titled "Direct Your Dollars" is included on all receipts to make it easier for organizations to compute their Direct Your Dollars receipt totals. Some purchases are excluded from the Direct Your Dollars program, such as tobacco, postage, fuel, gift cards and lottery, and will not be included in the "Direct Your Dollars" tally.
Participating groups must have a valid 501(c)(3) determination to be eligible to receive a donation. Preschool and K-12 schools are eligible to participate, as well as school-sponsored groups and clubs. Faith-based and community service organizations can also participate in the Direct Your Dollars program.
"SpartanNash is committed to giving back to the communities where we live and work," said Meredith Gremel, vice president of corporate affairs and communications for SpartanNash. "The Direct Your Dollars program is one of our many corporate responsibility initiatives, and it's an easy way for our store guests to partner with us to earn money for their children's band program, church youth group, VFW hall and more. We are honored to present this donation to the AllPlay Foundation, and we cannot wait to see the difference it will make."
Organizations interested in participating in the Direct Your Dollars program can visit SpartanNash.com/DirectYourDollars for promotional materials, receipt submission forms and more.
###
About SpartanNash
SpartanNash (Nasdaq: SPTN) is a Fortune 400 company whose core businesses include distributing grocery products to independent grocery retailers, national accounts, its corporate-owned retail stores and U.S. military commissaries. SpartanNash serves customer locations in 47 states and the District of Columbia, Europe, Cuba, Puerto Rico, Bahrain and Egypt. SpartanNash currently operates 153 supermarkets, primarily under the banners of Family Fare Supermarkets, Family Fresh Market, D&W Fresh Market and SunMart. Through its MDV military division, SpartanNash is the leading distributor of grocery products to military commissaries in the United States.