FOR IMMEDIATE RELEASE
Thursday, Sept. 12, 2019
CONTACT:
Meredith Gremel, Vice President, Corporate Affairs & Communications, 616-878-2830
Family Fare, D&W Fresh Market, VG's and Forest Hills Foods pharmacies to take part in State of Michigan's Overdose Awareness and Free Naloxone Day
SpartanNash's Opioid Safety Project provides naloxone, education and awareness to store guests throughout the year
GRAND RAPIDS, Mich. – In a continued effort to combat the opioid epidemic and prevent accidental prescription opioid overdoses, SpartanNash is partnering with the Michigan Department of Health and Human Services (MDHHS) to dispense naloxone to Michigan residents free of charge on Saturday, Sept. 14, 2019.
MDHHS has supplied more than 50,000 doses of Narcan (naloxone HCl) Nasal Spray – a life-saving medication used to reverse the deadly effects of opioid overdose – to be dispensed anonymously and free of charge on Overdose Awareness and Free Naloxone Day, taking place throughout the state on Sept. 14. In total, 61 SpartanNash pharmacies will have free naloxone available for store guests and community members who would like to have access to this life-saving medication.
Participating SpartanNash pharmacies are located in D&W Fresh Market, Family Fare, Forest Hills Foods and VG's stores. Free naloxone kits will be available during normal pharmacy hours on a first come, first served basis, with a limit of one kit per person. No individual prescription is needed, and no payment or insurance are required.
"We are proud to be a part of this unique public service to our communities," said Eddie Garcia, SpartanNash director of pharmacy merchandising. "By providing store guests and their caregivers with free naloxone, we hope to reduce the number of accidental overdoses while providing them with life-saving medication should an emergency arise."
The State of Michigan's Overdose Awareness and Free Naloxone Day allows individuals to visit participating pharmacies and receive naloxone anonymously and at no cost, reducing the risk of accidental prescription opioid overdoses and increasing access to this potentially life-saving treatment.
In 2016, SpartanNash launched its Opioid Safety Project with the goal of reducing prescription drug overdoses by providing patients who visit SpartanNash pharmacies with naloxone and education on how to identify, prevent and reverse an accidental opioid overdose. This education includes information on the safe use, storage and disposal of opioid medications as well as what to do in case of an accidental overdose.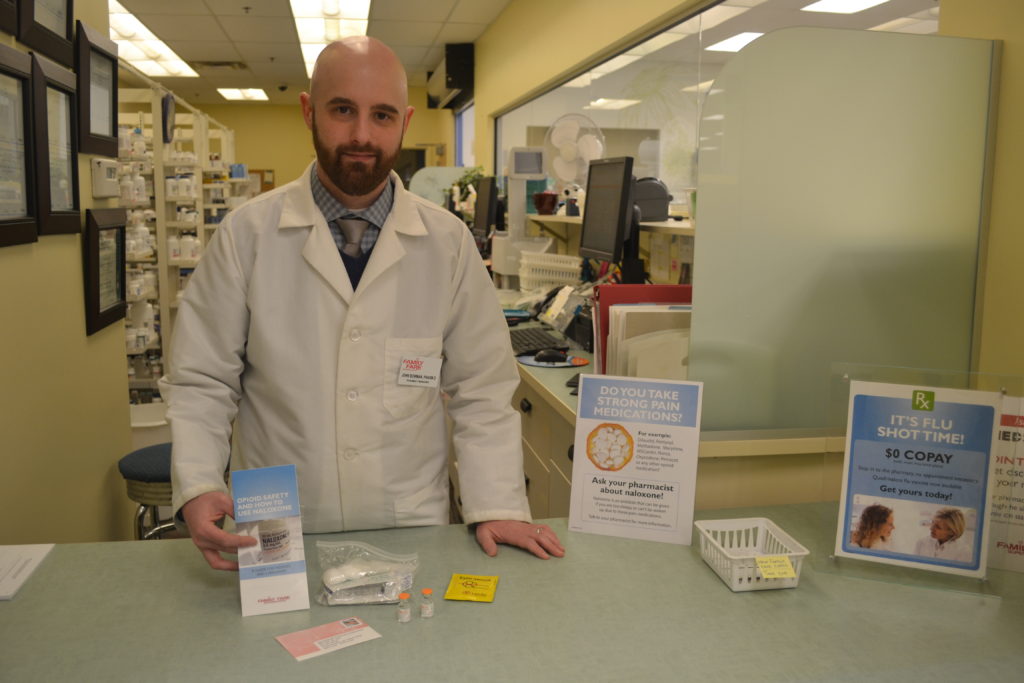 "Naloxone is like a fire extinguisher; it is important to have on hand, but we hope you never need to use it," Garcia said. "Our Opioid Safety Project places a special emphasis on education. Before our store guests take their prescriptions home with them – either on Sept. 14 or throughout the year – our pharmacists spend time with them and their caregivers to ensure they understand how to properly take their medications and when naloxone would be needed. We never want our store guests to have to use the naloxone, but we want them to be informed on how to properly administer it in the case of an emergency."
SpartanNash was the first major grocery retailer in Michigan to offer this kind of program and expand the Opioid Safety Project throughout the state. SpartanNash pharmacists have dispensed more than 800 overdose reversal kits since launching the Opioid Safety Project.
###
About SpartanNash
SpartanNash (Nasdaq: SPTN) is a Fortune 400 company whose core businesses include distributing grocery products to a diverse group of independent and chain retailers, its corporate-owned retail stores and U.S. military commissaries and exchanges; as well as premier fresh produce distribution and fresh food processing. SpartanNash serves customer locations in all 50 states and the District of Columbia, Europe, Cuba, Puerto Rico, Bahrain, Djibouti and Egypt. SpartanNash currently operates 160 supermarkets, primarily under the banners of Family Fare, Martin's Super Markets, D&W Fresh Market, VG's Grocery, Dan's Supermarket and Family Fresh Market. Through its MDV military division, SpartanNash is a leading distributor of grocery products to U.S. military commissaries.