FOR IMMEDIATE RELEASE
Monday, May 14, 2018
CONTACT:
Meredith Gremel, Vice President, Corporate Affairs & Communications, 616-878-2830
SpartanNash quadruples donations as part of Earth Week Goodwill partnership
More than 400,000 pounds of donations collected during Fortune 350 company's corporate responsibility initiatives
GRAND RAPIDS, Mich. – As a part of its Earth Week initiatives, SpartanNash today announced it collected 419,175 pounds of donations on behalf of Goodwill Industries between April 16 and 23, more than quadrupling its efforts from 2017.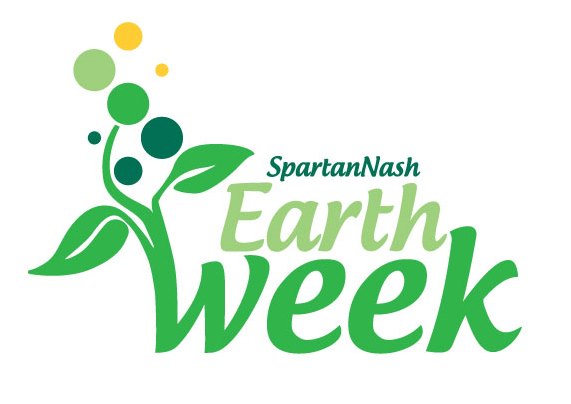 Since 2011, SpartanNash's Earth Week Goodwill donation drives have diverted more than 630,740 pounds of materials from landfills, and Goodwill has converted these donations into 135,098 hours of workforce development training in the communities it serves.
"At SpartanNash, we love Earth Week, because it allows us to engage and educate our associates, store guests and communities while celebrating and promoting environmental stewardship," said Meredith Gremel, vice president of corporate affairs and communications. "This year's response to our Goodwill donation drive was overwhelming, and it demonstrates the measurable difference we can make together to reduce landfill waste, promote reuse of products and create jobs through Goodwill's job training programs."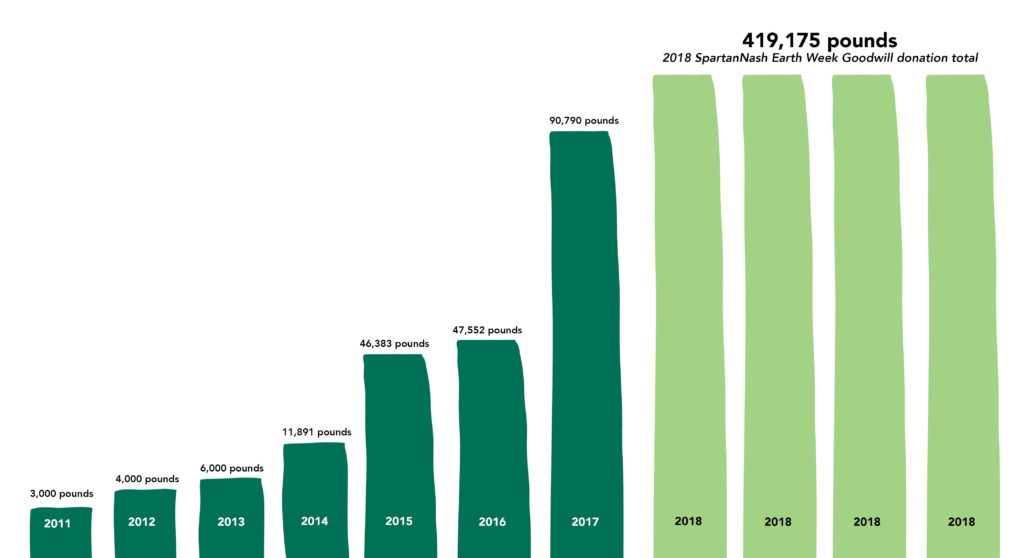 SpartanNash's Earth Week initiatives took place companywide, April 16-23, highlighting the Fortune 350's commitment to corporate responsibility. Donation drives were held in partnership with 19 Goodwill organizations across 15 states, encouraging customers and associates to donate their used clothing, electronics and household items.
"We are very fortunate to have had this relationship with SpartanNash over the years and share the message and mission of Goodwill with their store guests and associates," said Jill Wallace, Chief Marketing and Communications Officer for Goodwill of Greater Grand Rapids. "SpartanNash has been a long-time supporter of Goodwill during Earth Week and throughout the year. This partnership continues to be more successful each year, and we are very excited to see SpartanNash expand the partnership to support more Goodwill organizations in more communities. Thank you, SpartanNash associates and our many Earth Week donors for supporting our job training and placement services."
For customers who donated at participating Goodwill organizations in Michigan, Minnesota, Nebraska, South Dakota and Wisconsin, SpartanNash showed its appreciation with a coupon book that included savings on organic milk and cleaning products – as well as a coupon for $10 off a $25 or more purchase. The coupons were redeemable at Family Fare Supermarkets, D&W Fresh Market, VG's Grocery, Econofoods, Family Fresh Market or any of SpartanNash's more than 140 corporate-owned stores.
SpartanNash's distribution centers in Florida, Georgia, Indiana, Maryland, Minnesota, North Carolina, Ohio, Oklahoma and Texas; along with the company's four service centers in Grand Rapids, Mich.; Minneapolis; Indianapolis; and Norfolk, Va. also partnered with Goodwill organizations to host onsite donation drives as a part of Earth Week programs designed for SpartanNash associates.
For more information about SpartanNash's Earth Week efforts, visit: spartannash.com/earth-week.
###
About SpartanNash
SpartanNash (Nasdaq: SPTN) is a Fortune 350 company whose core businesses include distributing grocery products to independent grocery retailers, national accounts, its corporate-owned retail stores and U.S. military commissaries and exchanges. SpartanNash serves customer locations in 47 states and the District of Columbia, Europe, Cuba, Puerto Rico, Italy, Bahrain, Djibouti and Egypt. SpartanNash currently operates 142 supermarkets, primarily under the banners of Family Fare Supermarkets, D&W Fresh Market, VG's Grocery, Dan's Supermarket and Family Fresh Market. Through its MDV military division, SpartanNash is a leading distributor of grocery products to U.S. military commissaries.