FOR IMMEDIATE RELEASE
Thursday, Nov. 29, 2018
CONTACT:
Meredith Gremel, Vice President, Corporate Affairs & Communications, 616-878-2830
SpartanNash shares 2017 Corporate Responsibility Report
Report highlights ways the Fortune 400 company is taking food places in more sustainable, socially conscious ways
GRAND RAPIDS, Mich. – SpartanNash is proud to share its 2017 Corporate Responsibility Report, highlighting the ways the Fortune 400 company is taking food places in more sustainable, socially conscious ways.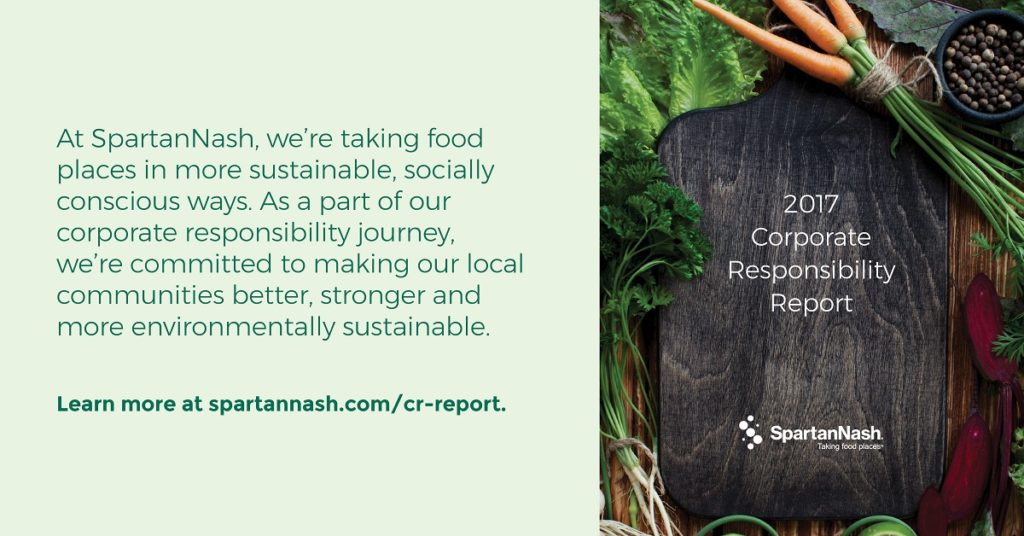 Through both stories and statistics, the report details SpartanNash's corporate responsibility efforts in 2017, focusing on five areas defined by the company's CR dashboard – cultivating local relationships and product development, advancing diversity and inclusion, volunteering, minimizing waste and reducing energy consumption.
The full report can be found at spartannash.com/CR-Report.
"At SpartanNash, we are fueled by our passion to provide our customers, coworkers and communities with the best quality products, services and shopping experiences possible; yet our corporate responsibility commitment takes us so much further than the aisles of the local grocery store or U.S. military commissary," SpartanNash President and CEO Dave Staples said. "We are making a sustainable difference, each and every day – and we hope that our 2017 CR Report inspires others to join us on this journey."
Key highlights from the report include:
SpartanNash's CR dashboard, which provides the company with a roadmap on how to sustain and scale its commitments.
Nearly $1.5 million in corporate giving initiatives, including $174,000 through the Direct Your Dollars™ program.
$1.5 million granted to more than 200 community nonprofit partners by the SpartanNash Foundation, providing hunger relief, securing shelter and supporting our military heroes.
A commitment to working with local farmers and food producers to offer more than 2,300 locally grown and locally made items.
Award-winning health and wellness initiatives, designed to equip SpartanNash associates and store guests with the knowledge and skills to eat and stay healthy.
Volunteering efforts totaling 41,016 hours and $990,126 in economic impact.
Training and development efforts for our associates to realize their career aspirations
Diversity and inclusion initiatives to expand perspectives and drive innovation.
Support of our servicemen and women through community sponsorships and veteran-friendly hiring efforts as they begin their civilian careers.
4 million pounds of product donated to community food pantries and local nonprofits.
9 million pounds of materials diverted from landfills through our recycling efforts.
Efficiency improvements to its fleet of tractors and trailers, including improved miles per gallon, network optimization and solar panel technology. In 2017, 200,183 fewer gallons of diesel were consumed by SpartanNash's fleet—reducing fuel emissions by 3.8 million pounds of carbon dioxide.
A continued investment in energy efficiency and renewable sources of electricity, resulting in 1.4 million kilowatt hours saved.
The report also includes a sneak peek at SpartanNash's 2018 CR efforts, including real-time metric tracking to empower company leadership to own key corporate responsibility results and the creation of Sustainability Champions and Green Teams in each of its 19 distribution centers across the country.
To exemplify its commitment to corporate responsibility, the 2017 Corporate Responsibility Report was printed in limited quantities using paper made from 100 percent post-consumer content, processed without chlorine, manufactured using renewable biogas and certified for reduced environmental impact by ECOLOGO. In addition, SpartanNash Graphic Services printed the report with soy-based inks.
View the SpartanNash Corporate Responsibility Report at spartanash.com/CR-Report.
###
About SpartanNash
SpartanNash (Nasdaq: SPTN) is a Fortune 400 company whose core businesses include distributing grocery products to a diverse group of independent and chain retailers, its corporate-owned retail stores and U.S. military commissaries and exchanges; as well as premier fresh produce distribution and fresh food processing. SpartanNash serves customer locations in all 50 states and the District of Columbia, Europe, Cuba, Puerto Rico, Bahrain, Djibouti and Egypt. SpartanNash currently operates 139 supermarkets, primarily under the banners of Family Fare Supermarkets, D&W Fresh Market, VG's Grocery, Dan's Supermarket and Family Fresh Market. Through its MDV military division, SpartanNash is a leading distributor of grocery products to U.S. military commissaries.