FOR IMMEDIATE RELEASE
FOR MORE INFORMATION CONTACT:
Meredith Gremel, Vice President, Corporate Affairs & Communications, SpartanNash, 616-878-2830
SpartanNash to Present Honor and Remember Flags to Family of Iraq War Veteran
Presentation Part of the Evening Ceremonies of the 9/11 Community Day of Remembrance at the Gerald R. Ford Presidential Museum
Grand Rapids, Mich., September 9, 2015 — SpartanNash will present the parents and the fiancée of Army Specialist 4th Class Brian Derks with personalized Honor and Remember flags during the evening ceremonies of the 9/11 Community Day of Remembrance at the Gerald R. Ford Presidential Museum on September 11, 2015. The flags will be presented between 7:00 and 8:00 p.m., following comments from Michigan's Lieutenant Governor, Brian Calley.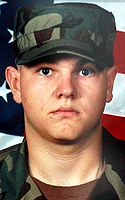 Brian Keith Derks of White Cloud, Mich., was killed in action on August 13, 2005, in Baghdad, Iraq. He was 21 years old when he died from injuries he received when an improvised explosive device detonated while he was on mounted patrol in Baghdad. He was assigned to the Fox Group Second Squadron of the 11th Armored Cavalry Regiment and was based in Fort Irwin, CA. Derks was the 56th member of the U.S. armed forces with known Michigan ties to be killed in Iraq.
Derks was born on July 12, 1984, to Keith and Peggy Derks. He was an Eagle Scout (White Cloud Boy Scouts Troop #1137) and assistant Scout Master who enlisted in the military shortly after graduating in 2003 from White Cloud High School, where he competed on the Quiz Bowl team and played football and baseball. He was also a hunter and a fisherman.
Derks was survived by his parents, Keith and Peggy Derks, his older sister, Sally Derks, and his fiancée, Nikki Crans.
His awards and decorations include the Purple Heart Medal, the Bronze Star Medal, the Good Conduct Medal, the National Defense Service Medal, the Iraq Campaign Medal, the Global War on Terrorism Expeditionary Medal, the Global War on Terrorism Service Medal, the Army Service Ribbon and the Combat Infantryman's Badge.
Meredith Gremel, VP, Corporate Affairs and Communications, will present the flags on behalf of SpartanNash.  "As the largest distributor to U.S. military commissaries and exchanges in the world, we see firsthand the sacrifices our military heroes and their families make to protect our freedoms," notes Gremel,  "so we are doing all we can to honor and remember those lost in active duty to our country."
Honor and Remember
The Honor and Remember flag specifically acknowledges American service men and women who paid the ultimate price with their life while serving their country. Honor and Remember is a nonprofit organization founded by George Lutz, who lost his son Tony to a sniper's bullet in Fallujah, Iraq, in 2005. A unique feature of the flag design is the option to personalize it to carry the name of a friend or loved one as part of its structure, so the flag can be displayed in specific honor of one lost.
The organization is deeply committed to promoting broad national awareness of and groundswell interest in the flag, so that military, government and educational facilities as well as households throughout the country will begin flying the Honor and Remember Flag in recognition of our nation's fallen warriors. It is also the goal of Honor and Remember to place one personalized Honor and Remember Flag in the hands of immediate families who have lost a loved one in military service to America. http://www.honorandremember.org/our-mission/
"SpartanNash cares deeply for those who defend our freedom and protect our families," said Ed Brunot, EVP and President of SpartanNash's MDV military division based in Norfolk, Va. "We are committed to ensuring that these brave men and women's sacrifices and stories are not forgotten."
Brunot serves on the Board of Directors of Honor and Remember and has been instrumental in raising awareness of and funds for Honor and Remember flags. SpartanNash also is in the process of displaying the Honor and Remember flag on the company's more than 1,600 semi-trailers. In addition to SpartanNash's global military operations, the company owns and operates 165 stores in 10 states, plus distributes to 2,100 independent customers in 46 states. In West Michigan, SpartanNash's retail banners include Forest Hills Foods, Family Fare Supermarkets and D&W Fresh Markets.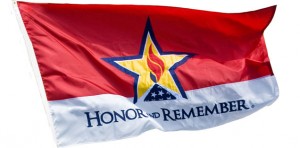 The Honor and Remember Flag's design is distinctive, yet simple. Each detail on the flag symbolizes an important part of the overall meaning of the flag's message.

The Red Field represents the blood spilled by brave men and women in America's military throughout our history, who willingly gave their lives so that we all would remain free.
The Blue Star represents active service in military conflict. This symbol originated with World War I, but on this flag it signifies service through all generations from the American Revolution to present day.
The White Border beneath and surrounding the gold star recognizes the purity of sacrifice. There is no greater price an American can pay than to give his or her life in service to our country.
The Gold Star signifies the ultimate sacrifice of a warrior in active service who will not return home. Gold reflects the value of the life that was given.
The Folded Flag signifies the final tribute to an individual life that a family sacrificed and gave to the nation.
The Flame is an eternal reminder of the spirit that has departed this life yet burns on in the memory of all who knew and loved the fallen hero.

   We will always Honor their selfless sacrifice and Remember them individually by name.
"Words cannot express how important it is to recognize families who've lost those who've paid the ultimate price," said George Lutz, founder of the Honor and Remember flag. "I'm grateful that a company the size of SpartanNash has recognized this flag and is committed to carrying its message."
9/11 Community Day of Remembrance
SpartanNash is the sponsor of the 14th annual 9/11 Community Day of Remembrance Scout Salute at Gerald R. Ford Presidential Museum, located at 303 Pearl Street N.W., Grand Rapids, MI 49504. This event, which is the country's only continuous salute to the flag from sunrise to sunset, honors all the victims and heroes who died during the 9/11 terrorist attacks. The event is led by the Boy Scouts of America President Ford Field Service Council, and it is supported by the Gerald R. Ford Presidential Foundation. President Gerald R. Ford was the only U.S. President who was also an Eagle Scout.
SpartanNash will shuttle associates from its corporate headquarters and distribution center located at 850 76th Street SW in Byron Center so that they may participate in the salute and pay their respect for those who lost their lives on 9/11 and those who continue to serve on our behalf.
All members of the community are invited to participate in this daylong event. Lieutenant Governor Brian Calley and President Ford Field Service Council President Wayman Britt will speak during the evening ceremonies. Exhibits at the Ford Museum will include 9/11: A Day That Changed America (on loan from the National September 11 Memorial Museum in New York City) and a rescue vehicle that was used following the attacks (on loan from the Henry Ford Museum).
A full schedule of the day's events can be found at http://www.michiganscouting.org/presidentford/9-11scoutsalute/.
About SpartanNash
SpartanNash (SPTN) is a Fortune 400 company and the largest food distributor serving U.S. military commissaries and exchanges in the world, in terms of revenue. The Company's core businesses include distributing food to military commissaries and exchanges and independent and corporate-owned retail stores located in 46 states and the District of Columbia, Europe, Cuba, Puerto Rico, Bahrain and Egypt. SpartanNash currently operates 165 supermarkets, primarily under the banners of Family Fare Supermarkets, Family Fresh Markets, D&W Fresh Markets and Econofoods.