FOR IMMEDIATE RELEASE
Monday, June 18, 2018
CONTACT:
Meredith Gremel, Vice President, Corporate Affairs & Communications, 616-878-2830
300 SpartanNash associates take part in annual Helping Hands Day in West Michigan

Day of community service benefits 24 nonprofit organizations
GRAND RAPIDS, Mich. – More than 300 SpartanNash associates recently spent the day giving back to their local communities during the company's third annual Helping Hands Day – a day of community service benefitting 24 nonprofit organizations throughout West Michigan. In total, SpartanNash associates volunteered a combined 2,500 hours during the Helping Hands Day on June 14, resulting in $60,350 in economic impact*.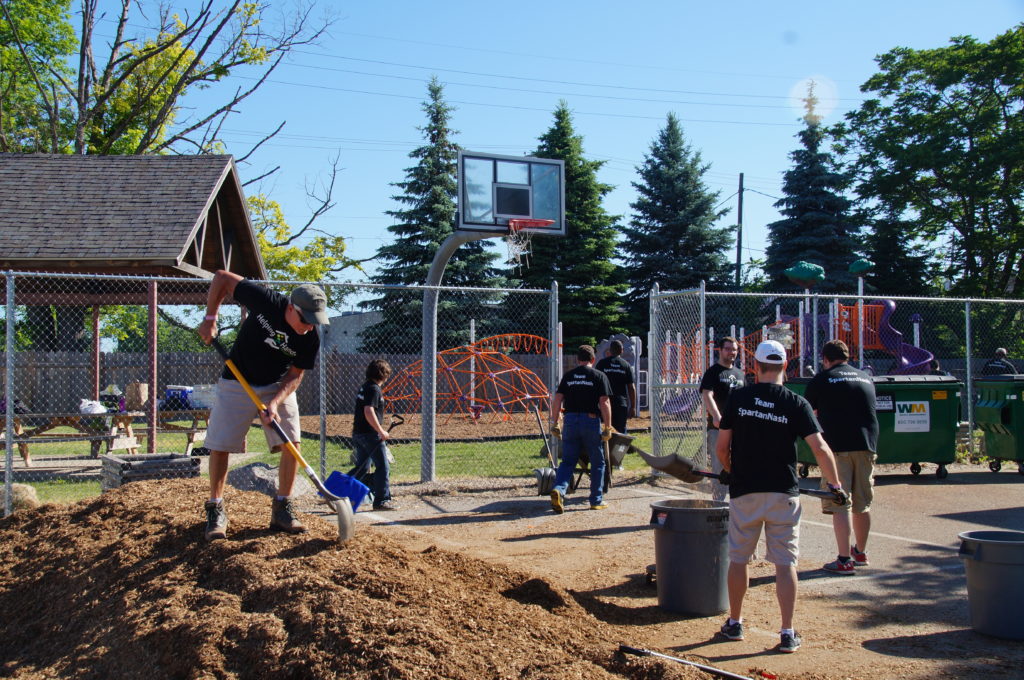 Groups of SpartanNash associates spent the day mulching trails at Blandford Nature Center; landscaping and property improvement at Guiding Light, Baxter Community Center and Well House; building homes at two Habitat for Humanity sites; preparing meals at Hope Lodge and Meals on Wheels West Michigan; and sorting donations at In the Image, among other tasks.
"This is a special day for all of our company's associates, because we can come together to give back to our local communities in a real and impactful way," said Dave Staples, SpartanNash president and CEO. "SpartanNash has been a part of the West Michigan community for more than 100 years, and we are committed to giving back, because we recognize that the success of our company is built upon being good neighbors and partners in the communities we serve. Helping Hands Day embodies our company's vision to feel local, where relationships matter."
SpartanNash continues to increase its commitment to volunteerism, challenging its associates from across the country to collectively give 60,000 hours of their time to volunteer efforts in 2018. Associates are encouraged to find the causes that they are most passionate about and volunteer in their local communities. So far in 2018, SpartanNash associates have collectively volunteered nearly 16,000 hours.
More than half of all SpartanNash associates who work at the company's corporate headquarters in Grand Rapids, Mich. participated in the Helping Hands Day. In addition to the volunteer efforts, the SpartanNash Foundation – the company's charitable giving arm – also supports many of its Helping Hands Day nonprofit partners through its retail fundraising campaigns and grant donations.
SpartanNash is the nation's fifth-largest food distributor, with more than 140 retail grocery stores in eight states – including 87 Family Fare, D&W Fresh Market, ValuLand and VG's stores throughout Michigan – and independent retail customers across the country. The company is also a leading distributor of grocery products to U.S military commissaries.
The inaugural Helping Hands in the Community Day took place when associates from the SpartanNash's Minneapolis location spent a day volunteering together in June 2011. Since then, SpartanNash associates have participated annually, contributing nearly 25,000 hours and $603,000 in economic impact*.
"Our associates already give back in so many ways to the communities where we live and work, but Helping Hands Days are especially exciting because of the spirit of volunteerism we all share," said Meredith Gremel, vice president of corporate affairs and communications and executive director of the SpartanNash Foundation. "The amount of work that gets done in a single day is astounding, and it's just one small way we can say thank you to our nonprofit partners for the work they do all year long."
To learn more about SpartanNash's commitment to volunteering, visit spartannash.com/volunteer.
*Based on Independent Sector estimate from U.S. Bureau of Labor Statistics.
###
About SpartanNash
SpartanNash (Nasdaq: SPTN) is a Fortune 400 company whose core businesses include distributing grocery products to independent grocery retailers, national accounts, its corporate-owned retail stores and U.S. military commissaries and exchanges. SpartanNash serves customer locations in all 50 states and the District of Columbia, Europe, Cuba, Puerto Rico, Italy, Bahrain, Djibouti and Egypt. SpartanNash currently operates 142 supermarkets, primarily under the banners of Family Fare Supermarkets, D&W Fresh Market, VG's Grocery, Dan's Supermarket and Family Fresh Market. Through its MDV military division, SpartanNash is a leading distributor of grocery products to U.S. military commissaries.