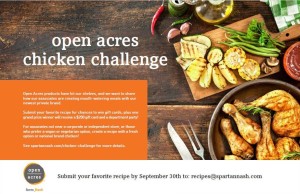 With new Open Acres™ fresh product offerings hitting our store shelves, we want to hear how our associates are using the fresh, flavorful products in their own kitchens. That's why we're challenging associates from across the company to send in a favorite recipe using our new Open Acres chicken.
We know not all associates live or work in an area where Open Acres is sold at a corporate store or independent customer location – and that some associates follow a vegetarian or vegan diet. For these associates, we encourage participation in the Open Acres Chicken Challenge using a national brand chicken product or an alternative fresh protein source.
One grand prize winner of the recipe challenge will receive a $200 gift card and a department party. Anyone who submits a favorite recipe is also in the running for gift cards, so enter for your chance to win the Open Acres Chicken Challenge today!
How to participate:
Gather all the ingredients for your Open Acres chicken recipe and document yourself as you make your culinary creation by taking photos and/or videos.
Fill out the Open Acres Chicken Challenge submission form, including your name, associate ID and location or store number. We also want to hear about your inspiration for the dish and the full recipe so associates can recreate it at home.
Send your recipe, photos and videos and the submission form to 

[email protected]

by Friday, Sept. 30 to be entered into the raffle. *If needed, a supervisor, department manager or store director may submit for associates without email access.
Each recipe will receive a prize drawing entry. Twenty winners from around the company will be randomly selected to win a $25 gift card.
We also need your help in determining the grand prize winner for the Chicken Challenge! Voting will take place Monday, Oct. 3 through Wednesday, Oct. 12 on the SpartanNash Facebook page. The recipe with the most votes will receive a $200 gift card for the winning recipe and a $100 store gift card for their location or department to host a potluck or party to try out some of the recipes!