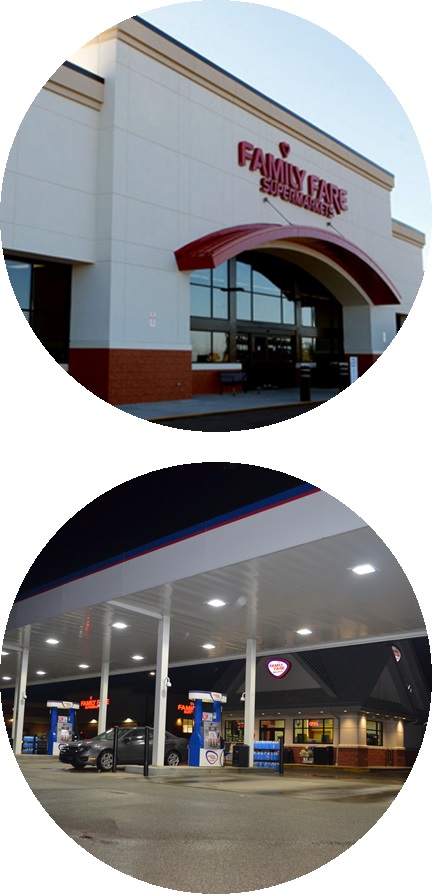 SpartanNash earned Leadership in Energy and Environmental Design (LEED) Certification for our Metro Family Fare in Wyoming, Mich. in 2012. The store includes energy efficient refrigerated cases, accent track LED lighting and a high efficiency fluorescent lighting system that has dimming controls. We brought together the lighting control company and a separate store energy system company to develop a new control application to support energy efficiency at the store. This application allowed us to program energy controls into our existing energy system rather than add a completely separate and additional control system to the store.
The lighting program at our Metro Family Fare also includes daylight harvesting in the entry way, bottle return and other sections of the store that have large windows.
The interior lighting is reduced at night by 40 percent from 11 p.m. to 6 a.m. The dimming duration takes place over 15 minute increments, so store guests and associates never perceive any change in lighting.
Furthermore, exterior lights located along the perimeter of the parking lot are shut off from 11 p.m. to 5 a.m. Lastly, this LEED Certified store includes in-floor radiant heating, uses reclaimed heat from a natural gas powered electric generator and captures rain water used for irrigation.
Our Metro Health Quick Stop Fuel Center also earned Silver LEED certification.
In addition to these certifications, our current energy efficiency efforts are focused on refrigeration, heating and cooling and interior and exterior lighting.
In 2018, we continued the installation of LED lighting in our corporate retail stores, equipping 15 additional stores with exterior LED lighting, building signs, track lighting and refrigerated cases. As a result, SpartanNash will see an annual reduction of 1.4 million kilowatt hours in these stores alone—the equivalent of the energy usage of 130 homes each year, or 592 barrels of oil consumed.
Since we began tracking our energy efficiency projects in 2007, SpartanNash stores, distribution centers and service centers have saved a total of 52.2 million kilowatt hours.