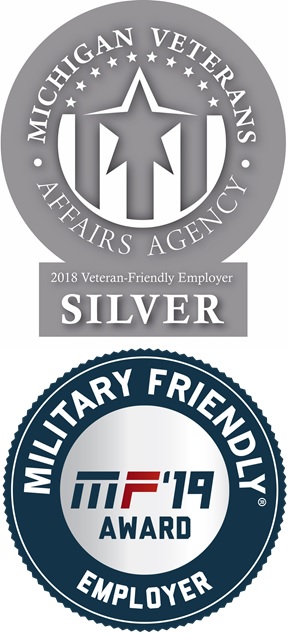 One of our company's eight core values is patriotism, and we are deeply committed to serving our military heroes and their families both at home and abroad. As a leading distributor of grocery products to U.S. military commissaries, SpartanNash – through our MDV military division – sees firsthand the sacrifices our servicemen and women make to protect our freedoms every day.
SpartanNash proudly employs more than 750 military veterans and family members. As a company, we are committed to hiring, training and retaining veterans, Reservists, Guardsmen and their families in partnership with national and government organizations and initiatives. Since 2016, we have been recognized as a Veteran-Friendly Employer by the Michigan Veterans Affairs Agency — in addition to a Military Friendly® Employer in both 2019 and 2020 — recognizing our efforts to hire, retain and recognize the vital role veterans play in our workforce.
In 2014, SpartanNash was honored with the Patriot Award from ESGR (Employer Support of the Guard and Reserve) for its continued support of its associates who are deployed while working for the company.