Mother's Day is right around the corner, which is a special time for many families to spend time with loved ones over a favorite meal.
That's why we are asking you to share the love by sending in your favorite family recipe for our next associate recipe contest. Send in a favorite recipe* that reflects your heritage and draws inspiration from your familial, ethnic or regional cuisine.
All participants will have a chance to win $25 store or Amazon gift cards! Submit your completed form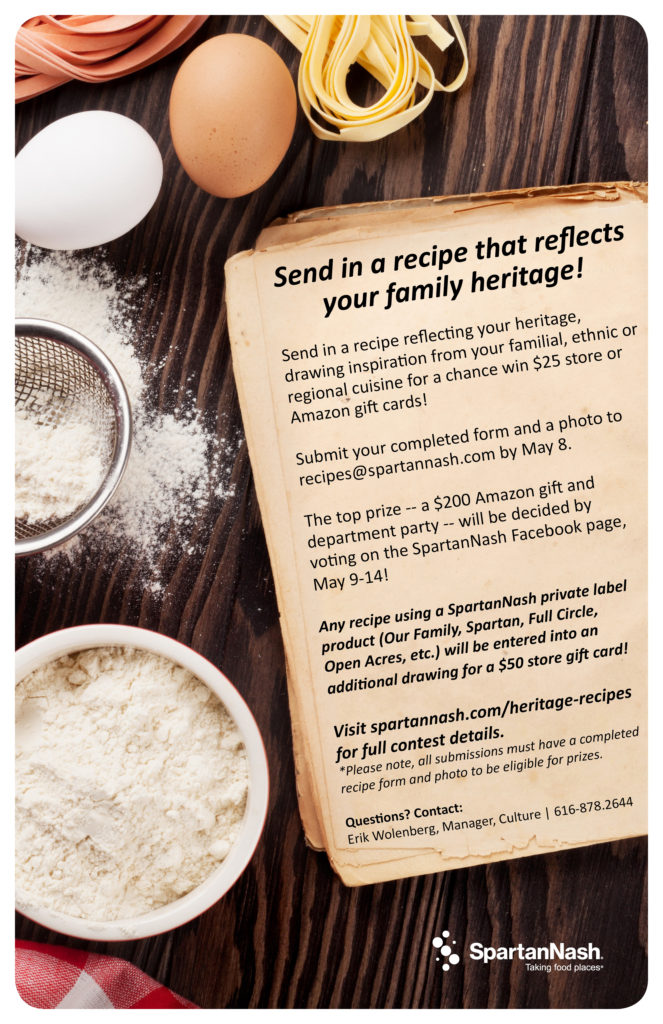 and a photo to [email protected] by May 8.
The top prize – a $200 Amazon gift and department party – will be decided by voting on the SpartanNash Facebook page, May 9-14.
*Please note, all submissions must include a completed recipe form and photo to be eligible for prizes.
 The rules are simple:
Gather all the ingredients for your heritage recipe and document yourself as you make your culinary creation by taking photos (videos can also by submitted along with a photo).
Fill out the Heritage Recipe Contest submission form, including your name, associate ID and location or store number. We also want to hear about your inspiration for the dish and the full recipe so fellow associates can recreate it at home.
Send your recipe, photos/video and the submission form to 

[email protected]

 by Monday, May 8 to be entered into the gift card prize drawing. *If needed, a supervisor, department manager or store director may submit for associates without email access.
Each recipe will receive a prize drawing entry, and winners from each segment (distribution, retail, service center) will be randomly selected to win one of five $25 gift cards.
Any recipe using a SpartanNash private label product (Our Family®, Spartan®, Full Circle™, Open Acres™, etc.) will be entered into an additional drawing for a $50 store gift card! 
Once all the entries are in, associates can vote for their favorite recipe on the SpartanNash Facebook page from May 9 to 14. The entry with the most votes will receive a $200 Amazon gift card, plus a $100 store gift card to host a party for their team.
So no matter whether your favorite recipe is Mom's meatloaf, Uncle Jack's jerky or Grandma's famous cookies, share the food you love with your fellow associates for a chance to win!
Questions? Contact: Erik Wolenberg, Manager, Culture at 616-878-2644 or [email protected]