Diversity and Inclusion
SpartanNash believes that Diversity & Inclusion (D&I) drive value for our Associates, shareholders and customers. As a part of our People First culture, we lead with inclusion and strive to create an environment where Associates are valued and empowered to support each other, our business objectives, customers and the communities we serve.
We aim to develop our People First culture in order to attract and retain people with different backgrounds, skills, experiences and perspectives. Having Associates who reflect the diverse communities we serve means we can better connect with our customers and provide a better customer experience.
We are a Company with a long history of investing in inclusive workforce development initiatives, collaborating with community training and education partners, and advancing the development and promotion of Associates diverse by gender, race/ethnicity, disability and veteran status.
We have designed our D&I commitment to capture interest organically, create scalable and repeatable programs across all business segments and geographies, and engage Associates at all levels of the Company.
Associate Resource Groups
We have four Associate Resource Groups (ARGs) that offer Associates a place to feel supported, to be an ally, or just to have thought-provoking dialogue. Each group has a sponsor from our Executive Leadership Team who helps foster conversation and connection.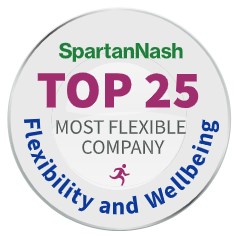 Flexibility and Wellbeing
SpartanNash earned the No. 12 spot on the Indeed.com's list of 25 most flexible companies. Indeed, the worlds No. 1 job site, compiled data from more than 10 million surveys in Indeed's Work Happiness Score and ranked the top employers in the nation. SpartanNash is featured alongside Apple, Google, Nike, Southwest Airlines, Microsoft and more.