SpartanNash (Nasdaq: SPTN) is a food solutions company that delivers the ingredients for a better life through customer-focused innovation. Our core businesses include distributing grocery products to a diverse group of independent and chain retailers, our corporate-owned retail stores, and U.S. military commissaries and exchanges; as well as operating a premier fresh produce distribution network and the Our Family® brand.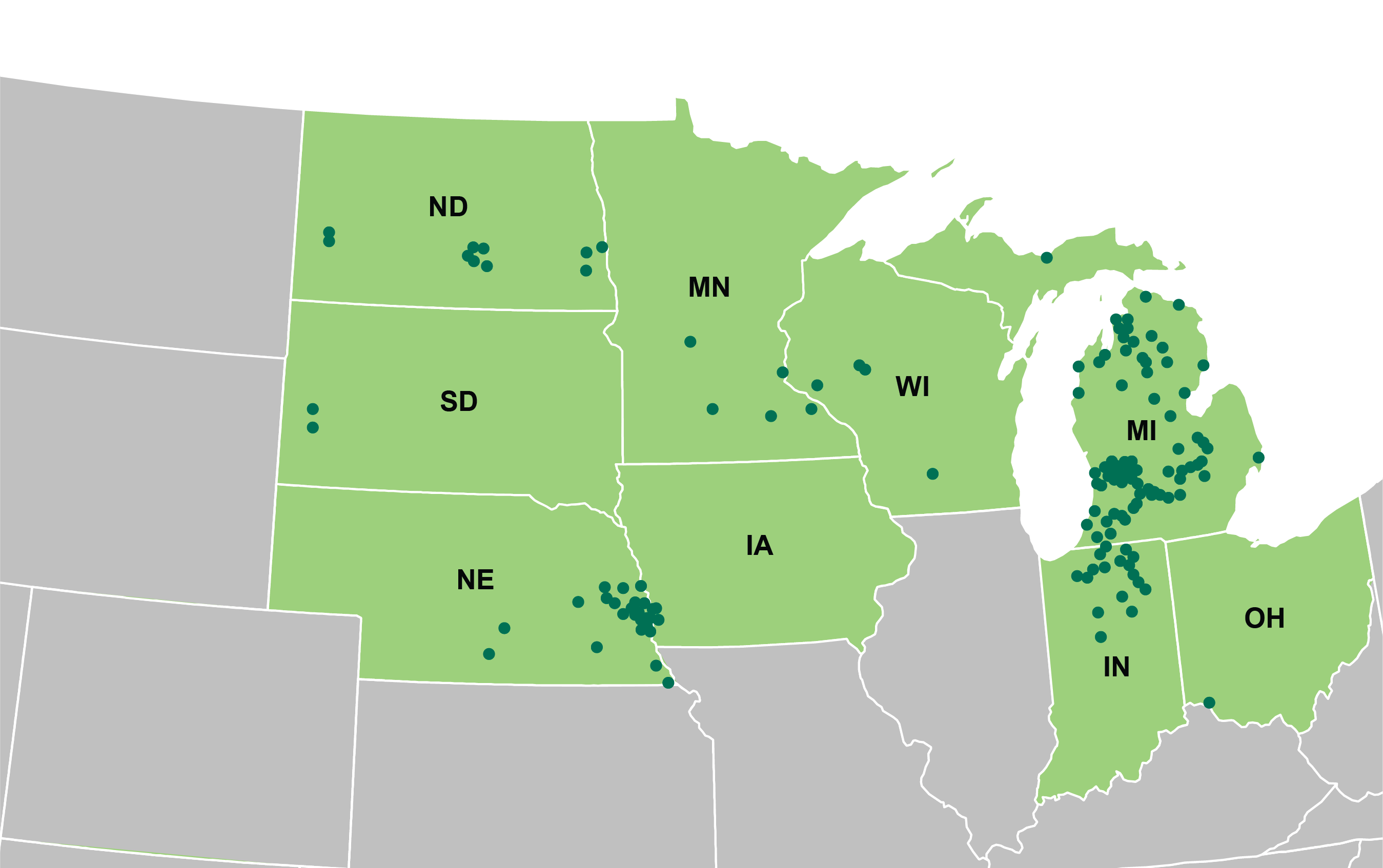 SpartanNash has been headquartered in West Michigan for more than 100 years. We serve customer locations in all 50 states and the District of Columbia, Europe, Cuba, Puerto Rico, Honduras, Iraq, Kuwait, Bahrain, Qatar and Djibouti.
SpartanNash owns 145 supermarkets – primarily under the banners of Family Fare, Martin's Super Markets, D&W Fresh Market, VG's Grocery and Dan's Supermarket – and we share our operational insights to drive solutions for SpartanNash food retail customers.
Committed to fostering a People First culture, the SpartanNash family of Associates is 19,000 strong and growing.
By the numbers
Notable Dates:
1885: Fred, Edgar and Willis Nash open a small candy and tobacco store in Devils, Lake, N.D.; in subsequent years, the company is known as the Nash Finch Company
1904: The Nash brothers apply for a patent on the Our Family® brand, making it one of the oldest OwnBrands in the nation
1917: 100 independent retailers band together to purchase in bulk and pass the savings along to their customers; this group became the Grand Rapids Wholesale Grocery Company, which then became Spartan Stores, Inc.
2013: Spartan Stores, Inc. and Nash Finch Company announce the completion of their merger, creating SpartanNash
2017: Independent retailers and SpartanNash stores in Michigan welcome Our Family® products on their shelves
CEO: Tony Sarsam
Number of Associates: 19,000
Locations of Distribution Centers:
Bellefontaine, Ohio
Bloomington, Indiana
Bluefield, Virginia
Columbus, Georgia
Fargo, North Dakota
Grand Rapids, Michigan
Indianapolis
Landover, Maryland
Lima, Ohio
Lumberton, North Carolina
Norfolk, Virginia
Oklahoma City
Omaha, Nebraska
Pensacola, Florida
San Antonio
Severn, Maryland
Sioux Falls, South Dakota
St. Cloud, Minnesota
Number of Retail Stores: 145
To find your nearest SpartanNash store, visit: spartannash.com/grocery-retail/banners/spartannash-corporate-owned-store-directory-by-state/
Independent and Chain Retailers Served: 2,100