FOR IMMEDIATE RELEASE
Wednesday, Feb. 13, 2019
CONTACT:
Meredith Gremel, Vice President, Corporate Affairs & Communications, 616-878-2830
Recently vacated space to undergo extensive remodeling to offer on-trend, high-demand Forest Hills Foods favorites and convenience of full-service delivery  
ADA, Mich. – SpartanNash, alongside Ada Township officials and local developers, today unveiled plans to open the Ada Market by Forest Hills Foods, located at 444 Ada Drive SE. The 13,000-square-foot space was vacated by Kingma's Market in January 2019. SpartanNash, owner of Forest Hills Foods, plans to begin remodeling the space immediately with a tentative opening date of mid-April.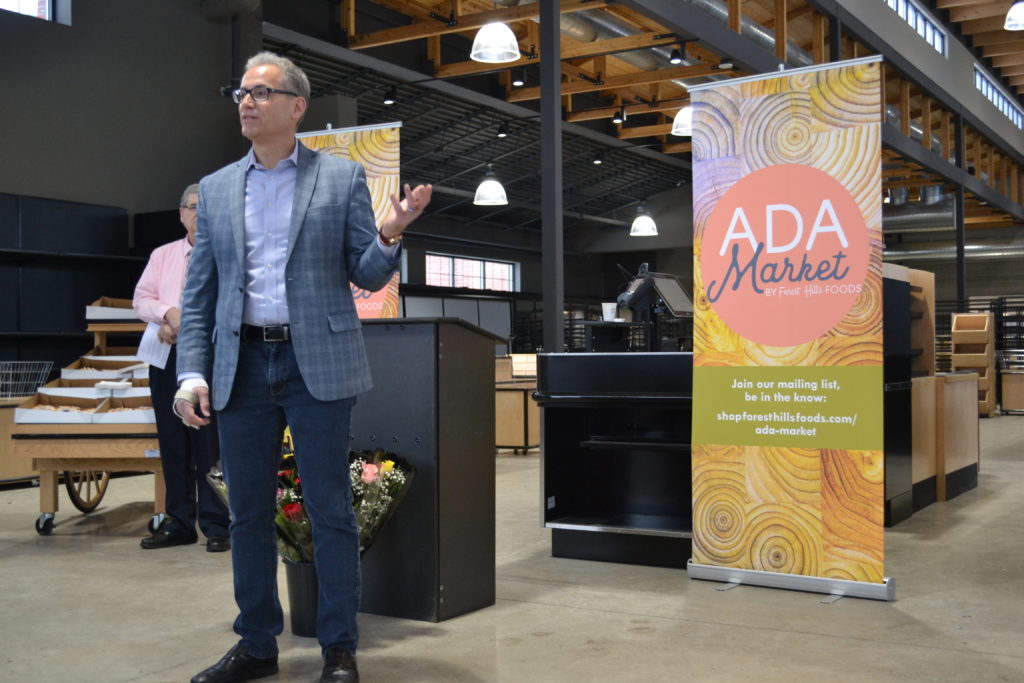 "Forest Hills Foods has been an instrumental partner in this community for more than 50 years," said Dave Staples, President and CEO of SpartanNash. "It has been our privilege to be part of so many families' lives over the years, growing and expanding – just like the surrounding neighborhoods. Now is the perfect time to take the Forest Hills Foods shopping experience to downtown Ada. In opening the Ada Market, we will be able to deliver the quality products and exceptional customer service Forest Hills Foods store guests count on, along with the variety and indulgence they seek, whether in in-store or online."
The Ada Market by Forest Hills Foods will offer store guests high-demand, fresh and healthy grab-and-go meal solutions, household staples, a wide selection of craft beers, wine and spirits and much more in easy-to-navigate aisles and market stands. It will also be home to a Starbuck's coffee outlet.
The Ada Market's innovative design will also showcase a wide variety of local and organic produce, handcrafted meats and cheeses, fresh fish, a café with full salad and soup bar, fresh flowers, artisan bakery items and health and beauty care products.
"We are bringing the best of the best from Forest Hills Foods to the Ada Market to maximize our offering in the smaller store format," said Tom Swanson, Senior Vice President and General Manager of Corporate Retail for SpartanNash. "We look forward to delivering this level of quality and convenience to Ada Market store guests, all while offering the option of our complete Forest Hills Foods selection through our Fast LaneTM delivery or in-store pickup."
Fast Lane is the company's proprietary, intuitive online grocery shopping solution. Fast Lane orders are shopped by Forest Hills Foods personal shoppers, who focus on selecting fresh, quality items from each aisle of the store and who can communicate directly with customers via text to determine preferences such as ripeness of fruit or thickness of steak.
Using Fast Lane, Ada Market customers can choose in-store pickup or at-home delivery for a nominal fee. Store guests with loyalty accounts will automatically have their preferences loaded into their Fast Lane account, making it even easier to clip digital coupons, select commonly purchased items or sort by department, sale items or dietary restrictions when placing an order.
The Ada Market will also include café seating, free Wi-Fi, charging stations and daily meal solutions for busy customers and nearby businesses.
"The village of Ada is undergoing a transformation to ensure this Grand Rapids suburb delivers a lifestyle unique to West Michigan," said Bill Payne, President of BP Ventures, which is overseeing multiple development projects. "A grocery store tailored to our community's local needs is key to our success, and given Forest Hills Foods' track record, we are excited to partner with them."
SpartanNash has been working with Jeff Vandenberg, whose parents started Forest Hills Foods, as part of the transformation team.
SpartanNash is committed to enhancing the communities it serves, donating more than $1.4 million a year to underwrite more than 3,400 events and programs, in addition to donating 5.4 million pounds of food to local food banks and pantries. The SpartanNash Foundation also granted $1.5 million to 214 partners in 2018 to provide hunger relief, secure housing and support military families. Company associates recorded 57,364 volunteer hours with 1,153 organizations, representing $1.38 million in economic impact. Closest to home, SpartanNash and Forest Hills Foods partner with more than 320 Forest Hills and Ada public and private schools, faith-based organizations and community service clubs.
For additional details on the Ada Market remodeling and grand opening plans, follow the Ada Market on Facebook (@shopadamarket) or online at shopforesthillsfoods.com/ada-market.
###
About SpartanNash
SpartanNash (Nasdaq: SPTN) is a Fortune 400 company whose core businesses include distributing grocery products to a diverse group of independent and chain retailers, its corporate-owned retail stores and U.S. military commissaries and exchanges; as well as premier fresh produce distribution and fresh food processing. SpartanNash serves customer locations in all 50 states and the District of Columbia, Europe, Cuba, Puerto Rico, Bahrain, Djibouti and Egypt. SpartanNash currently operates 160 supermarkets, primarily under the banners of Family Fare Supermarkets, Martin's Super Markets, D&W Fresh Market, VG's Grocery, Dan's Supermarket and Family Fresh Market. Through its MDV military division, SpartanNash is a leading distributor of grocery products to U.S. military commissaries.