FOR IMMEDIATE RELEASE
Monday, June 15, 2020
CONTACT:
Allison Benczkowski, Director, Corporate Communications, 616-878-2644
National award recognizes outstanding female leaders in grocery industry
GRAND RAPIDS, Mich. – Recognizing the integral role women play across all segments of the North American food retail and grocery industries, Progressive Grocer today honored 11 SpartanNash associates as part of the publication's nationwide list of Top Women in Grocery. Since 2012, 74 SpartanNash associates have been recognized by Progressive Grocer as TWIG winners.
In total, 350 women are in the Top Women in Grocery's class of 2020, including 87 senior-level executives, 202 rising stars and 61 store managers – all of whom showcase overall excellence and continued achievement by leading innovative initiatives, delivering extraordinary results and achieving exceptional performance benchmarks in the food retail and grocery industry.
"What an amazing testament to the strong female leaders we have at SpartanNash," Interim President and CEO Dennis Eidson said. "Our female leaders continue to make a huge impact across the company, within our industry and throughout the communities we serve. Every day, the diverse perspectives and strong work ethics they bring to the table contribute to the success of our Fortune 400 company and make SpartanNash a great place to work."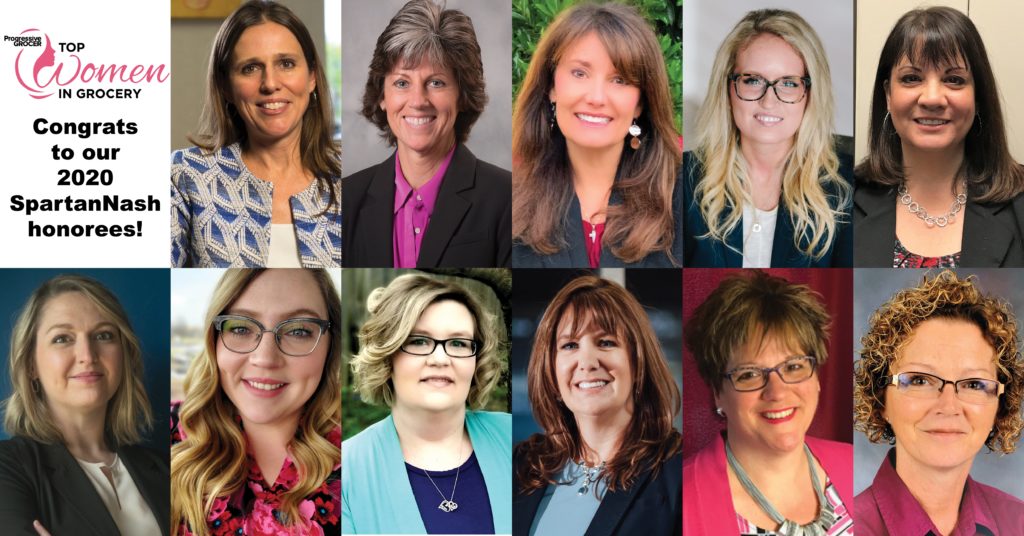 The 11 SpartanNash associates named Top Women in Grocery are:
Senior-Level Executives:
Yvonne Trupiano, Executive Vice President and Chief Human Resources Officer (Grand Rapids, Mich.)
Tammy Hurley, VP, Finance and Chief Accounting Officer (Grand Rapids, Mich.)
Rene Hunter, VP, Finance and Business Development, MDV (Norfolk, Va.)
Rising Stars:
Christina Drew, Director, Merchandising and Marketing Insights and Analytics (Grand Rapids, Mich.)
Carol Eckstein, Regional Director, HR (Indianapolis)
Kimberly Jackson, Director, National Accounts (Nashville, Tenn.)
Amanda James, HR Business Partner, Retail (Grand Rapids, Mich.)
Alisha Tarrance, Manager, Merchandise Planning (Grand Rapids, Mich.)
Ronette Malone, Director, Business Development, MDV (Norfolk, Va.)
Store Managers:
Amy Berry, Family Fare (Hastings, Mich.)
Donna Bierbaum, Martin's Super Markets (Elkhart, Ind.)
Trupiano, Hunter, Malone and Berry are two-time honorees on the Top Women in Grocery list, while Hurley has been honored three times (2013, 2015 and 2020).
As part of its diversity and inclusion efforts, SpartanNash's goal is to increase the representation and promotion of veterans, women and diverse associates across the organization. In 2019, 47 percent of new hires and 41 percent of all promotions were women. SpartanNash has also been recognized as a leader among Michigan's 77 public companies, with three women serving on its corporate board of directors (33 percent) and three C-suite female leaders (33 percent) serving respectively as Chief Legal Officer, Chief Merchandising and Marketing Officer and Chief Human Resources Officer.
SpartanNash has been named a Winning Company by 2020 Women on Boards since 2011. The designation recognizes SpartanNash for championing board diversity by having 20 percent or more of its board seats held by women.
Through its partnership with the Network of Executive Women (NEW), associates across SpartanNash are invited to become more actively engaged in efforts to empower and promote the growth and development of female associates. SpartanNash associates took advantage of the many learning and developmental opportunities offered through NEW, with approximately 1,000 hours of training and educational workshops logged each year.
Through its Top Women in Grocery award, Progressive Grocer shines a national spotlight on many dynamic leading women from some of the most admired organizations in the U.S. supermarket business.
All honorees will be recognized at the 2020 Top Women in Grocery Gala and Celebration, taking place Nov. 4-5 in Orlando, Fla.
The full list of 2020 Top Women in Grocery will be included in the June edition of Progressive Grocer.
###
About SpartanNash
SpartanNash (Nasdaq: SPTN) is a Fortune 400 company whose core businesses include distributing grocery products to a diverse group of independent and chain retailers, its corporate-owned retail stores and U.S. military commissaries and exchanges; as well as premier fresh produce distribution and fresh food processing. SpartanNash serves customer locations in all 50 states and the District of Columbia, Europe, Cuba, Puerto Rico, Bahrain, Djibouti and Egypt. SpartanNash currently operates 160 supermarkets, primarily under the banners of Family Fare, Martin's Super Markets, D&W Fresh Market, VG's Grocery, Dan's Supermarket and Family Fresh Market. Through its MDV military division, SpartanNash is a leading distributor of grocery products to U.S. military commissaries.