FOR IMMEDIATE RELEASE
Thursday, October 17, 2019
CONTACT:
Meredith Gremel
Vice President, Corporate Affairs & Communications, SpartanNash
Executive Director, SpartanNash Foundation
616-878-2830
SpartanNash Foundation invites store guests to support local food pantries, help fight hunger
100 percent of donations during the 12-day fundraising campaign will support more than 100 partner pantries in eight states
GRAND RAPIDS, Mich. – The SpartanNash Foundation invites store guests to join the fight against hunger during its companywide fundraising effort, October 23 to November 3. The SpartanNash Foundation's retail scan campaign supports more than 100 local food pantries and food banks, and 100 percent of dollars raised will support food pantry partners in eight states.
"One in 6 people struggles with hunger, and as little as $1 can provide food for 10 people through local food pantries," said Meredith Gremel, vice president of corporate affairs and communications and executive director of the SpartanNash Foundation. "SpartanNash is proud to support local food pantries through both monetary and food donations throughout the year, and this fundraising campaign continues that effort in a significant way. Now, we're teaming up with our customers to provide hunger relief, because we know hunger doesn't take a day off."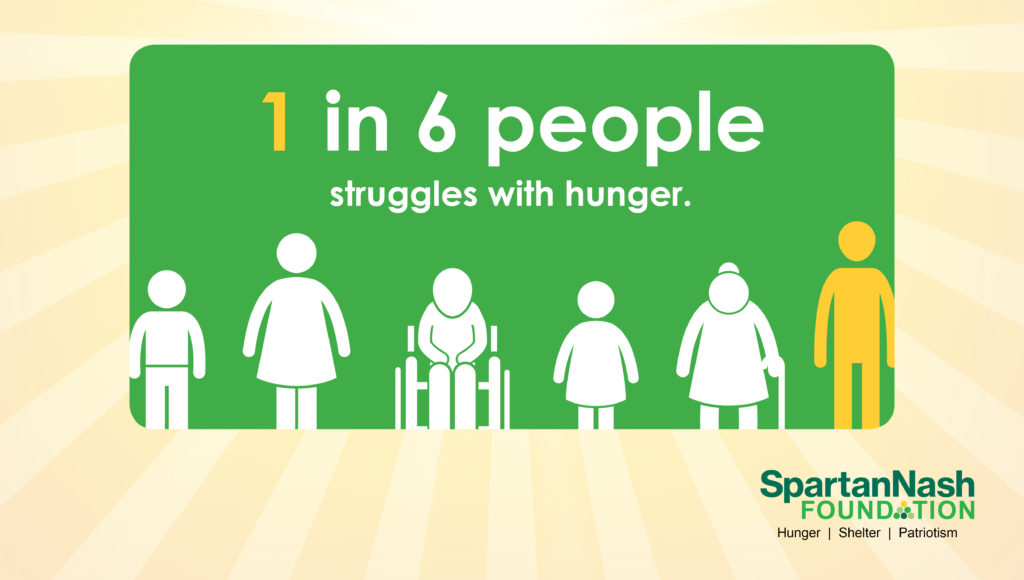 During the SpartanNash Foundation fundraising campaign, customers who visit any SpartanNash-owned retail store or fuel center in eight states will have the opportunity to donate $1, $5 or $10 at any checkout lane, or round their total up to the nearest dollar to support their local food pantry. Store guests who use Fast Lane – SpartanNash's online grocery shopping service – can also donate while placing their orders.
More than 135 stores are participating in the Foundation scan, primarily under the banners of Family Fare, D&W Fresh Market, VG's Grocery, Dan's Supermarket and Family Fresh Market.
One hundred percent of dollars raised will go to the selected food pantry partners in each community. SpartanNash underwrites the cost of the fundraising campaign, and company associates and the SpartanNash Foundation – the company's charitable giving arm – contribute financially as well.
"This fundraising campaign has a huge local impact, and each store has personally selected the food pantry they'll be supporting," Gremel said. "The dollars raised stay right in the communities where the local food pantries and food banks are located, and it's incredible to see the impact these donations from thousands of store guests and associates make."
In 2018, $278,105 was granted to more than 100 local food pantry partners through the SpartanNash Foundation's fundraising campaign to provide hunger relief. In addition to financial support, SpartanNash also donates more than five million pounds of food and other grocery products to community food pantries and local nonprofits each year – and company associates volunteered 57,364 hours in 2018 – many with nonprofit partners that fight hunger.
The hunger scan is the fourth fundraising campaign the SpartanNash Foundation will hold in 2018. To date, the SpartanNash Foundation has raised and granted $734,700 on behalf of local Habitat for Humanity, Special Olympics and patriotic partners in eight states.
To learn more, visit: spartannash.com/foundation-scans.
###
About the SpartanNash Foundation
The SpartanNash Foundation was formed in 2015 and is the charitable giving arm of SpartanNash. It is focused on providing financial support to nonprofit partners who align with its mission to end hunger, provide shelter and support our military heroes. With a combined total legacy of more than 100 years, the SpartanNash Foundation represents the best of its predecessors, the NFC Foundation and the Spartan Stores Foundation. The SpartanNash Foundation is a Michigan nonprofit corporation and is tax exempt under IRC 501(c)3. It is a non-operating private foundation. To learn more about the SpartanNash Foundation, visit spartannash.com/foundation.
About SpartanNash
SpartanNash (Nasdaq: SPTN) is a Fortune 400 company whose core businesses include distributing grocery products to a diverse group of independent and chain retailers, its corporate-owned retail stores and U.S. military commissaries and exchanges; as well as premier fresh produce distribution and fresh food processing. SpartanNash serves customer locations in all 50 states and the District of Columbia, Europe, Cuba, Puerto Rico, Bahrain, Djibouti and Egypt. SpartanNash currently operates 158 supermarkets, primarily under the banners of Family Fare, Martin's Super Markets, D&W Fresh Market, VG's Grocery, Dan's Supermarket and Family Fresh Market. Through its MDV military division, SpartanNash is a leading distributor of grocery products to U.S. military commissaries.