FOR IMMEDIATE RELEASE
Monday, April 29, 2019

CONTACT:
Meredith Gremel
Vice President, Corporate Affairs & Communications, SpartanNash
Executive Director, SpartanNash Foundation
616-878-2830
SpartanNash Foundation supports 210 partners, grants more than $1.5 million in 2018
Grants support nonprofit organizations that align with Foundation's mission to provide hunger relief, secure affordable housing and support military heroes
SpartanNash associates volunteered 57,364 hours, equivalent of $1.38 million for nonprofit partners
GRAND RAPIDS, Mich. – To continue its efforts to provide hunger relief, secure shelter and support our military heroes, the SpartanNash Foundation recently published its 2018 impact report. In total, the SpartanNash Foundation – SpartanNash's charitable giving arm – granted more than $1.5 million to more than 210 community partners in 16 states.
The 2018 SpartanNash Foundation impact report can be found at spartannash.com/foundation.
In 2018, the SpartanNash Foundation, helped shelter 325,000 people, feed more than 1.6 million people and support 40,000 military veterans and their families.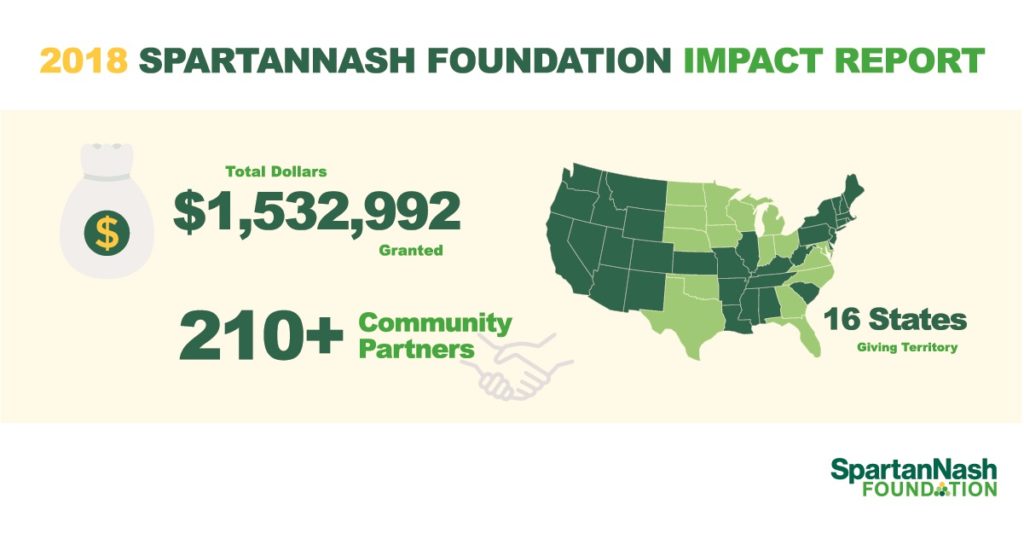 As a part of SpartanNash's corporate responsibility commitment, many company associates also volunteer at nonprofit organizations which receive SpartanNash Foundation grants. Last year, SpartanNash associates volunteered 57,364 hours, making an economic impact equivalent to $1.38 million on behalf of its nonprofit partners.
"The SpartanNash Foundation and associates throughout the company are making a huge impact, supporting local nonprofit organizations that align with our mission in the communities right where we live, work and play," said Meredith Gremel, SpartanNash vice president of corporate affairs and communications and executive director of the SpartanNash Foundation. "We are excited about the measurable impact we are making everyday in our local communities through the SpartanNash Foundation and the efforts of our associates."
The SpartanNash Foundation supports local community partners in two ways – through a series of retail scan campaigns and through quarterly grants.
Throughout the year, nonprofit organizations that align with the Foundation's mission are invited to submit a grant application. The grants are reviewed quarterly by a volunteer committee of SpartanNash associates, who are passionate about giving back in their local communities and who provide recommendations to the SpartanNash Foundation Board of Trustees. A strong emphasis is put on the review of the organization's financials, to ensure the Foundation is supporting nonprofit partners that are financially solid. In 2018, Foundation grants totaled nearly $500,000 and were awarded to more than 50 organizations.
At designated times throughout the year, the SpartanNash Foundation also invites store guests in its company-owned retail stores to donate to nonprofit partners through a series of fundraising campaigns, with 100 percent of funds raised going directly to the nonprofit partners. In 2018, the SpartanNash Foundation fundraising campaigns – supporting Habitat for Humanity, Special Olympics, military heroes and local food pantries – resulted in grants of more than $1 million.
Learn more about SpartanNash's corporate responsibility commitment – including efforts and impacts in social responsibility, environmental sustainability and the SpartanNash Foundation – at spartannash.com/corp-responsibility.
###
About the SpartanNash Foundation
The SpartanNash Foundation was formed in 2015 and is the charitable giving arm of SpartanNash. It is focused on providing financial support to nonprofit partners who align with its mission to end hunger, provide shelter and support our military heroes. With a combined total legacy of more than 100 years, the SpartanNash Foundation represents the best of its predecessors, the NFC Foundation and the Spartan Stores Foundation. The SpartanNash Foundation is a Michigan nonprofit corporation and is tax exempt under IRC 501(c)3. It is a non-operating private foundation. To learn more about the SpartanNash Foundation, visit spartannash.com/foundation.
About SpartanNash
SpartanNash (Nasdaq: SPTN) is a Fortune 400 company whose core businesses include distributing grocery products to a diverse group of independent and chain retailers, its corporate-owned retail stores and U.S. military commissaries and exchanges; as well as premier fresh produce distribution and fresh food processing. SpartanNash serves customer locations in all 50 states and the District of Columbia, Europe, Cuba, Puerto Rico, Bahrain, Djibouti and Egypt. SpartanNash currently operates 158 supermarkets, primarily under the banners of Family Fare Supermarkets, Martin's Super Markets, D&W Fresh Market, VG's Grocery, Dan's Supermarket and Family Fresh Market. Through its MDV military division, SpartanNash is a leading distributor of grocery products to U.S. military commissaries.