FOR IMMEDIATE RELEASE
Friday, Aug. 14, 2020
CONTACT:
Allison Benczkowski, Director, Corporate Communications, 616-878-2644
Family Fare, D&W Fresh Market and SpartanNash warehouse distribution center looking to fill more than 375 full- and part-time job openings in West Michigan
Order selector hiring fairs taking place at SpartanNash headquarters with open interviews, on-the-spot hiring
GRAND RAPIDS, Mich. – In a continued effort to hire qualified candidates for open positions and provide career opportunities throughout West Michigan, SpartanNash today announced a hiring initiative to fill more than 375 job openings in its retail stores and warehouse distribution center. Companywide, SpartanNash has more than 1,000 job openings throughout its retail stores, warehouse distribution centers and corporate service centers.
Interested applicants are encouraged to visit careers.spartannash.com to learn more about SpartanNash and apply for available job opportunities.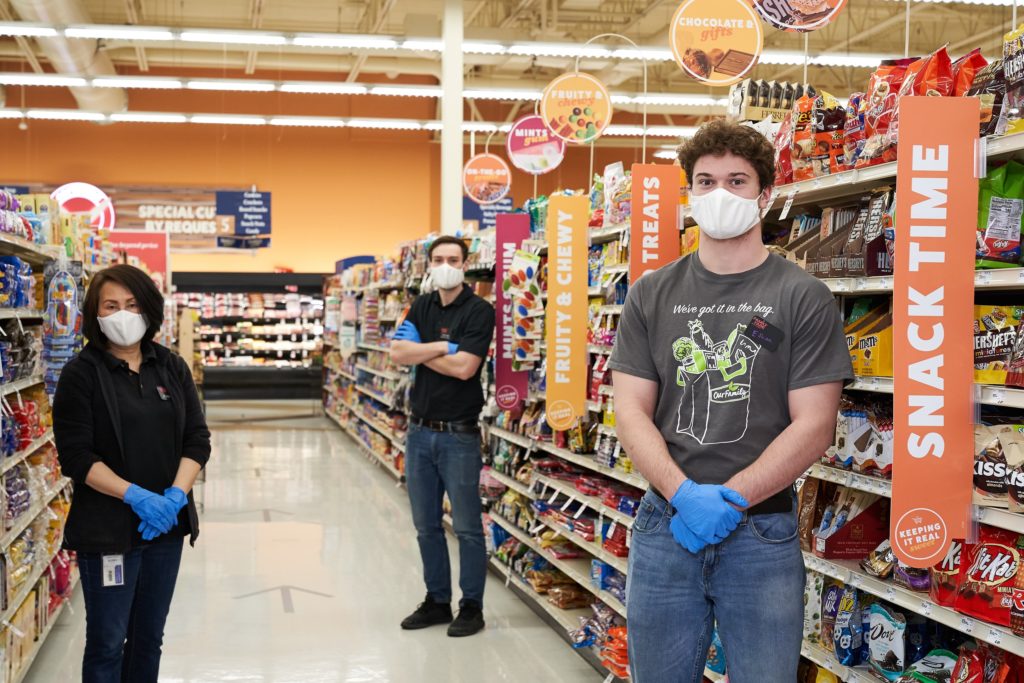 SpartanNash retail stores are hiring more than 300 full- and part-time positions in West Michigan, primarily under the Family Fare and D&W Fresh Market banners. Positions offer flexible shifts for days, nights and weekends in addition to stable and consistent hours as an essential service provider in a growing sales environment. Numerous opportunities are available for long-term career growth and development, in addition to leadership opportunities in select markets.
SpartanNash's Grand Rapids Warehouse Distribution Center is also hiring more than 75 full- and part-time positions for order selectors and Class A drivers. Order selectors have a competitive starting wage and up to $1,100 in additional bonuses paid out after the first 30 days of employment.
To support these hiring efforts, order selector hiring fairs for the Grand Rapids Warehouse Distribution Center will take place on:
Tuesday, Aug. 18 from 1 to 3 p.m.
Wednesday, Aug. 19 from 9 a.m. to 5 p.m.
Thursday, Aug. 20 from 3 to 5 p.m.
Tuesday, Aug. 25 from 1 to 3 p.m.
Wednesday, Aug. 26 from 9 a.m. to 5 p.m.
Thursday, Aug. 27 from 3 to 5 p.m.
The hiring fairs will be held at SpartanNash headquarters, located at 850 76th St. SW in Byron Center, with open interviews and on-the-spot hiring taking place.
Candidates are required to wear a face mask or face covering, and social distancing rules will apply in order to ensure the safety of all attendees during the hiring fair.
"As we continue to serve our store guests, customers and communities during these unprecedented times, SpartanNash and our family of associates continues to remain on the frontlines ensuring our customers have access to the food, medicine and household goods they need," said Yvonne Trupiano, Executive Vice President and Chief Human Resources Officer. "We're a great place to work with numerous opportunities for anyone looking to make a career change to an essential business in a safe operating environment. We're proud to offer full- and part-time positions that can accommodate a candidate's scheduling needs, in addition to a competitive Total Rewards benefits package."
Candidates can also apply for immediate interviews and on-the-spot hiring at retail stores throughout West Michigan. To apply, candidates can visit a local SpartanNash company-owned store or go to careers.spartannash.com.
SpartanNash has been named a Best Brightest Company to Work For® in West Michigan and the nation since 2013. SpartanNash is also a Military Friendly® and veteran-friendly company.
###
About SpartanNash
SpartanNash (Nasdaq: SPTN) is a Fortune 400 company whose core businesses include distributing grocery products to a diverse group of independent and chain retailers, its corporate-owned retail stores and U.S. military commissaries and exchanges; as well as premier fresh produce distribution and fresh food processing. SpartanNash serves customer locations in all 50 states and the District of Columbia, Europe, Cuba, Puerto Rico, Honduras, Bahrain, Djibouti and Egypt. SpartanNash currently operates 155 supermarkets, primarily under the banners of Family Fare, Martin's Super Markets, D&W Fresh Market, VG's Grocery and Dan's Supermarket. Through its MDV military division, SpartanNash is a leading distributor of grocery products to U.S. military commissaries.